The dawn of 2020 brings a look back at a decade of memorable interiors from Inspired Living Omaha published by The World-Herald. Our Top 10 speaks to designer Billy Baldwin's timeless advice: "Be faithful to your own taste, because nothing you really like is ever out of style."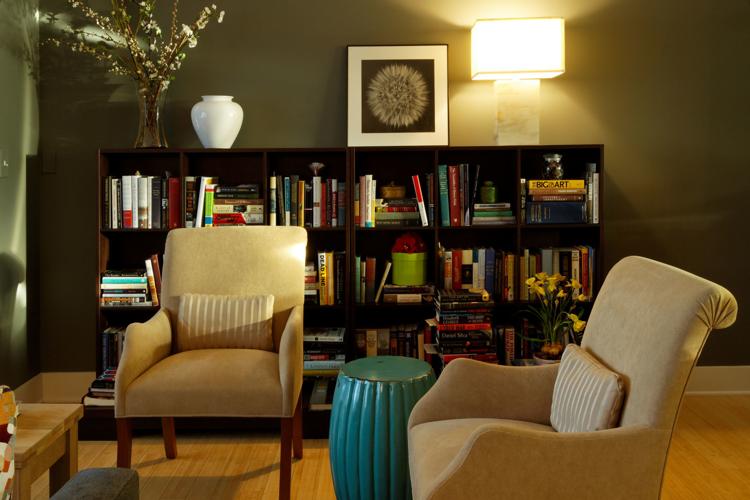 The Omaha riverfront town home of Roger Fransecky, who died in 2013, actually appeared in the first issue of 2011, but had been photographed in 2010 and marked a new direction for the magazine under a new editor. Fransecky was a clinical psychologist and motivational speaker who regularly talked with people about reinventing themselves. Newly widowed, he followed his own advice. Interior designer Susie Smoler of Allens Home helped incorporate beloved books, antiques, art and photos into the space to make it feel like home while new pieces signified the new chapter in Fransecky's life. "There are no accidents. Everything in here has a story and a purpose," he told us.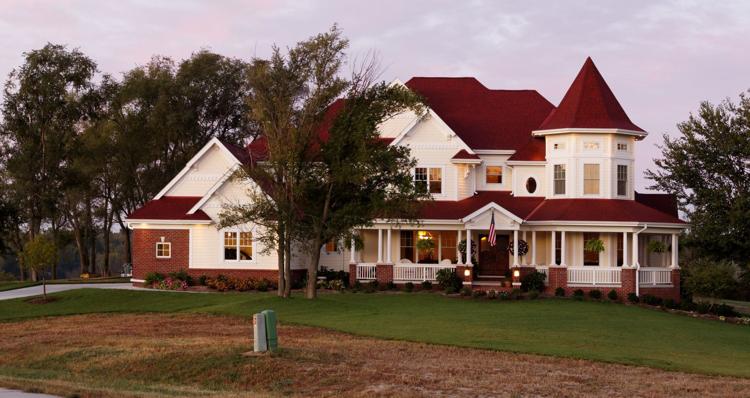 We were over the moon when Stephani and Brian Moon answered their doorbell and obliged a request by this writer for an impromptu tour of their newly constructed Victorian-style home. Its wrap-around porch, turret, yellow paint and red shingles had lured us in. For the Moons, it was the "house of a million decisions." Their inspiration came from grand homes remembered from their childhoods. Wood plank flooring, faux marble columns, rough-cut stone walls, reclaimed tin ceilings and other over-the-top details create a sense of stepping back in time. The master bath made the cover with its black-and-white tiled flooring, icy blue walls, crystal chandelier and white bear-claw tub. Credit for this build goes to Mick McGuire of Straightline Design Inc., Terry Hurt of T. Hurt Construction and Libby Pantzlaff of Creative Interiors by Libby.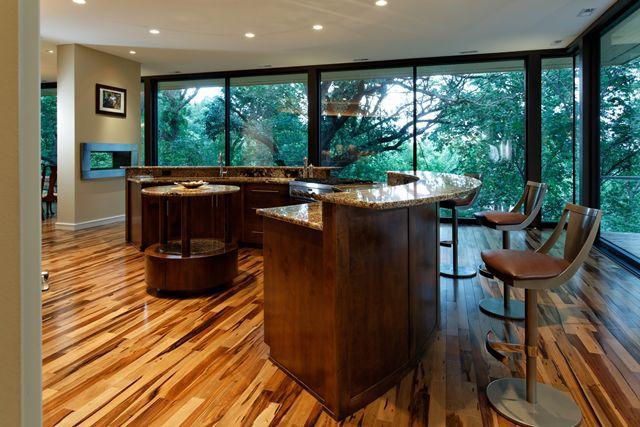 Ed and Bailie Shada of Council Bluffs had the best of rural and urban living on a secluded hilltop in Council Bluffs: Easy commutes to restaurants, stores and work; Sunday morning serenades of train whistles and church bells; visits by woodland creatures big and small. Yet their 90-year-old, two-story house wasn't quite what the couple had in mind for a forever home. A yearlong renovation gave them an additional 3,500 square feet for a climate-controlled cigar and wine room and an expansive kitchen with a curved breakfast bar and a 52-foot window wall. "The room explodes into the outdoors," Ed said. "It's like living in the trees." The Shadas worked with Bryan Zimmer, The Architectural Offices; contractor Chris Rochleau, Cherry Ridge Construction; and Jenn Carroll White, Interiors Joan and Associates.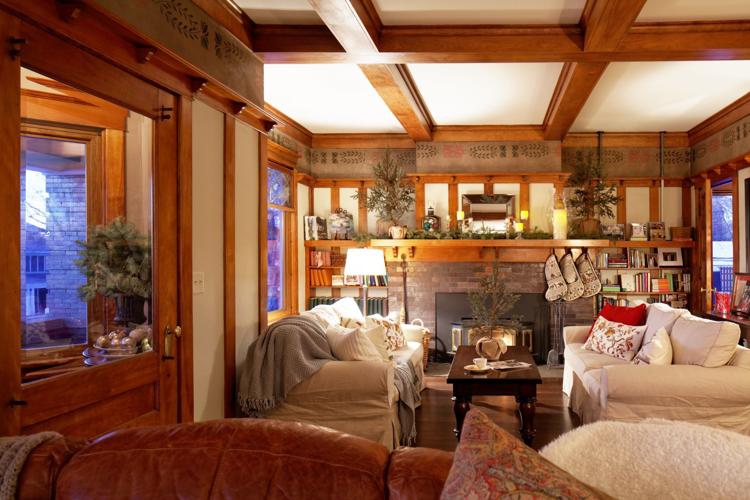 Karen and Mike Blanc of Oakland, Nebraska, were delivering loaves of fresh-baked bread to friends when their route took them past an empty house that had come on the market. The couple let themselves in and savored the possibilities that June night in 2010. The home was built in 1907-08 by German immigrant Irving Kerl as a gift to his bride, Anna. The Blancs are its fourth owners. Omaha architect Gary Bishop kept structural changes to a minimum, in part to preserve the Old World craftsmanship and improve the home's chances of being listed on the National Register of Historic Places. Mike handled the demolition work and other aspects of the 2 1/2-year restoration. A routine dental checkup for Mike in February 2011 brought a devastating diagnosis: throat cancer. The house project and Mike's cancer journey now were on parallel tracks. The house was both energy-giving and energy-zapping for Mike. But mostly, exhilarating, Karen blogged. "One of Mike's fears was that the house wouldn't get finished, and we would never be able to move into it together,'' Karen shared. Our feature marked the Blancs' first Christmas in the completed home, and Mike's return to good health!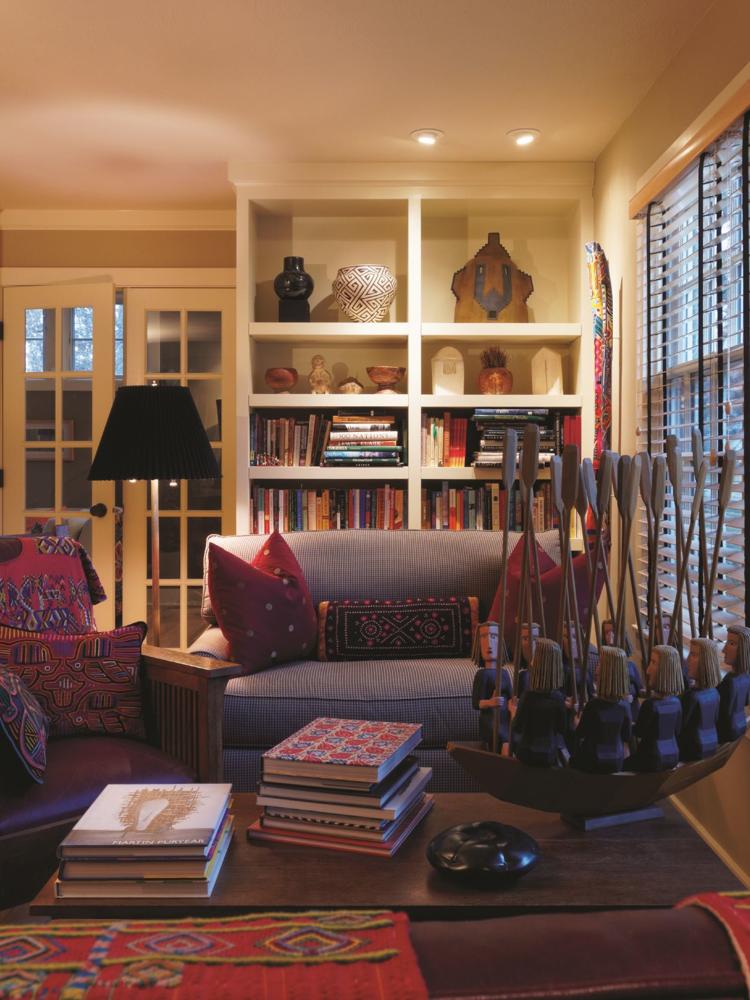 "So much of this house is an extension of who I am as an artist," Mary Zicafoose said of her Cape Cod-style home in Omaha's Rockbrook neighborhood. Her husband, Kirby, noted that everything has a story, from handcrafted works by local, regional and national artists, to artifacts and art from travels to Turkey, India, Indonesia, Latin America and more. The interior palette is reminiscent of the vibrant, warm hues in Mary's tapestries, rugs and monoprints. A family room addition doubles as a meditation room. A lower-level studio is remarkably tidy, given her favorite medium – fibers and dyes. The couple left a beloved home in Portland, Oregon, to come here in 1996. "You can still see my fingernail marks on the pavement," Mary said of her reluctance to move. She learned: "Every place – and I do mean EVERY place – has its jewels."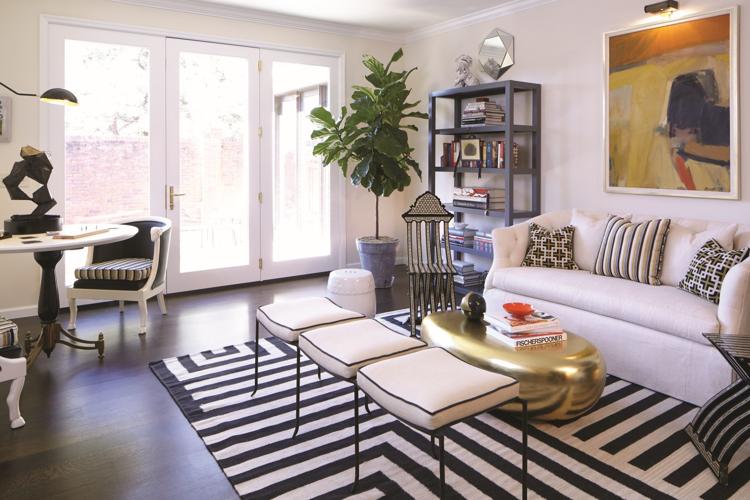 Mark and Mikal Eckstrom take visual editing to the nth degree in all of their decorating endeavors. "We are so neurotic," Mark said. "We photograph everything and then edit, edit, edit" until spaces are exactly right to their eye. Theirs is a curated home that mixes traditional and contemporary styles. They adore the Gilded Age. Buying at auction is an addiction. And while they have an affinity for fine art and antiques, they also love a great bargain with loads of style. Their forte is the high-low mix. "We love finding purposeful treasures," Mikal said. "Everything in our home is evolving. If you see it today, it probably will change tomorrow."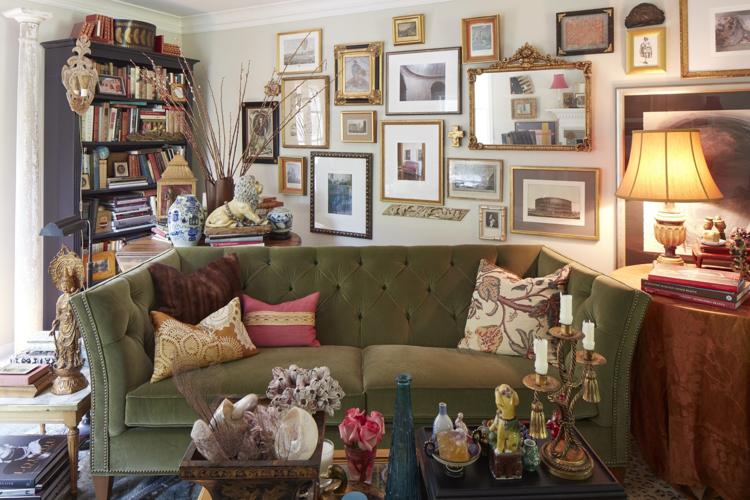 Originality defines all facets of Vanessa Barrett's life. "Not in a wild way, though. I'd call my style 'refined eclectic.'" Midcentury. Neoclassical. Bohemian. DIY. Vanessa loves playing with the mix, whether wall-to-wall or head-to-toe. "I don't really shop with a purpose. I treasure-hunt," the interior decorator-style consultant said. "If I fall in love with it, I find a place for it." Her decorating philosophy: "An authentic home has to reflect you as a person and what's meaningful to you." For her, that's original art, books, antiques, architectural salvage and three four-legged housemates, Stella, Elton and Lola. A decade ago, her home had a more restrained aesthetic. No layers. No walls filled with art. "My former husband was a minimalist ... our styles just clashed." Today, it's all about the joy of the maximalist home.    
Interior designer Leslie H. Berry may well have been the "Pucci of Omaha." Just as the flamboyant Italian designer loved geometric prints in a kaleidoscope of color, so too did Berry. Noted in art and design circles both locally and nationally, Berry created a legacy of unabashed use of color, pattern and texture in homes from Palm Springs to New York City. None illustrated his talent better than his own home in Omaha's Regency neighborhood. Still occupied by his partner of 35 years, the home remains largely as Berry left it when he died in 2011. Fine Asian antiques, original works by Nebraska artists and symmetry define every tableau.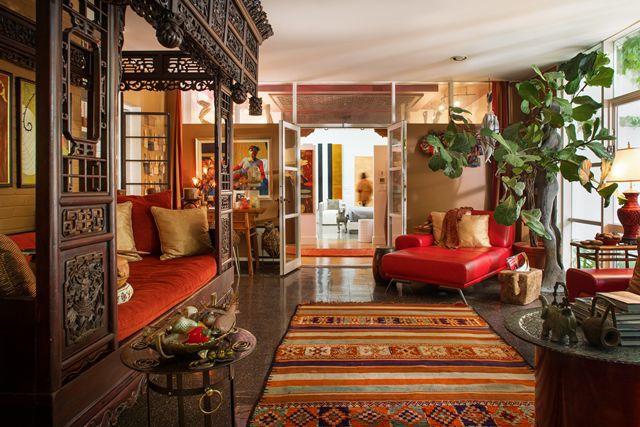 My Boes (pronounced BASE) loves creativity and art, and original works can be found around every corner of her wildly eclectic home and gardens in Omaha's Fairacres neighborhood. "I have to have art in my world," the 35-year art dealer said. Every piece in her California Art Deco home has a story, from a Chinese marriage bed, to wood from a dismantled barn, to an ancient 2-foot Buddha bust that greets her each morning. The house, built in 1939, was purchased in the early 1990s. My has renovated nearly every surface and overseen two major additions. The most recent doubled the kitchen space and gave her an aging-in-place wing with a bedroom, full bath, walk-in closet and kitchenette. Gardening is a passion. Double doors off the bedroom wing lead to a courtyard with a small pond and fountain, raised beds for herbs and vegetables, a chaise lounge for reading and clusters of lighted orbs for a magical touch at night. "It's very therapeutic to garden," My said. "It's almost meditation."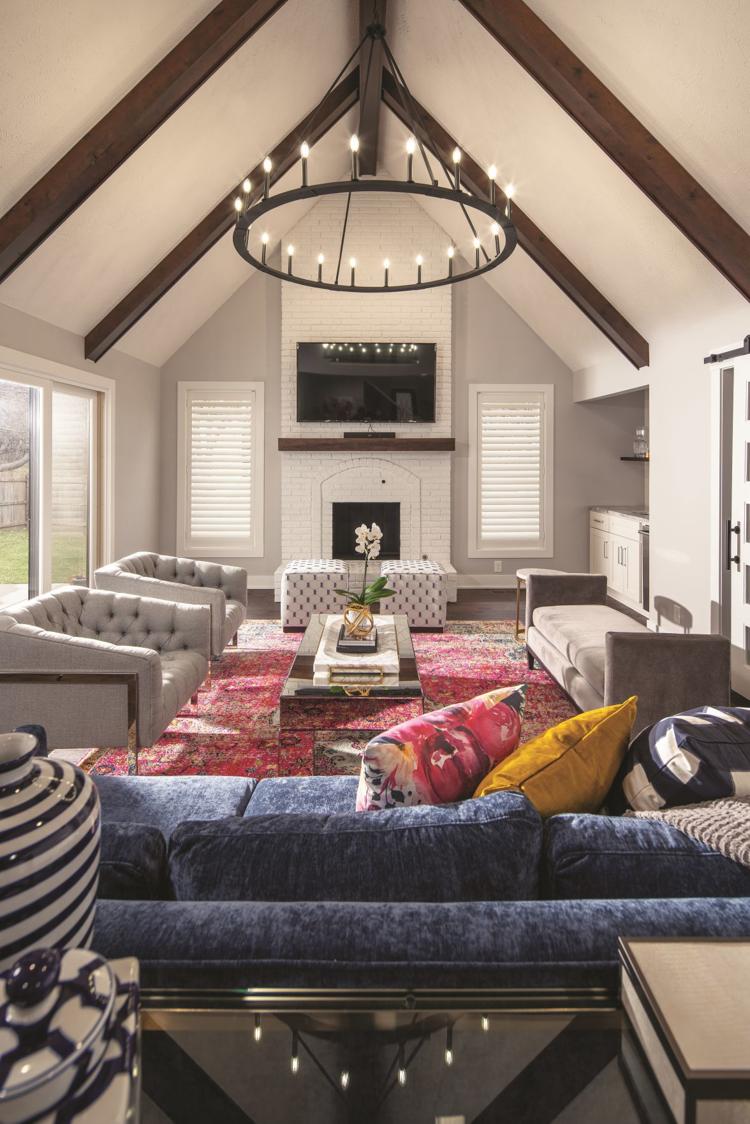 Many people might be afraid to take on a fixer-upper. But not Kara and Vince Bellino. Their dream home was the house that nobody else wanted to buy. Holes marred the siding, cracked windows were duct-taped closed, and every room was a different color. The real "ugh" factor: a hair salon on the main floor. "No one else could see the potential," Kara said. Having flipped eight houses for their business, VKB Properties, the Bellinos  weren't afraid of a challenge. Seven months, 15 dumpsters and a newborn baby later, their dream home was move-in ready. The transformation proved to be Inspired Living Omaha's most popular Before & After of the year.
The author is editor of Inspired Living Omaha, a premium glossy publication distributed six times a year to print subscribers of the Omaha World-Herald. See more at omaha.com/inspiredliving.