Teaching moments." That's what Ranae Upton loves to call all the times Jessica McKay has ridden to her design rescue. The 37-year-old stay-at-home mom, who shares her stylish Gretna home with husband Tim, daughter Addison, 9, and son Hunter, 6, as well as a playful golden doodle and a more reserved cat, loves to decorate and has a special knack for it. Still, she struggles when it comes to some of the finer points.
Enter Jessica , owner of Birdhouse Interior Design Consulting. The interior designer worked closely with Ranae to get the right look for the family's lifestyle while encouraging calculated visual risks in the overall décor.
The decision to go with a professional wasn't without trepidation. "I've always been a little reluctant with interior decorators. I enjoy the design process, and I love to do interior design," offers Ranae. "I'm very comfortable with neutrals, but when it comes to adding flair or something different — something I love when I see it in someone else's home — I was so afraid. It was hard for me to just hand it over to someone else. You wonder, 'Is the design truly going to show what I want?'"
It did. The collaborative process yielded a home filled with an eclectic blend of antique, modern and contemporary details. "Tim and I loved the idea of an old home, but location-wise we're in new construction, so we wanted different thoughts on creating our spaces," says Ranae.
Jessica provided guidance on how to attain character. Antique furniture sits next to contemporary wallpaper, gilded frames house modern art and pops of color brighten neutral palettes.
Throughout the process, Ranae discovered that working with a design professional elevated her aesthetic to something extraordinary. "When I got to the point where I was overwhelmed and wanted to do something fun but was scared, I could get Jessica's help."
Case in point: the living room. Ranae found the couches and sofa table, but that was as far as she got. "I was pretty proud of myself. And then I froze. I didn't know how to take it from there and put the rest together."
Jessica saved the day – and space – with a carpet that picked up the furniture colors and a sleek lighting accessory that grounded the room.
"With this house, I was so comfortable with the process," Ranae says. "It was really collaborative." And fun. "It's my style and what I wanted."
TOUR THE HOME (CLICK ON IMAGES FOR EXPANDED VIEWS)
Entryway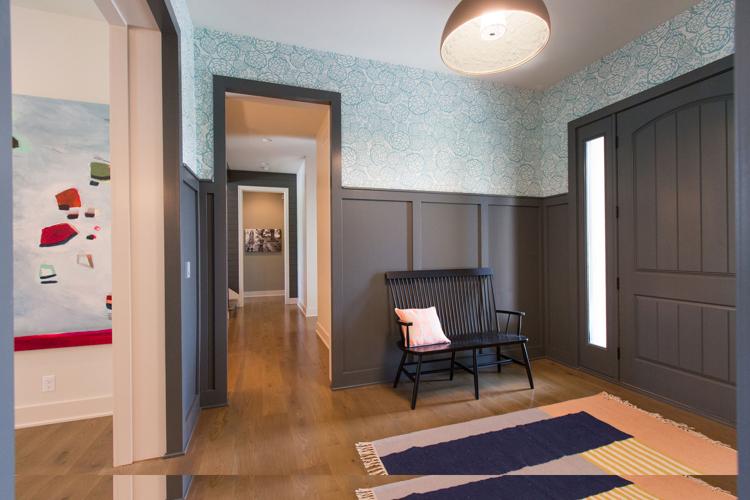 Ranae wanted a stately feel to the entryway, so she used wainscoting. "I knew I wanted a defined entry space," she says. "The paneling gives it a sense of formality." She found the bench from Schoolhouse Electric and the lighting fixture from Dwell. "It's contemporary on the outside, but inside it looks antique."
Fireplace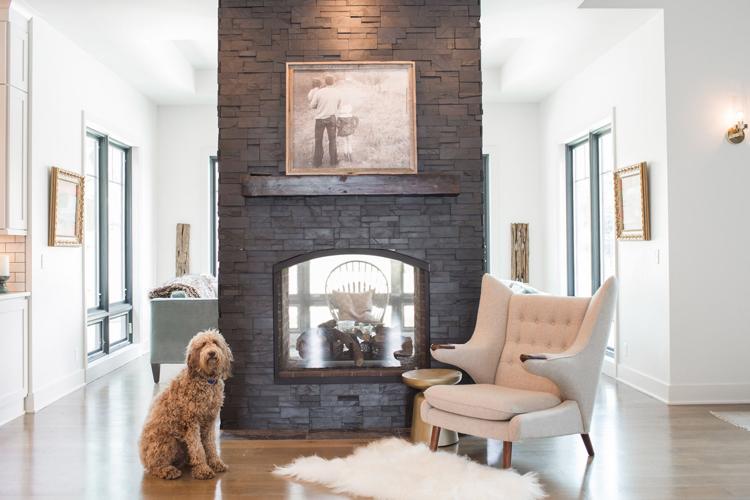 A dark slate fireplace greets visitors to the Upton household as a watchful Stanley keeps guard over his domain. Ranae paired a midcentury-style lounge chair from Allens Home with a contemporary brushed bronze side table from West Elm and a white sheepskin rug. The image over the fireplace is one of Ranae's all-time favorite Instagram snaps of her family. "I had a print shop create an architectural print. I was going to put glass over it, but I love the raw quality of it. It makes it seem like a vintage photo."
Stanley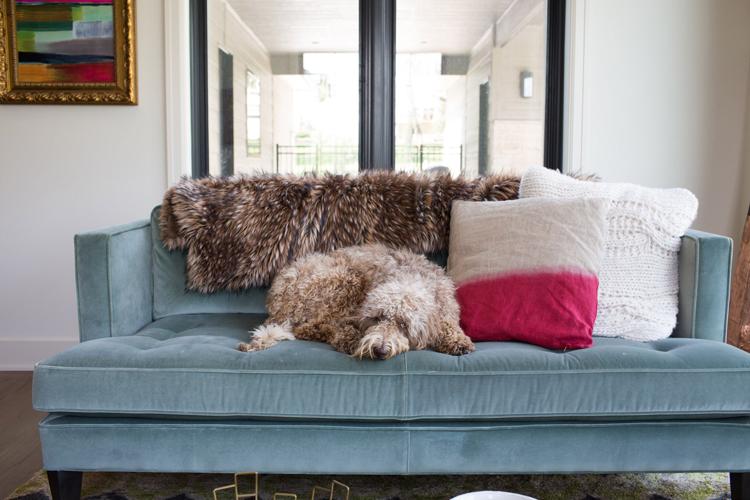 The Uptons' lovable golden doodle sometimes gets mistaken for items like the Restoration Hardware throw draped on the couch (pictured left). "Once, we were at a fast-food drive through, and he was asleep in the back seat. When the French fries arrived, he perked up and startled the cashier, who said, 'Oh! I thought he was a coat!'"
Living Room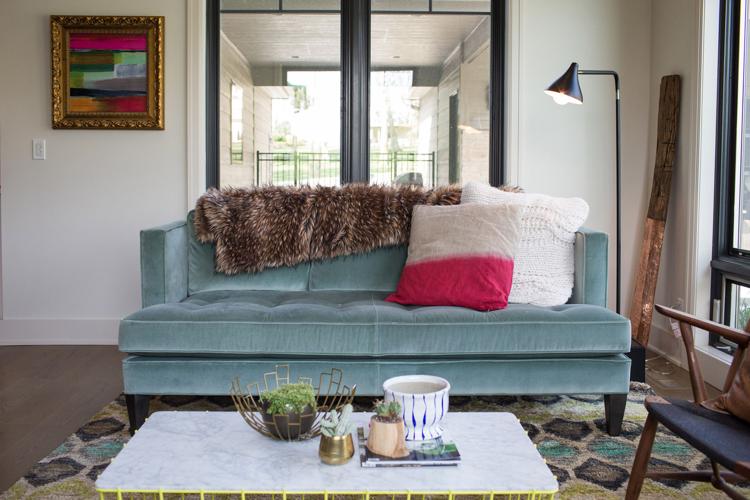 Ranae ordered the sage blue crushed velvet couches at Room & Board and the coffee table from Blue Dot. Interior designer Jessica McKay added the accessories, a midcentury-inspired floor lamp and a rug that subtly picks up on the furniture's color palette. "I never would have brought in the pink, but I love the contrasting piece," she  says of the bright Dash & Albert throw pillow. "That one unexpected element completes the room."
A modern oil painting from Lee Douglas Interiors is mounted in a gilded frame and represents Ranae's eclectic style. "I love contemporary and modern styles, but I also love antiques. That's what makes a home feel warm to me. Before, I would have thought you'd have to be just straight contemporary, but I love the blend."
Kitchen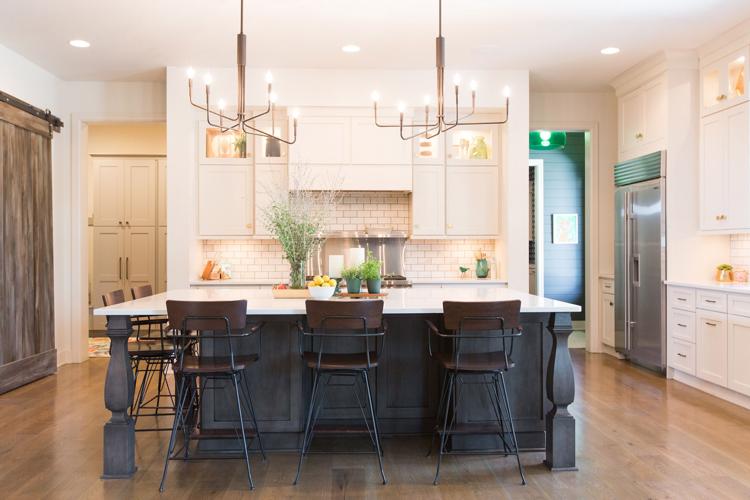 Ranae designed most of the kitchen, including the quartz countertops and cabinetry selected from Millard Lumber. Jessica pulled the room together through details such as the brushed gold and aged bronze hardware, both from Schoolhouse Electric. "I would have gone stainless steel to match the appliances," admits Ranae, "but I love the mixture of metals."
 "I struggled with the barstools," admits the homeowner of her kitchen's seating. "Jessica had shown me how much fun you can have with color, so I was looking at bright stools. She was really good at bringing me down. She said, 'Let's stay neutral.' She selected these [from Crate & Barrel], and they quiet down the space. It's exactly the feel I wanted."
 "I originally got them for the master bathroom, but they were too overwhelming. Jessica said to use them in here," says Ranae of the Crate & Barrel light fixtures. "They just float, and I like that they have a modern design, but at the same time they're like candelabras. It's a nice mix of vintage and modern."
Dining room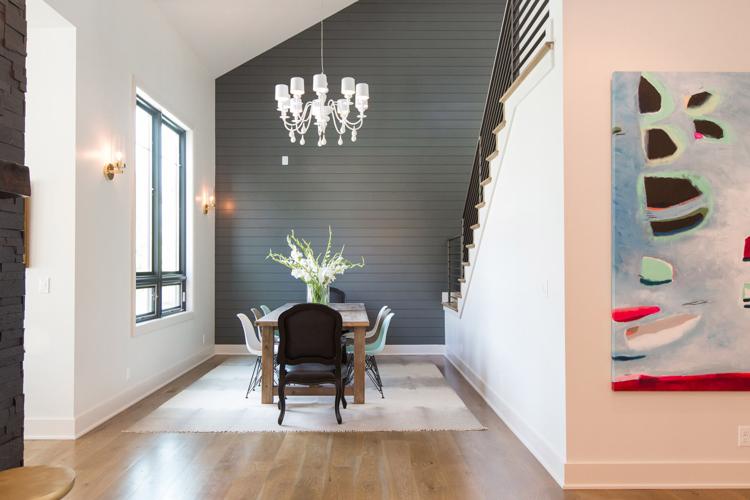 "I knew I wanted a wood wall, and I wanted it dark," says Ranae of her dining space's distinctive backdrop. "The vertical board treatment provides texture. It's clean, but still has character. I found the chandelier at Euro Style Lighting; it just pops against the wall. I love the contrast." The rustic dining table is from Restoration Hardware.
For seating, Jessica opted for head chairs from CB2 and six Eames side chairs, two each in white, taupe and robin's egg blue, from Design Within Reach. The mix of colors keeps the room from being overly formal.
The Uptons commissioned the large-scale painting from an artist in Italy after Ranae spotted his work on Etsy. "It was kind of scary at first. We showed him pictures of the interior and told him we wanted something to complement the décor. It works with the style."
Hallway & Study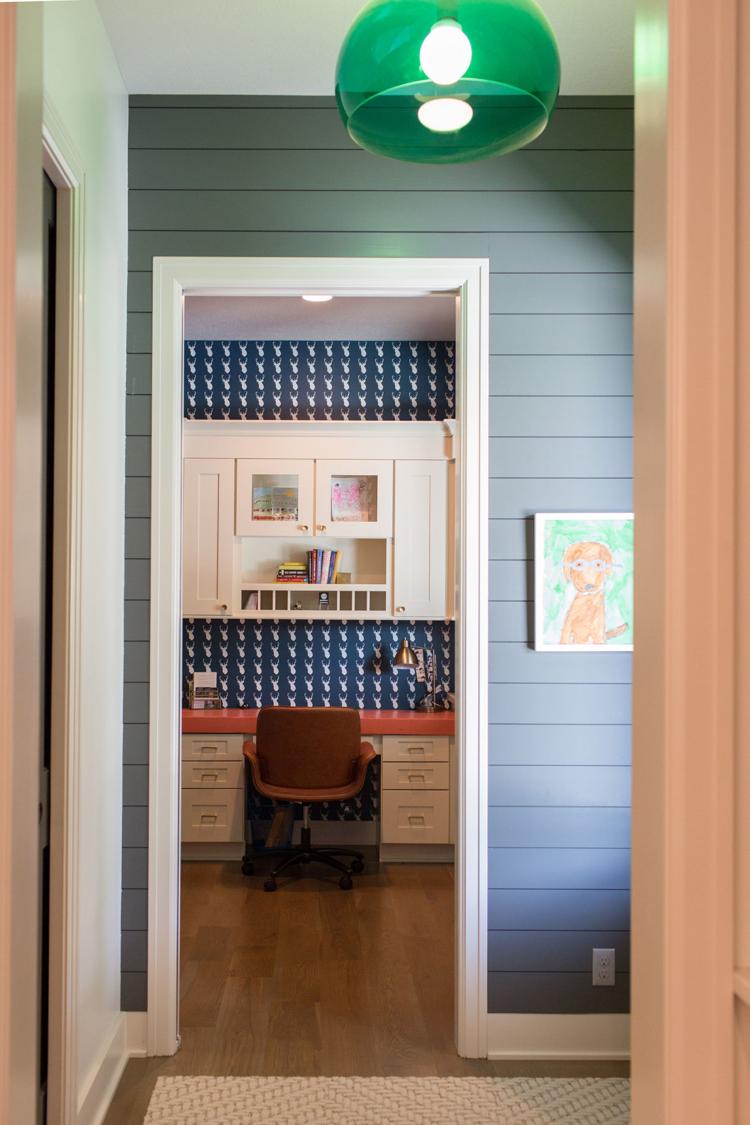 The hallway off the kitchen features "Stanley With Glasses," a fanciful portrait of the family pet created by the homeowners' daughter. "Displaying children's artwork is a big thing with me," says Ranae. "It makes it feel like home."
Ranae found the study's custom wallpaper, "Smarty Pants Deer," at Spoonflower. "My husband is a hunter, and this combines my style with something he enjoys. Plus, I love wallpaper. It's fun, but not permanent, and you can put up something different to totally change the space."
Family room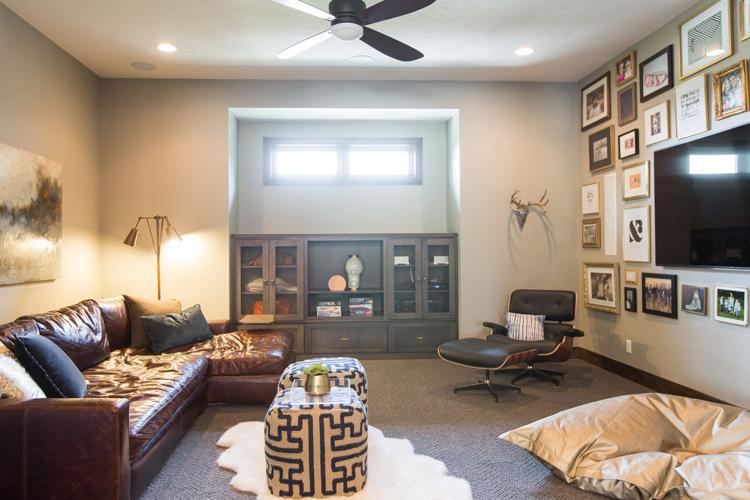 The family wall features artwork, a flat screen TV and plenty of family photographs. "There are always all those pictures on your phone or camera that you scroll through and love, but you don't really display them. It's always the professional photos," observes Ranae. "But these make me happy. They're all our best moments. It's our memory wall."
A classic black leather Eames lounge chair sits underneath a pair of antlers from one of Tim's deer hunting excursions. A Fatboy beanbag chair in muted gold, perfect for the kids to stretch out on, picks up on the two ottoman upholstered with fabric printed in a tribal motif from Lee Douglas Interiors in Omaha. The leather sofa is from Restoration Hardware.
Master Bath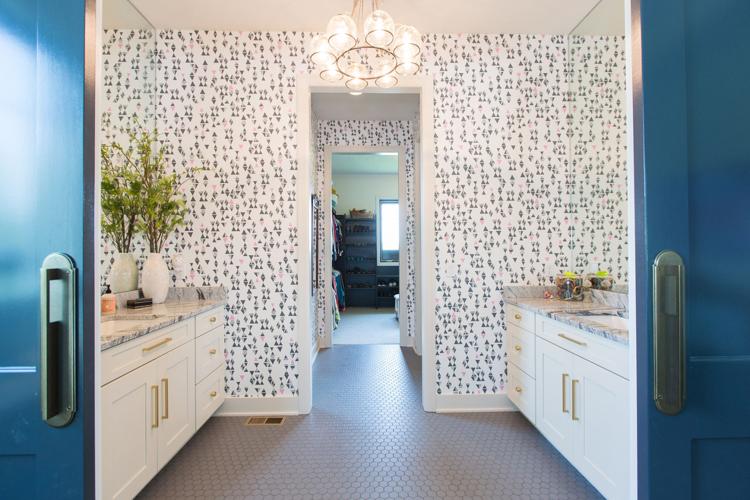 The master bath features hexagon tiled flooring, marble countertops and geometric wallpaper with calming grays and vibrant pops of pink. "Jessica pitched this wallpaper for the entryway, but I decided to use it in here," says Ranae. Called "Triangles," it was created by artist Lisa Congdon for Hygge & West and is no longer in print. A pendant light from Schoolhouse Electric and brushed bronze hardware add warm luster to the otherwise cool palette.
Master Bedroom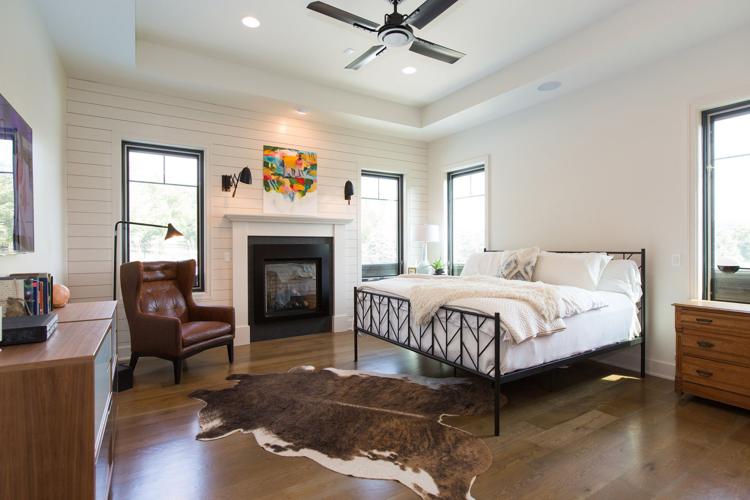 A restrained, airy feel dominates in the master bedroom, which includes a cowhide rug and dark brown leather chair. "We wanted a homey feel, and since this isn't an older home, the paneled wall adds more warmth than just drywall," says Ranae. She found the fireplace sconces at Crate & Barrel and the bed at West Elm. The small chest of drawers next to the bed was an antique store find.
Powder Room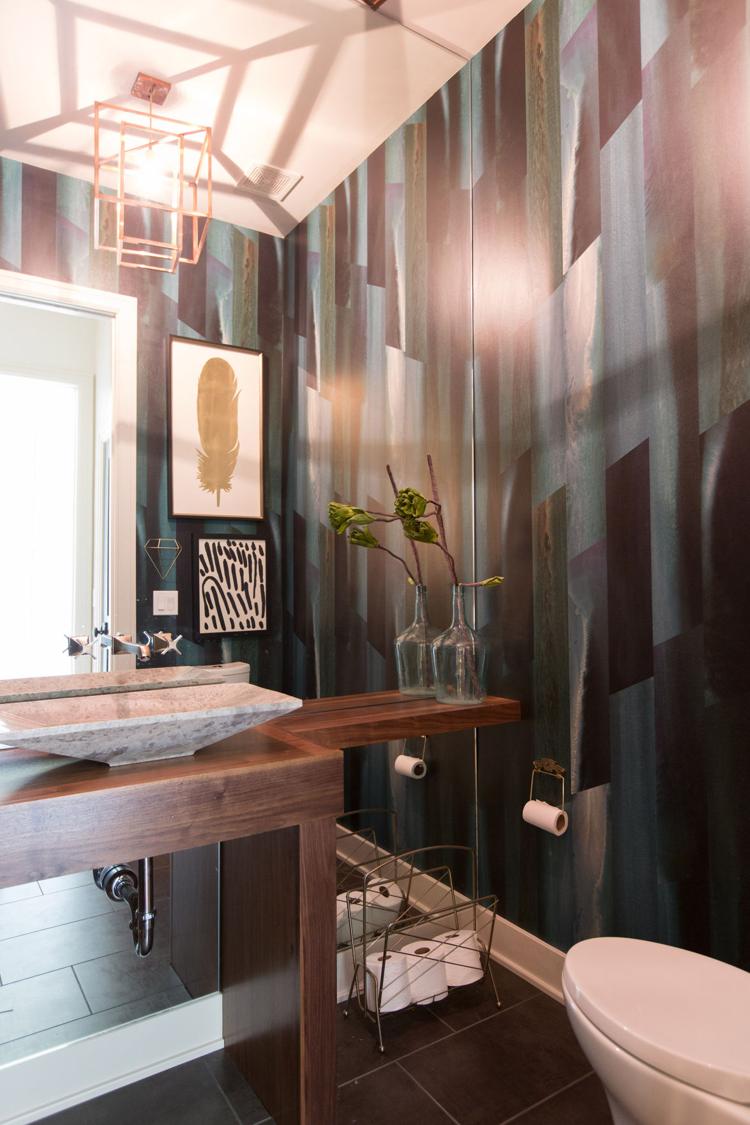 "Emerald City" wallpaper from Flat Vernacular packs a lot of drama in the main floor powder room. "I wanted a floor-to-ceiling wall covering and a large mirror," explains Ranae. "They make this small bathroom seem huge." The copper lighting fixture picks up the warm tones of the simple marble sink and wood base.
Laundry Room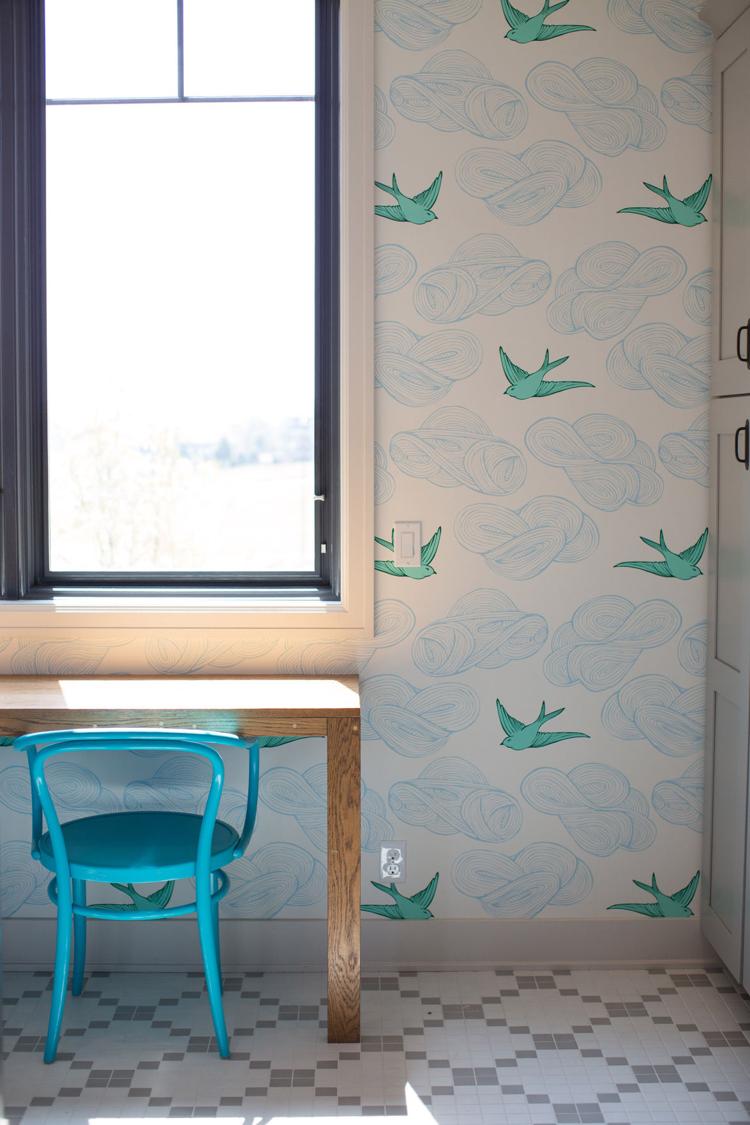 "Jessica told me, 'This is really going to push your boundaries,'" chuckles Ranae of the fanciful Hygge & West "Daydream" wallpaper designed by Julia Rothman. "I fell in love with it and put it in the laundry room. It's so fun. And if you have to do laundry, you might as well have fun!"
The table is from the dining room in the Uptons' former home. They cut it in half and mounted it to the wall as a folding surface. The chairs are also from the previous dining room. "These were my initial, 'Agh! They're not neutral!' moment. Size-wise they didn't work in our new home, so I use them in here. They're some of my favorite chairs."
SHOP THE LOOK
Furniture: Allens Home, Blue Dot, CB2, Crate & Barrel, Design Within Reach, Fatboy, Lee Douglas Interiors, Room & Board, West Elm
Lighting: Crate & Barrel, Dwell, Euro Style Lighting, Schoolhouse Electric, Etsy, Land of NOD
Cabinetry Hardware: Schoolhouse Electric, Target
Art: Etsy, Lee Douglas Interiors, Pearson & Company
Wallpaper: Flat Vernacular, Hygge & West, Spoonflower
Accessories: Dash & Albert, Restoration Hardware, Hutch, Pottery Barn
For more gorgeous interiors, visit this Hanscom Park home filled with salvaged details and this stylish kitchen created by a local wedding planner.