Scott Evans calls them the "helicopters of horror."
They're turning silver maple trees brown, and in the next few days, they are going to be in every nook and cranny of your yard.
"It's going to be a doozy," said Evans, horticulture program coordinator for Nebraska Extension in Douglas-Sarpy Counties.
Evans said the extension office received 40 calls Tuesday alone about maple trees and their bounty. Evans isn't 100% sure why maple trees are overloaded with the seed pods, called winged samaras. But he has a good idea.
Blame it on the trees' long memories. Last spring, because of a late frost or freeze, the flowers of the maple trees were frozen.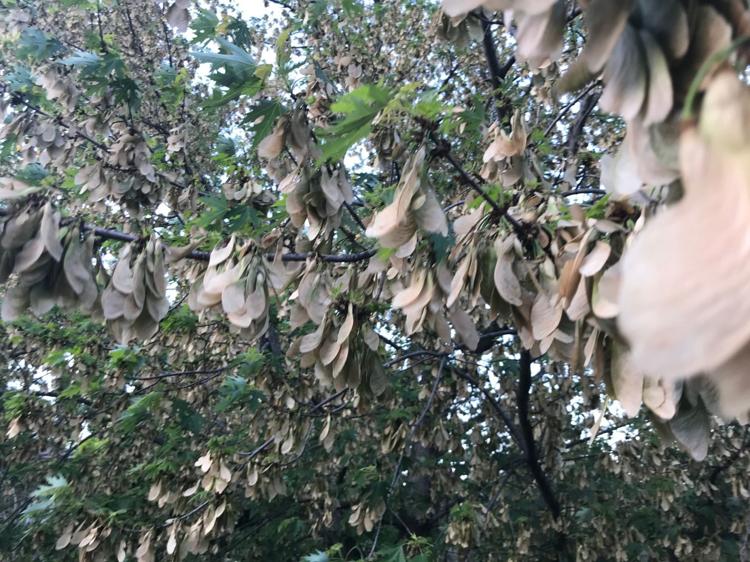 "If you recall, most of the silver maples did not produce any helicopters," he said. "Trees remember this; they know when seeds did not get dispersed. This is what we are likely experiencing."
With the hot weather this week, Evans expects the helicopters to dry up and start dropping.
Homeowners, he said, should brace for a helicopter explosion.
Those that fall on lawns can be mowed over, which will add nutrients back into the ground. Those that sprout in pots and vegetable beds will need to be hand weeded.
Gutters could be another prime spot, and Evans said to use extreme caution. Sidewalks can get slick from the helicopters, and so will shingles.
Don't just leave them, or you'll be overflowing with maple tree seedlings.
Evans said he's seen this type of seed explosion with oak trees, but never before to this extent with maples.
Sign up for The World-Herald's afternoon updates
Receive a summary of the day's popular and trending stories from Omaha.com.
"This biologically is a way for a tree to just really make sure it's producing seeds for the survival of that particular species," he said.
Right after the calls about maples came, others about ash trees losing their leaves followed.
He thinks the ash issues might be because of a fungus called anthracnose, and is a result of the cool weather this spring. He's investigating.
"It's been a very interesting spring," he said. "It's been very educational."
Check out nearly 100 stunning photos of Nebraska
Check out some of the most beautiful images of Nebraska.