Looking back at the gardening season, there's one area where I definitely earned an F.
A big fat glorious I-don't-regret-it-for-a-minute failing grade on controlling my plant spending habits. I bought every amazing flower that caught my eye and way overspent — again — at the Spring Affair in Lincoln last April.
But I also made sure that almost every plant I brought home was either a native species or good, according to the tag, for butterflies and bees. That's my biggest focus going forward.
I had a few disappointments.
First off were the two Monet weigela that I spent big money on after a road trip to Canoyer Garden Center in Papillion. The plants fried in the heat although the tag said they could take full sun.
My broccoli didn't fare well in the fancy new (and smaller) pots that I got to dress up my raised vegetable garden. Previous plants did much better in my dilapidated but huge plastic planters.
What I thought was a brilliant idea for extra space in my vegetable garden backfired. I decided to fill the empty areas with wildflower seeds after writing that even a six-foot patch could make a big difference to pollinators. For good measure, I tossed in every leftover seed packet I had.
Six weeks later, I had very few flowers, but all the weeds I had carefully pulled had roared back. I'm going to try again next spring, maybe with zinnias and cosmos.
The biggest thing I learned this year?
Too often, I buy plants, water them for a few days and forget about them. With all the rain last spring, and how pretty and successful so many of my plants proved to be afterward, I have to keep that water container handier in the future.
I usually don't write down my observations of the growing season, but I think it's a good idea.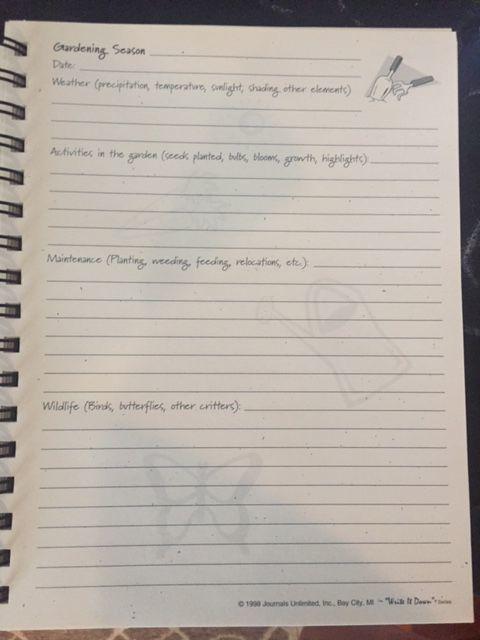 Michele Minnick started keeping a garden journal four years ago when she realized she couldn't remember from year to year what worked and what didn't in her flower beds and containers.
The owner of the Garden Gallery in Olde Towne Elkhorn even created her own version to keep track of things such as when and where something was planted, when it bloomed, how tall it got and what made it a success or failure in her garden.
"Just little things that will help me to plan for what I want it to look like next year," she says.
She adds pictures, too, to jog her memory about great color combinations or what she may need to plant more of next spring.
She starts jotting notes midway through the growing season, often in incomplete sentences. She says if you start to journal that way, make sure you include enough information to recognize what plant you're talking about.
"I look at it during the winter just to get excited," she says. "I love to see each year what my garden looked like. Sometimes I'll do the same container and it will look completely different. I like to compare."
Do you keep a journal? I'd love to hear what works for you.