The minute I saw the chair in an Old Market antique mall years ago, I knew it would be perfect for a corner of my living room.
Unfortunately, my dog Phoebe felt the same way. She ripped it to shreds while gazing out the window, waiting for me to come home.
I covered the chair with a blanket, then a doggy-themed quilt. The chewed arms still peeped through, especially when company took a seat.
The darling slipper chair upstairs was another victim, only that time the cats were the culprits.
Well, we've put that sad history behind us, one chair and one cushion at a time.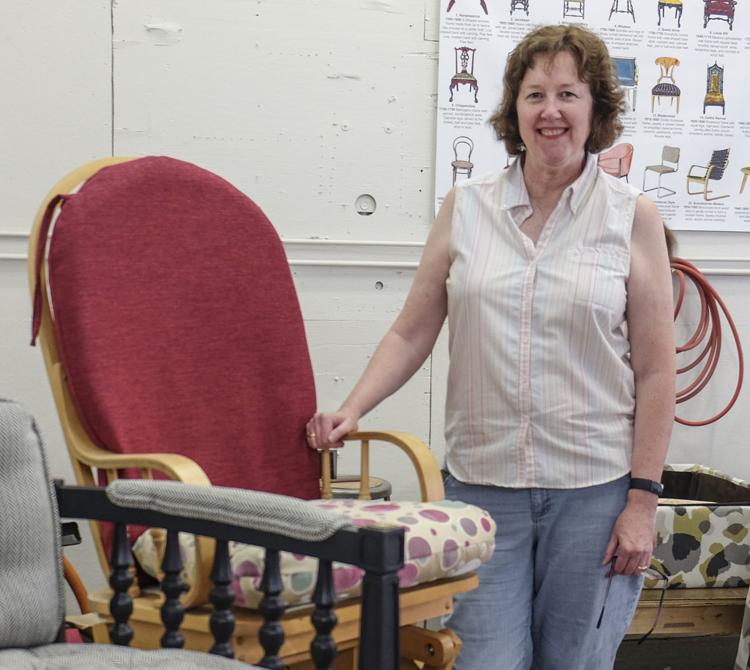 I've become an upholstery class lifer.
Ever since writing about someone else's upholstery experience, I longed to try the Metro Community College class for myself. Student numbers are limited by design, so it took a few months before I was able to enroll.
But once in, Saturdays don't seem complete unless I'm tugging out staples or asking my teacher, the always patient and entertaining Kathy Foust, to explain the complexities of a box cushion one more time.
It's easy, she's fond of saying. Just zip, zip, zip.
Upholstery is one of Metro's classes in the lost arts. Weaving, pottery, leather work and ceramics are others. Students have filled a large chalkboard with other suggestions since a home was found for the classes in the North Makerhood District near 12th and Cuming Streets.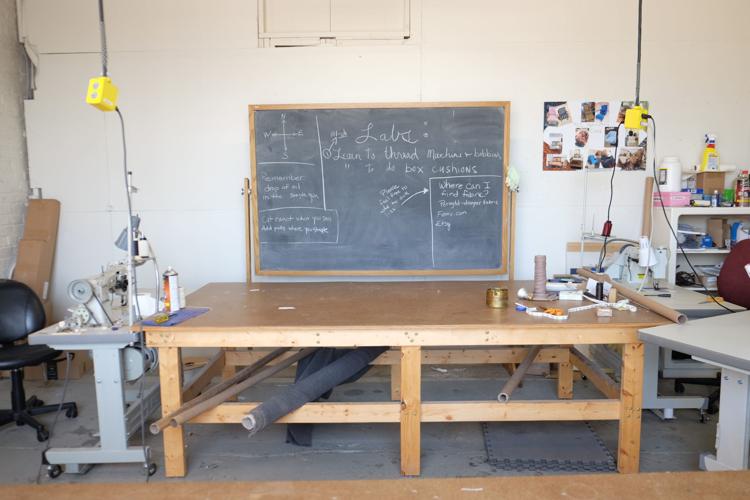 The upholstery classes, with more than 250 students since spring 2017, have become so popular Metro has expanded from one Saturday session to several and added a second teacher, former pupil Stephani Keene.
Gary Girard, director of continuing education at MCC, said students enroll to learn a new hobby or to reupholster a family heirloom. Then they often develop a passion for their new skill.
"Most students continue taking the courses because they enjoy the instructors and develop friendships, and some of the students have developed a new business,'' he says. "This class provides the opportunity for students to explore their artistic abilities and entrepreneurial spirit."
I'm one of those many repeat students. Since taking my first seven-week session last year, I've reupholstered four chairs, two ottomans, four dining room chairs and a box cushion for a bench inherited from my mom.
I've learned the joys of using a pneumatic staple gun, the ease of slicing expensive fabric with a razor blade and the frustration on not getting a pleat to line up for what seems like the 10th try.
I've also collected two couches, three chairs and a rocker from people who know I'm taking the class and think each one would be the perfect project. They're right − I can't wait to get started, especially on the one I call my throne.
Best of all, I gain a whole new group of like-minded friends every session. And they are nice enough to tell you when that green fabric for the back of the rocker doesn't quite go with the jeweled tones of the seat.
There is only one bad thing about upholstery class. Once one chair in the living room is transformed, all the rest look shabby. And so the upholstery journey continues.
Photos: Reupholstering a chair
This chair, found years ago in an antique mall downtown, is transformed from a wreck to a showstopper.