Whether for aesthetics, safety or to protect your investment, fixing cracks in sidewalks and driveways may not rank among the showiest — or most exciting — home improvements.
But it is important and necessary to address cracks to extend the life of a driveway or sidewalk because it is much more expensive to put in a new one.
Spring is the ideal time to tackle such repairs since it is after the winter thaw and before the heat of summer. Over time, as the ground shifts and water permeates cracks in both concrete and asphalt, the strength of the base becomes compromised and leads to cracks, crumbling, heaving and potholes.
A variety of repair products are available at big box retailers and home improvement stores, from concrete caulk to asphalt sealer, for do-it-yourselfers to complete minor jobs.
Concrete is a material that cracks by nature, so homeowners should accept that if they decide to install, repair or redo a concrete driveway, said Tom Morelli, owner and president of Suburban Asphalt Concrete Co. in Lynbrook, New York.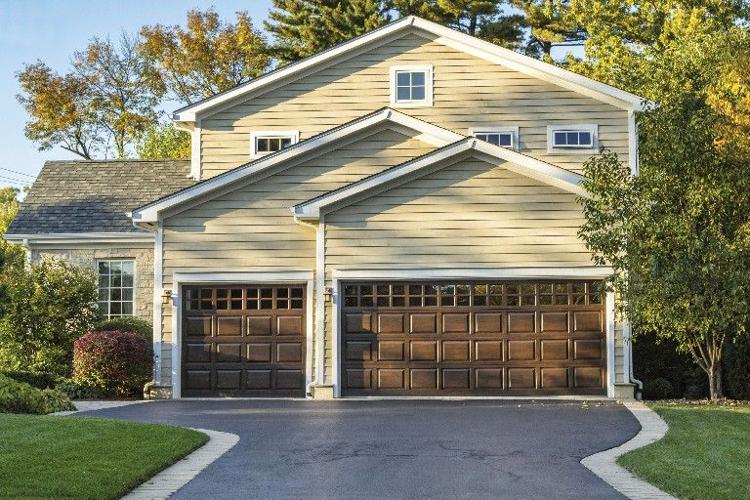 Control joints help the concrete to move and relieve the pressure that leads to cracking, but it's still prone to minor cracks due to ground shifts, moisture and temperature changes.
Morelli has been in the business for more than 30 years and does limited repair work because it is hard to get the repair to last. It doesn't hurt to caulk cracks in concrete, but it will only last about sixth to eight months, especially in colder climates.
"When it comes to the aesthetics, you can never match the color of concrete," Morelli said.
Kent Home Services, a third-generation residential and commercial concrete company, provides a variety of repair services including mudjacking. It's a technique that lifts a sunken concrete slab by pumping a grout through the concrete, effectively pushing it up from below to level it.
"It's a very cost-effective repair for concrete that's shifted, slightly sunken, or a trip hazard that's heaved up," said Jeff French, division manager for Kent Home Services.
Not only is it half the cost of replacement and keeps concrete out of dump sites, raised concrete can be used almost immediately. New concrete pours cannot be walked on for several days and take a month to fully set.
Generally if a crack exceeds 1/8 inch in width or is leaking water at any width, it is time for a repair. 
"If you repair cracks, it will prolong the integrity of your driveway, your sidewalk, your patio," French said. "You shouldn't let them go because they're eventually going to come apart because of water and moisture. Over time, that can erode or deteriorate under the concrete and allow the concrete to settle or wash out, then it will just break apart and you're facing replacement cost versus a $20 tube of caulk."
DIY caulk only seals the crack, it doesn't hold the two pieces together, French said. Some cracks require mending, which is more of a structural repair.
"That's a little harder," he said. "You really need to have a diamond wheel or cut or grind out the crack so it's a little more difficult for a DIY situation."
Most companies offer free estimates so it never hurts to get a professional opinion on what to do, whether that's a DIY fix, hiring a company to repair cracks or planning for a complete replacement.
Seek out a reputable company and get several quotes if it's a major fix.
If your driveway is crumbling, has heaved or is no longer holding up, then it may be better to replace it. The same applies if there are major drainage issues and they're allowing water to seep into the subsoil around your home.
Aesthetically, there are many options for concrete driveways and sidewalks when it comes to color and stamps, including stamps that look like brick and hardwood flooring.
If money isn't an option, heated sidewalks and driveways melt snow but can be expensive to run.
Generally concrete outlasts asphalt, but asphalt is the cheapest option. And it isn't necessarily cheap. In 2014, Angie's List members nationally reported an average price of $5,308 to pave an asphalt driveway. Costhelper.com reported a range of $2,300 to $10,300.
Asphalt is smoother and better for long driveways or steep grades, but it's also prone to deteriorating from tree roots and freeze-thaw cycles. Like concrete, water seeps into cracks and freezes and causes the asphalt to expand and contract and eventually start to crumble.
"If you leave cracks untreated, it's not an if, it's a when are you going to have to replace the asphalt," said Scot Leggett, owner of Leggett Asphalt in  Portland, Oregon.
A weekend spent patching and sealing can extend the life of the blacktop and improve the curb appeal and value of your home. There are different products available for filling cracks in asphalt driveways, including ones that come in pourable-liquid squeeze bottles, caulking tubes and preformed rolls. Selecting the right filler depends on the size of the crack. Potholes, deep depressions and crumbling areas may need a cold patch.
An asphalt driveway should last an average of 15 to 20 years. Beyond regular cleaning, crack filling and seal coating, there are cases when it's better to call in a professional. Products sold at big box stores don't hold up as well as materials used by professional pavers, Leggett said.
"We router out the crack, clean the edges and open it up a little bit and then we have an elastic, hot pourable crack filler heated to 400 degrees" he said. "It cools almost immediately and that product is far superior to the cold-pour method."
In warmer climates, grass can grow through cracks. Damage from ultraviolet rays, oil stains and general wear and tear are other good reasons for sealing asphalt driveways.
Asphalt driveway sealer should be applied within sixth months of installation and every one to three years thereafter. In colder climates, it's good to apply sealant once per year to protect the top layer.
"A type of crack I get called out for quite a bit is upheaval of the asphalt from tree roots," Leggett said. "Filling that crack is not going to stop it from upheaving. That (root) needs to be removed or shaved down and that section needs (to be) repaved."
For new asphalt driveways, Leggett recommends paying the extra money and having 3 inches of asphalt put down rather than the standard 2 inches.
"The only extra cost to the customer is the cost of the raw material," he said. "It's going to last longer and it's really the best bang for your buck to ... go with the deeper asphalt."
Deciding on asphalt or concrete mainly comes down to personal preference, cost and aesthetics.
Finished concrete is double the cost of asphalt and colored or stamped concrete can cost five times as much, Leggett said. When it comes to strength, three inches of asphalt is equivalent to seven inches of concrete.
Porous asphalt is becoming more popular. The water drains through the asphalt, into a stone bed and slowly into the ground.
"I've done several of them and it does work," he said. "It's a little more porous to the eye, but it still has the smooth drivability."
Although 90 percent of driveways in the United States are either asphalt or concrete, other options include crushed stone, gravel, cobblestone and interlocking concrete pavers in a variety of patterns. Prices range from $1 per square foot for stone and gravel to $13 or more for cobblestone paving.
The professionals say permeable paver stones and brick pavers are growing in popularity for driveways, patios and walking paths, but they are much more expensive. Having worked with both concrete and asphalt, Morelli recommends asphalt.
"I have blacktop in my driveway," Morelli said. "I always have and I always will. You get the best value for your dollar with blacktop. Add cobblestone on the edging, it looks nice. Blacktop is also a better material today. It doesn't have all the flaking and scaling. All the chemicals today really take the finish off the top of concrete."