Sam Sifton, the New York Times food editor, got a taste of Omaha in conjunction with the 16th annual Lauritzen Gardens Antiques Show in September.
He confessed to arriving with a hoity-toity speech on food and culture for his Sunday Luncheon & Lecture appearance but scrapped it after a whirlwind introduction to our city's restaurant scene and an evening of wining and dining with the LGAS inner circle.
"New York is not going to tell you anything about the art of entertaining," Sifton told the sold-out audience of 500. "This is a sophisticated crowd."
For the next hour, Sifton served up a delightful smorgasbord of insights, anecdotes, musings and quips about his career, his love of Thanksgiving and the joys of food as a cultural experience. If this was impromptu speaking, it was as smooth as the Unstrung Harp cocktail served as guests mingled and found their seats.
Some takeaways from the talk by the affable critic and author:
"Anytime we interact with food and wine, it's a cultural experience."
"Thanksgiving is the greatest American holiday, bar none."
His 2012 book, "Thanksgiving: How to Cook It Well," is a best-seller. "There is no need for fear" if you're in the kitchen on the fourth Thursday of November, Sifton says.
To aspiring home chefs: "If you cook on a regular cadence and invite people over to share it, your life is going to be better."
Two keys to a great party: Serve more alcohol than you think you should, and recognize that you're not going to change anyone's mind on any particular subject, so don't try.
For a restaurant critic, it can be a challenge working under the guise of anonymity. "Wigs don't work so well for fellas." His foil for restaurant staff expecting a preppy-looking guy: An open-collar black shirt and some gold chains.
On the road as national editor for The Times, Sifton almost always spent time in the kitchens of the newspaper's correspondents.
"I kept coming across one book: 'The New York Times Cookbook' by Craig Claiborne." Published in 1961, it was a best-seller for most of a decade.
Sifton's Omaha experience included "a wild day of eating" with former World-Herald food critic Sarah Baker Hansen. They hit Archetype, Farine + Four, Coneflower Creamery, Time Out Foods, Block 16 and Mercury. (Time ran out, or he would have had a Runza fix, too).
Sifton found the crab Rangoon-topped Three Happiness Burger at Block 16 "shockingly delicious" and told his social media fan base later: "I'm bringing that to Brooklyn, stat."
The visit wasn't long enough for a complete taste of the restaurant scene, including "a very interesting pizza game," he told the LGAS crowd. "I'll be back."
Visiting the Big Apple? Try the high-end Greek restaurants on 59th Street and the grilled fish with lemon in Queens.
And just in case you're curious (the LGAS crowd was), Sifton prefers his Thanksgiving stuffing baked outside the bird, in copious amounts.
Happiest of holidays from our homes to yours!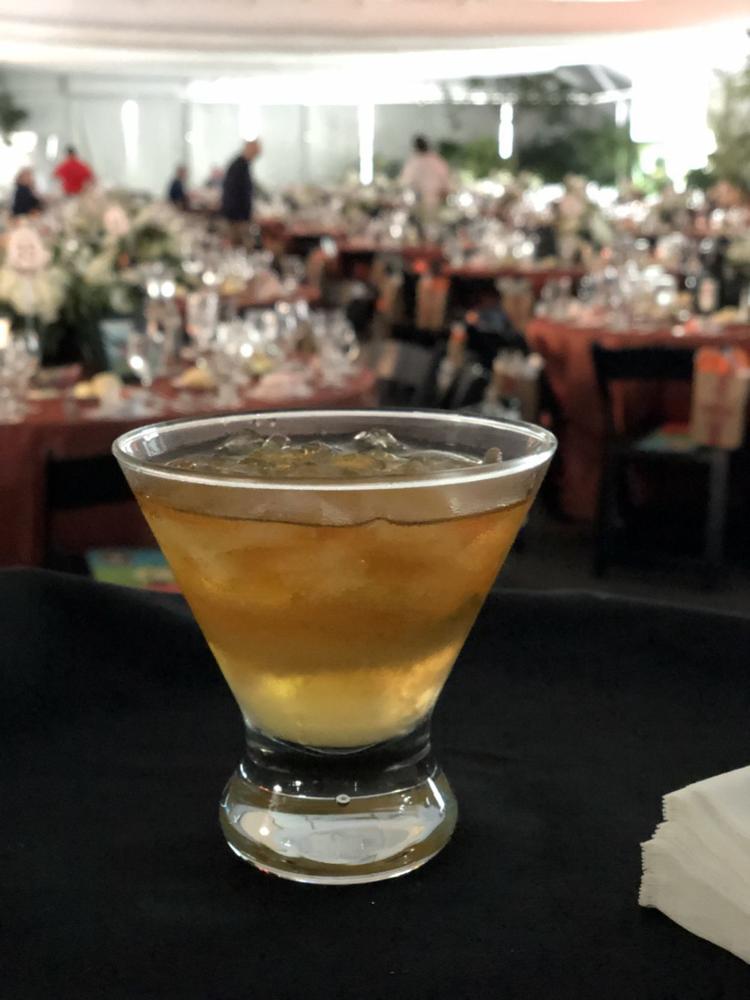 Make it at home
The Unstrung Harp cocktail originated at the now-closed Tenpenny restaurant in NYC. The recipe was inspired by Edward Gorey's 1953 novel of the same name. Back in 2011, NYT Cooking declared the Unstrung Harp the "Drink of Summer." Now you can enjoy it anytime time of year.
Shake the rum, syrup and limes with ice and pour into the largest and most sturdy wine glass you can find. Add prosecco.
Note: To make the ginger syrup, dissolve 2 teaspoons of sugar into a tablespoon of ginger juice from grated ginger.