Life is better than death, I believe, if only because it is less boring, and because it has fresh peaches in it." — Alice Walker, novelist and poet
I most heartily agree with Alice. A sun-warmed peach plucked from the limb is about as fine as fruit gets. And to get to the last piece of a proper peach pie, I don't know if I would necessarily hard-check my own grandmother into the boards, but I would not be beyond shamelessly distracting her while I forked down the final crumbs.
Peaches are an inspiring ingredient. The only hard part of developing recipes this time around was narrowing it to three. The trio here showcase different techniques and pairings that will hopefully spark some creativity of your own.
Don't stop at chicken for the spicy peach sauce. This BBQ-adjacent sauce can be a sweet and savory glaze for grilled shrimp. It also can be slathered on pulled pork or even served as a spread on a turkey sandwich.
The peach-in-a-blanket is a fruity slant on the Thai appetizer, goong sarong. The crispy rice noodles, bright mint and high heat bring out whole new layers of peach flavor. Experiment and sub the mint for basil, lemon balm, bergamot and more.
My personal favorite is a play on French Alsatian tarte flambée. The peach and bacon pizza balances the stone fruit's sweetness with sour cream, smoky bacon and tart onion.
Explore, invent and enjoy.
Peach & Bacon Pizza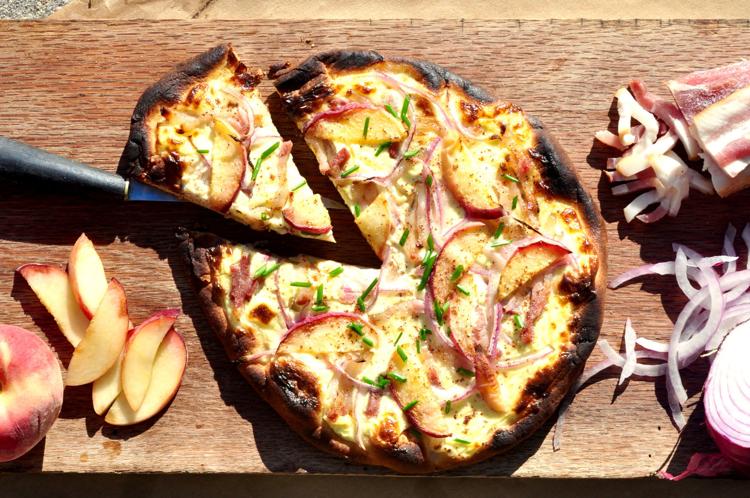 Skip the dough and start with pita or naan bread. This is not meant to be a heavily loaded pizza thick with meat. Keep the layers fairly thin and the amount of peaches and bacon roughly equal. It is important that everything is sliced thinly, so it cooks quickly. The bacon should be partially frozen and then sliced into thin ribbons. The red onion should be almost paper-thin half-moon slices.
4 fresh naan, pita or other flatbread
1 large peach, thinly sliced
8 ounces sour cream, full fat
⅓ red onion, very thinly sliced
¼-½ pound bacon, sliced in very thin ribbons
1. Preheat grill or oven to 500 F.
2. Blend sour cream, egg and salt until smooth.
3. Spread a layer of the sour cream mixture across the top of each crust.
4. Add a thin layer of onion, followed by a layer of bacon. And finally, a layer of peach.
5. Sprinkle with salt and a dusting of nutmeg.
6. Place pizza directly on the rack of grill or oven.
7. Bake about 10 minutes until top is browned and crust is dark brown on edges. If using a grill, use indirect heat. Use the burners or coals on only one side of the grill and put the pizzas on the opposite side and NOT directly above the heat. DO NOT USE A PIZZA STONE.
8. Place under the broiler for 1-2 minutes.
9. Let rest 2-3 minutes before slicing. Can be served later at room temperature as an appetizer.
Peach-in-a-Blanket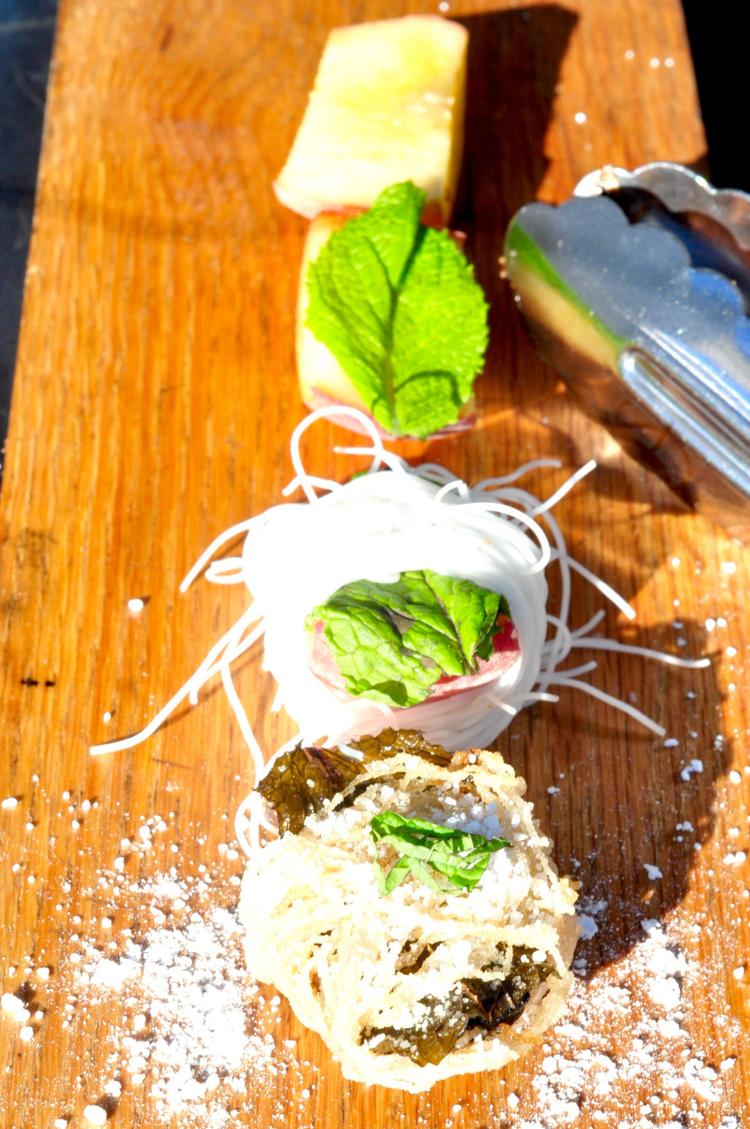 You may have come across crunchy golden goong sarong at a Thai restaurant. It is a great technique of wrapping shrimp or prawns with rice vermicelli noodles and deep-frying until crispy. Use the same method and try with other fruits or small portions of meat.
4 ounces dried vermicelli rice noodles, fine
1. Bring pot of water to a simmer and remove from heat.
2. Add vermicelli and allow to soak for a few minutes until soft. Rinse with cold water to cool. Spread out on wax paper to dry for a few minutes.
3. Cut peach into four large pieces. Trim outside edges of each piece.
4. Lay a mint leaf on top of each piece.
5. Take some of the cold vermicelli and wrap tightly around middle of each piece. Do not try to wrap the entire piece.
6. Fill small saucepan with 2 inches of oil and heat over medium-high heat until 375 F.
7. Fry one or two pieces at a time for about 2 minutes each until lightly golden. Drain on paper towels.
8. Can be served warm or at room temperature later. Top with fresh mint and powdered sugar. Great alone or served with ice cream or custard.
Spicy Peach Chicken Thighs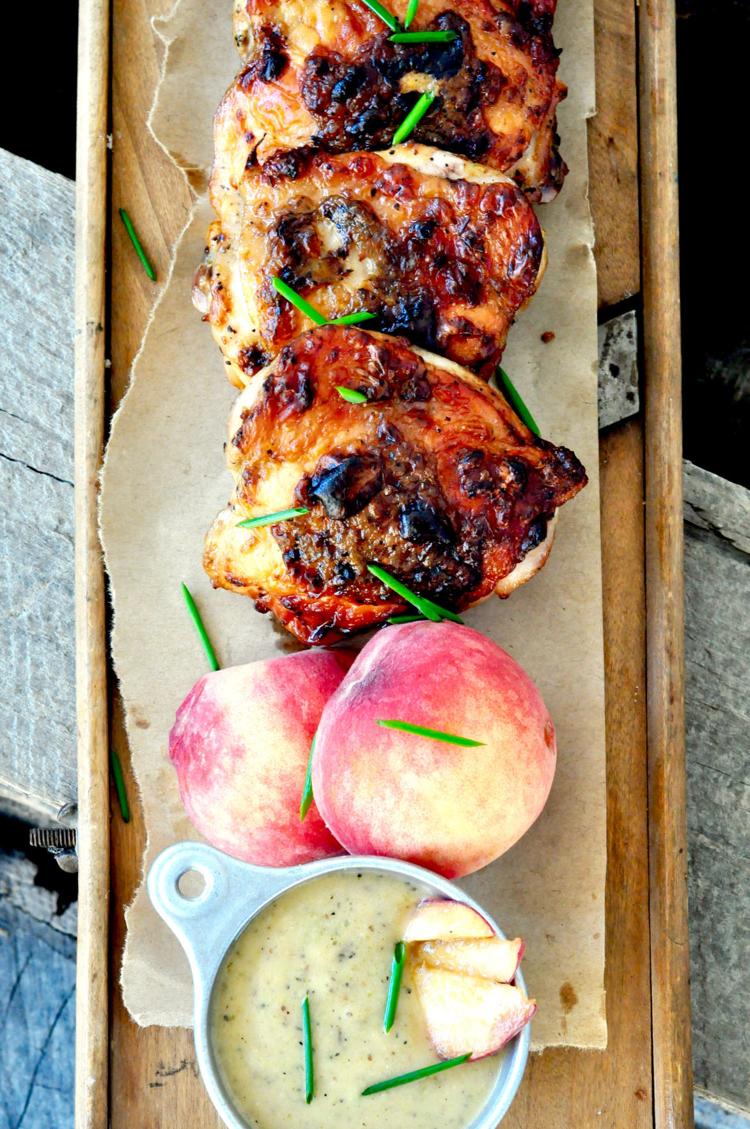 This is at its roots a BBQ sauce. The sweetness comes solely from the peaches, the heat from jalapeño and a savory note from garlic. The ingredients get an extra level of flavor from having been charred on the grill or under the broiler first. Using the same techniques and ratios, try different fruits, chilies, oils and vinegars. And no need to stick to chicken. Though it is a little mild for beef, the sauce works with pork, fish, shrimp, lamb and more.
6 chicken thighs, bone-in with skin
(or 1½-2 pounds of other meat)
1 tablespoon apple cider vinegar
1. Salt both sides of the chicken thighs and set aside.
2. Using high heat on a grill or under a broiler, roast the whole peaches, whole jalapeño and garlic cloves about 5 minutes until they are browned and lightly charred. Remove the garlic after it browns, but before it turns black. However, some black on the peaches and jalapeño is a good thing.
3. Remove pits from peaches and seeds and veins from the jalapeño.
4. Using an immersion or stand blender, puree all ingredients until smooth.
5. Add salt. Taste. Repeat until slightly salty.
6. In a bag or bowl, add the chicken and mix with half of the sauce. Reserve the remaining sauce for later. Let the chicken marinate for a few hours or even overnight in the refrigerator.
7. Heat grill or oven to 500 F.
8. Put a teaspoon of the remaining sauce on top of each thigh and spread across the skin.
9. Cook the chicken for 15-20 minutes until internal temperature reaches 160 F and skin is browned and crispy. If using a grill, use indirect heat. Use the burners or coals on only one side of the grill and put the chicken on the opposite side and NOT directly above the heat.
10. Allow chicken to rest for 5 minutes.
11. Serve remaining sauce on the side or drizzled over the top.