TV gave me my early culinary lessons.
I started watching cooking programs in my early teens. "The Galloping Gourmet" was the first cooking show I watched. I became the family dessert-maker, boiling up pots of Jell-o pudding, baking batches of chocolate chip and snickerdoodle cookies, and even tackling Duncan Hines cakes.
As a single guy living in suburban Chicago, Julia Child, Jacques Pépin, Mary Ann Esposito, Lidia Bastianich and others became my Saturday afternoon education.
I don't remember when I first got interested in bread baking, but I do remember an almost disastrous early attempt when I was about 24 years old. I had invited my boss and his wife for a meal at my one-bedroom apartment. I made rolls, but I realized I had misjudged the time to dinner. They were rising much too early, and I'd have to bake them too soon. They would be cold by dinner.
So I stuck them in the fridge to slow down the rise. When I looked in, they had completely deflated. I panicked. I had ruined the fresh rolls. I snatched them out of the fridge and sat them on the counter, trying to figure out what to do. It was too late to make a new batch.
Of course, in the warmth of the kitchen, they rose just fine. I had no idea. I baked them, served them warm with the spaghetti, and the meal went very well. The wine probably helped.
I learned one very important thing from cooking shows – how to read a recipe. This opened a lifetime avocation for me.
One thing I did not take from the cookbooks and TV programs was the kneading techniques. Almost all the cooks I watched recommend pounding dough with your fists or picking it up and banging it on the counter. Talk about taking out your frustrations on the dough! Child was the most pugilistic.
I can't do that. This is bread I'm going to serve to my family, my loved ones and my friends. I knead it firmly, but carefully. Bread may be an inanimate object, but symbolically it's life.
When my family breaks bread together, it's bread that has been created in our own home and baked in our own oven. It's been that way for more than 30 years and continues. I still bake a couple of loaves every other week, even though it's just my wife, Elaine, and me left in the house.
My Bread (as I currently make it)
My bread has changed over the years — and it's still evolving. It used to be plain white bread made with milk in place of water. As I read more about bread, watched cooking programs and just experimented, the recipe evolved into what it is now: multigrain and hearty.
Bread is as simple as four ingredients: water, yeast, flour and salt. They can go together in a variety of ways (except for the salt). Some wheat flour is necessary because bread needs gluten to rise. (I know there are non-gluten recipes, but I don't know how they work.) But with even a small amount of wheat flour you can use a wide variety of other grains and cereals.
1 cup 10-grain dry cereal
8-10 cups flour, divided (I use whole wheat and bread flour)
2 packages or 1 heaping tablespoon instant (rapid-rise or bread machine) yeast
1 tablespoon kosher salt (or ½ tablespoon table salt)
1-2 tablespoons coconut oil (or melted butter)
1. Mix together the rolled oats, 10-grain cereal, 2 cups whole wheat flour, 1 cup bread flour, yeast, salt and fat in the bowl of a stand mixer.
2. Run the mixer on low for 30 seconds or so to thoroughly blend the ingredients using the paddle attachment.
3. Slowly add the 4 cups of water. Mix at medium-low speed for 8 minutes. Then turn off the mixer and let the batter rest for 8 minutes. (If you don't have a stand mixer, stir the mixture by hand for 15 to 20 minutes to form the gluten. This is a good job to tag-team with a youngster.)
4. Add one cup wheat flour and two cups bread flour. Using the dough hook, blend mix for 8 minutes. You will probably have to add another one to two cups flour to make a soft dough. It should be firm enough to handle. (By hand, knead about 15 minutes. It's a good cardio workout.)
5. Remove the dough from the bowl onto a counter dusted with flour. Briefly knead the dough while forming it into a ball. Place the dough into a large, well-greased bowl and turn to coat all sides. Cover with a clean tea towel and set in a warm spot away from drafts. If you have a proofing feature on your oven, use that. If the area is cool the dough will take a long time to rise.
6. Let dough rise until at least double in size, which should take 45 minutes to an hour. To test, make an indentation with your finger. If the dough pops back, it's still rising. If the indentation remains, it's done.
7. Turn the dough onto the counter and deflate it by kneading it again briefly. Divide the dough into two equal parts. (I use a kitchen scale and weigh each half.) Form each into a loaf. Place into a greased 5-by-9-inch loaf pan, cover with the tea towel and let rise again.
8. Bake in a preheated 400 F oven. After 30 minutes check the loaves with an instant-read thermometer. The target temperature is 190-200 F. If you don't have a thermometer, take one pan out, turn the bread onto a surface and thump the bottom. If it doesn't sound hollow, or if the temperature is below 190, return it to the oven for an additional 10 minutes.
9. When the bread is done, remove and immediately turn the loaf onto a cooling rack. Stand upright, and brush the top crust with butter.
10. Now, here's the hardest direction of all: Wait at least a half-hour, and preferably a full hour, before cutting into the bread. Warm bread is great, but cutting too soon will let the steam – and moisture – escape, and your bread will dry out.
NOTE: We slice the bread when it's cool and divide the slices into zip-top bags, about 4 slices per bag, then freeze, thawing as needed. This is fine for making toast, but I think it ruins the bread for sandwiches. This bread has no preservatives and will mold quickly. Storing in the fridge helps.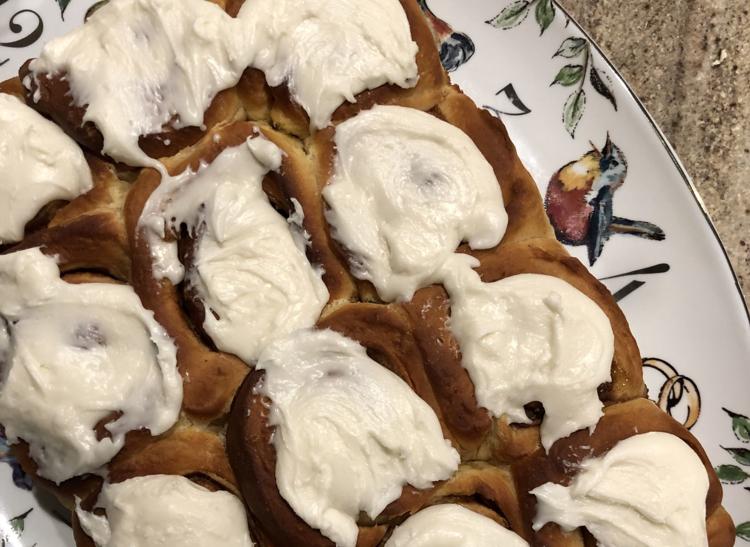 Grandma Adler's Sweet Rolls
When Elaine and I got engaged 34 years ago, we went to visit her mother and grandmother in Sioux City, Iowa. Her grandmother, Betty Adler, had spent her adult life running diners. She cooked the food, baked the pies, and made fresh bread and rolls.
As Grandma Adler and I sat, we began talking about bread. I was new to it, but I sort of knew what was going on. After a while, she got up from her rocker, went into the kitchen and returned with a 3-by-5-inch card. At the top it said "Parker House Rolls." Grandma Adler had given me, not her granddaughter, her handwritten recipe!
It makes great Parker House rolls. But it turns out to be the best cinnamon roll recipe I've ever found. I've modified it only slightly.
2 packages or 1 heaping tablespoon instant (rapid-rise or bread machine) yeast
¼ cup melted butter or butter-flavored shortening
Flour to make a soft dough (5-6 cups)
¾ cups firmly packed brown sugar
1-2 teaspoons cinnamon (as desired)
4 tablespoons softened butter
2 tablespoon very soft butter
Enough milk or cream to make a smooth frosting
1. Stir water, yeast, sugar, shortening and salt in a large bowl. Add 4½ cups flour and stir, adding more flour as needed to form a soft, very sticky dough. It may take five cups, or a little more.
2. Turn out onto a well-floured countertop and begin kneading. You will have to add more flour as you do, maybe up to a cup. The dough will stick to everything, including your fingers.
3. Pay attention to the dough. It will tell you when it's done. It will not need more flour. It will be smooth and elastic.
4. Place in a well-greased bowl, turn to cover all sides, cover with a clean tea towel and let rise. This will take anywhere from 30 to 60 minutes depending on how warm it is. The dough should double in size.
5. While it's rising, mix brown sugar and cinnamon to taste in a small bowl.
6. Turn dough out onto the counter and punch down to deflate it. Then roll it into a rectangle, about 18 by 24 inches, the taller side going away from you. This will take some determination because the dough will be elastic.
7. Spread the softened butter all over the rolled out dough, and sprinkle with the brown sugar-cinnamon mixture. Leave about 1 inch at the top and bottom, but all the way to the left and right sides.
8. Using a bench scraper or spatula, roll the dough from the bottom to the top, and seal.
9. Divide dough in half, then divide each half in half to make four segments. Cut each segment in thirds. Lay each segment cut-side down in a greased 13-by-9-inch cake pan. Cover and let rise again.
10. Bake in a preheated 350 F oven for 20-30 minutes, until golden brown on top. If you have an instant-read thermometer it should read 190-200 degrees.
11. Remove from oven and immediately invert onto a cooling rack. Let cool 10 minutes and invert again onto a platter or another cake pan.
12. Frost. And serve warm.
Chris Allen, Ph.D., is a journalism professor at the University of Nebraska at Omaha and general manager of UNO Television and KVNO radio on campus.