Classic food and drink duos: milk and cookies, beer and brats, and, of course, Yoo-hoo and Lebanon bologna (OK, that last one is a personal favorite from youthful food indiscretions).
With tailgating season in full swing, let's just stick to the beer and brats.
Savoring a cold beer and warm brat is certainly a winning combination. But as a butcher and all-around saus-onado (aka sausage aficionado), I have to say simmering brats in beer is a lose-lose situation.
The sausages are sapped of both flavor and salt without absorbing any beer (sorry, science doesn't work like that). And the beer comes out as a weak beer-brat broth that even bone broth devotees would eschew.
The goal is admirable, a succulent sausage with the savory taste of beer, but the method needs a little work.
Concentration is key. As in concentrate the flavor of the beer. My beer butter glaze recipe reduces a 12-ounce Pilsner to just a couple of tablespoons. Butter and a little onion round it out to make a rich glaze that can be brushed directly onto the buns and brats as they sear. It leaves the best of beer flavor without robbing the brat of salt and spice.
As for cooking the brat, poaching is indeed a great idea, but beer is not the best choice. And simmering for hours low on the grill doesn't help matters either.
The poach-grill method described in the accompanying recipe is a foolproof way of poaching in salted water. It doesn't overcook and dry out a sausage the way long simmering can.
The other recipes show toasted buns also using the beer butter glaze and how to make sweet burnt onions with a little charring that adds another layer of flavor beyond the caramelization.
Grab some good mustard and give it a go.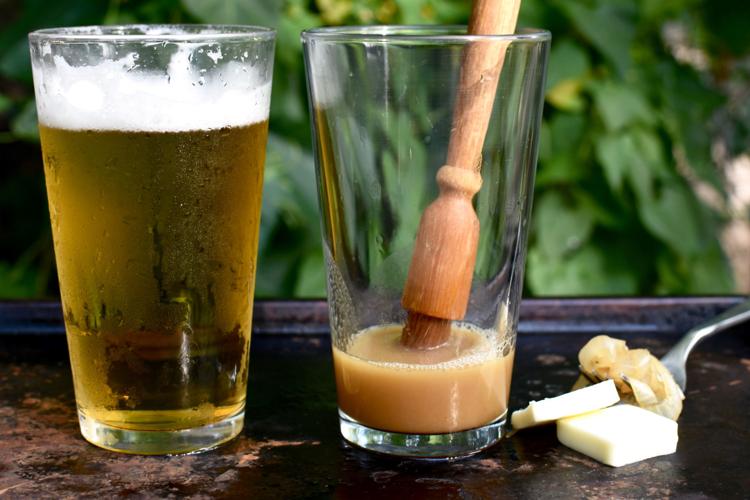 Beer Butter Glaze
Yields enough for 4-6 sausages and buns
Since the beer in this recipe is reduced to a glaze, it is important to start with a mild brew. A strong, dark or hoppy beer will make a bitter glaze. Pilsner is a prime choice. Intended for glazing sausages and buns, but also good for chicken, shrimp, roasted potatoes etc.
What you need
12 fluid ounces Pilsner or other mild beer
2 tablespoons unsalted butter
2 tablespoons minced onion
Salt and pepper to taste
1 teaspoon brown sugar (optional)
What you do
1. Add beer and onion to sauce pan and bring to a boil over high heat.
2. Lower heat to medium-high and reduce until only 2-3 tablespoons of liquid remain.
3. Use immediately or freeze and thaw out to use as needed.
4. Brush glazing on sausage for final minute of searing on the grill or in the skillet. Place sausage in bun then glaze again just before serving.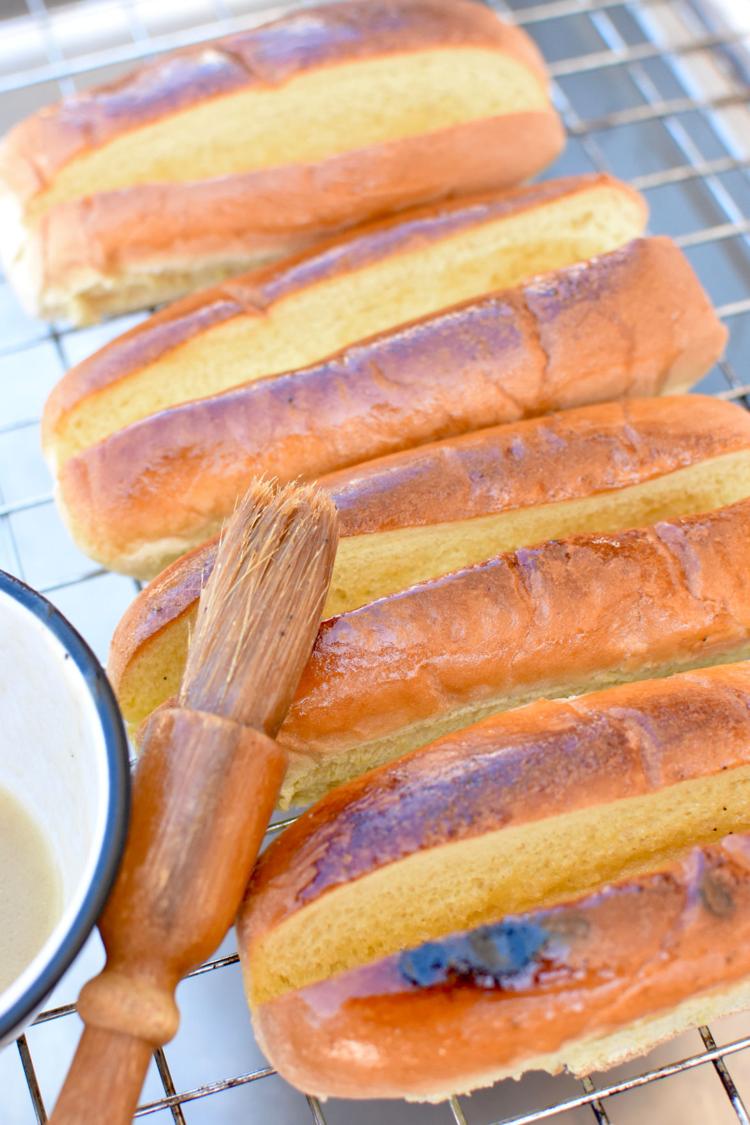 Butter Toasted Buns
Best if using the beer butter glaze (see recipe). Could also be done using any compound/flavored butter.
What you need
Beer butter glaze
Buns
What you do
1. Warm the beer butter glaze or melt a seasoned butter of your choice.
2. Brush the tops and the insides of the buns.
3. Toast the buns for 3-4 minutes until browned but not dried out. For grill, use indirect heat. For oven, heat to 400-425 F.
4. Remove from heat and brush the tops and insides again.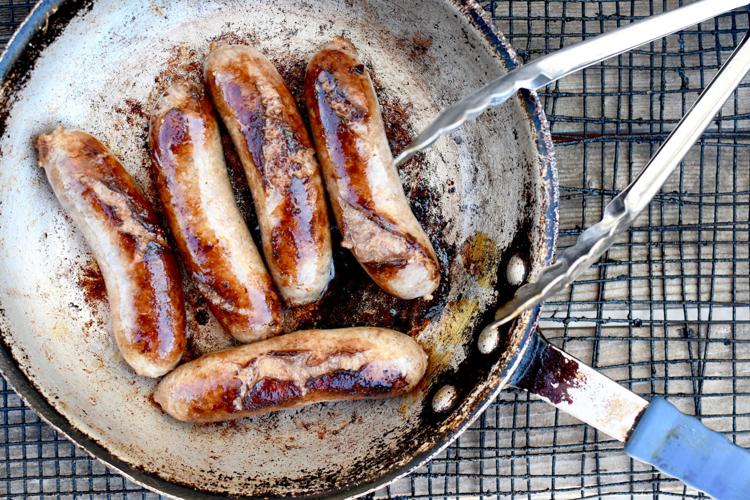 Poached-Grilled Brats
Poaching brats before searing, if done carefully, makes for the perfect sausage: crisp and snappy on the outside and juicy on the inside. This is pretty much a foolproof method and works for any fresh sausage. Grilling and skillet frying work equally well for the final searing.
NOTE: Do not skip salt in the water. It will not make the sausages too salty. It stops the salt already in the sausages from leaching out due to osmosis.
What you need
1 pound fresh brats
2 quarts water
2 tablespoons fine salt
1 teaspoon oil
Beer butter glaze (see recipe)
What you do
1. In sauce pan, bring water and salt to full boil.
2. Remove from heat. Add sausages and cover pan with lid.
3. Wait at least 15 minutes. Going beyond is not a problem. Sausages will not overcook, since the water is slowly getting cooler.
4. Remove from hot water, let set 2-3 minutes and then finish on the grill or in the skillet. Let rest, uncovered, on paper towels until the casings are dry.
5. Coat sausages lightly with oil.
6. Finish over high direct heat on grill or in hot skillet for 1-2 minutes to brown the casings.
7. To use the beer butter glaze, brush on for last minute on grill or in skillet and then again once in the roll. Serve.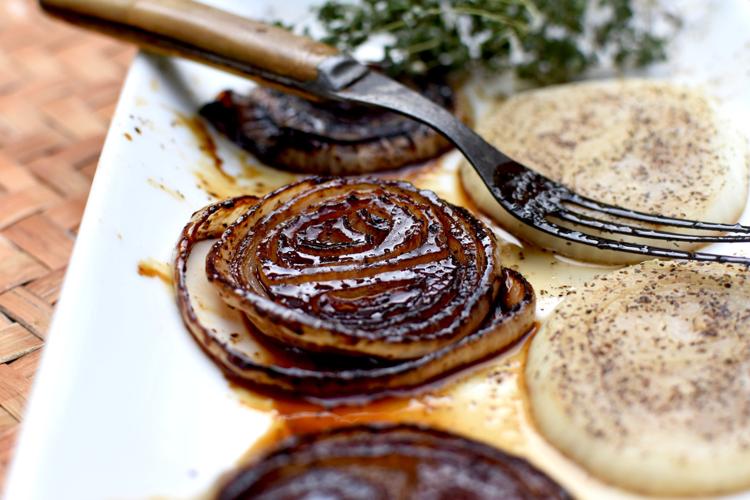 Sweet Burnt Onions
Charring brings out a level of flavor beyond just caramelizing and goes well with the rich beer butter glaze. Can be done on a grill, but best if done in a skillet on the grill or stovetop.
What you need
1 sweet or yellow onion
2 tablespoons light brown sugar or honey
Salt and pepper to taste
1 tablespoon unsalted butter (optional)
What you do
1. Remove the skin and outside tougher layer of the onion, but leave the onion whole.
2. Slice into ¼-inch-thick rings.
3. Season each side with salt and black pepper.
4. Sprinkle each side with brown sugar.
5. Let rest for 10 minutes.
6. Heat skillet over high heat. Lightly coat skillet with oil. Fry slices for 1-2 minutes per side until darkened.
7. Remove skillet from heat and cover with lid to let onions finish softening.
8. For extra rich onions, stir in a tablespoon of butter.