More than 100 years ago, a lavish mansion was built on land owned by Omaha's first mayor, Jesse Lowe, overlooking his burgeoning town.
The Victorian estate on Cuming Street measured nearly 5,000 square feet. A turret rose skyward from the northeast corner of North 39th Street.
Each room was built using a different type of imported wood. The walkways were paved with Italian tile, and half a dozen acanthus leaf-etched fireplaces oozed affluence.
The house spoke perfectly to the excesses of Omaha's early claim stakers. But its flamboyance would be short-lived.
After the Great Depression, the mansion's third owners cordoned off the foyer and grand staircase and walled off six apartments. In the decades that followed, ceilings cracked, walls crumbled and the estate became a dilapidated has-been, ripe for demolition.
Four years ago, Omahan Chris Janicek bought the mansion. Since then, the former U.S. Senate candidate and Cupcake Omaha owner has spent about 60 hours a month restoring it. Next weekend, Janicek's work-in-progress will be open to the public as part of the Joslyn Castle Historic Home Tour.
"It's going to be a showpiece when it's done," he said.
Peek inside this lavish renovated mansion near Joslyn Castle
Chris Janicek has spent the past four years renovating the work-in-progress. It'll be on the Joslyn Castle Historic Home Tour Nov. 10 and 11.
Envisioning the final product will take imagination. Some of the home's windows are boarded up, and it still needs a year or two of work before it's complete, Janicek said.
Still, Janicek has overhauled and stripped back decades of modifications to reveal much of the property's original beauty.
Some of the house's crumbling plaster couldn't be saved, and rerouting plumbing would have been too costly, so the house now has several drop ceilings. The project has been a compromise of restoration and renovation.
Most original wood is intact, but the Italian tile floors were too damaged to keep. Much of the house is now drywall.
Janicek paid $37,500 for the property, and estimates he will have spent about $200,000 more by the time it's all finished.
Initially, Janicek planned to strip the house, find new spots for its elegant elements, then rent it out. But with each step he took in the process, he fell deeper in love with the house. Its ornate fireplaces and horned candle sconces remind him of "Beauty and the Beast."
"How everything is sculpted has a French patina to it, very curvaceous and sexy," he said.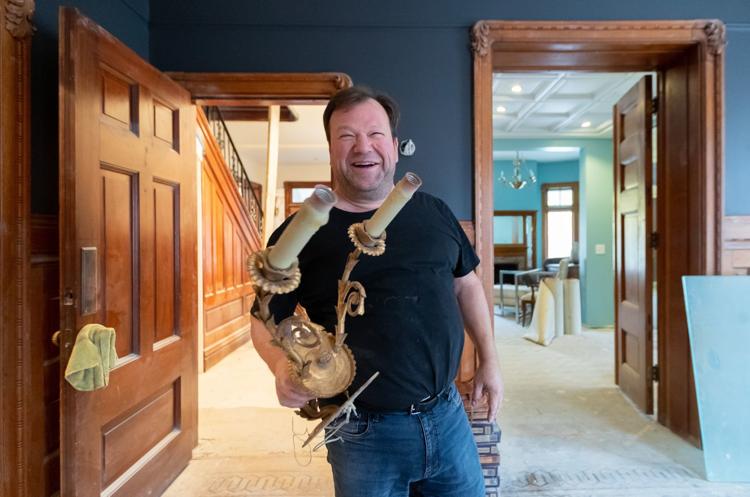 The house was included in the Joslyn Castle Historic Home Tour not only for its beauty and history, but also to satisfy people's curiosity.
"It holds a lot of mystery for me, with the boarded windows," said Kelli Bello, who works at Joslyn Castle down the street. "You just want to get in there and poke around."
Thanks to an earlier expansion, the lower portion of the turret now sits inside the home's main floor. It creates a fascinating "house inside a house" effect. On the third story, the turret comes to a peak in a hollow conic room with enchanting acoustics that can leave you giggling.
The mansion wows with its spectacular views of St. Cecilia Cathedral and Harvest Community Church, which look "like a painting" at sunset, Janicek said.
Janicek hasn't decided whether he'll remain living in his current house or sell it to move here, but he admits it'll be tough to resist the urge.
"Every time I walk into this place," he said, "it blows my mind that someone lived like this in the 1800s."