LINCOLN — Maddie Simon is glad that a rival — with one of the nation's best players — is coming to Pinnacle Bank Arena for her final home game Monday night.
The Lincoln Pius X graduate, who stuck with the local school even when Nebraska changed coaches after her freshman season, will appreciate the focus No. 10 Iowa and center Megan Gustafson require.
Simon said she's not sure how she'll react when she's honored as the Huskers' lone senior. She admits she can be "a big baby" in moments like this.
"I'm going to try and contain myself until after the game," Simon said. "Iowa's always a big rivalry. It'd be huge for us to get a win, to knock off a really talented team. That's my focus.
"And after the game, it'll be good to celebrate everything."
That "everything" includes a lot.
Simon doesn't shy away from recalling the highs and lows of her four years at Nebraska. Her best memory was forged in adversity, when a struggling Husker team in 2017 won two home games late in the season.
She chuckled a little and is candid that her senior season — especially from a team perspective — hasn't quite gone according to plan. None of Nebraska's players or coaches planned on losing nine games by six or fewer points. Not after an NCAA tournament season.
Nebraska beat Iowa twice last season, for example, and has slipped back because of the close losses. The Hawkeyes have surged forward with one of their best teams in school history.
Sign up for Big Red Today news alerts
Get a daily Husker news roundup, recruiting updates and breaking news in your inbox.
"It's … not … been what I would have expected it to be coming off last season," Simon said. "It's definitely frustrating at times."
Simon is hard on herself, she said. She expects a lot, and when it doesn't happen, her frustration compounds.
Simon isn't the only player who put a lot on her shoulders this season — coach Amy Williams has mentioned center Kate Cain has done the same — but Simon's 7.0 points and 3.1 rebounds per game are down from last season, when she averaged 10.1 and 5.3. Simon also was replaced in the starting lineup by freshman Kayla Mershon midway through the season.
Simon has said more than once that she embraced the new role and played perhaps her best game of the season — 15 points, five rebounds — in a win at Northwestern.
"I just wanted to bring more for my team earlier," Simon said. "I wanted to go out with a bang and I had to do everything because it was the last time around. I think a lot of that got to me. I tried to put a lot of that behind me and realize I can't put that pressure on myself."
Weeks ago, Nebraska's players had a "big talk" about their struggles. The team with four freshmen and three sophomores has "matured," she said, since then. NU has won three of four, returned to .500 in the league and put its focus on playing what Williams called "one-game seasons."
Iowa, in contention for a Big Ten regular-season crown and potential top four seed in the NCAA tournament, poses plenty of challenges for one game. None bigger than Gustafson, whose old-school moves and touch around the hoop make her nearly impossible to stop. She shoots 70 percent from the field. She only gets three offensive rebounds per game because she misses so rarely.
Nebraska's one of the few teams with the frontcourt — in Cain, Ashtyn Veerbeek, Mershon and Simon — to give Gustafson much pause.
Simon laughs a little when asked how much she might have to guard Gustafson.
"Maybe on an emergency switch," she said.
But the senior agreed that beating Iowa would be a big moment in a career she wouldn't trade. Simon grew up idolizing Husker players, especially Dominique Kelley, another Lincoln product who wore No. 24. Kelley's senior season was derailed by a knee injury.
It, too, didn't go according to plan, and Simon said she talked to her favorite player about that.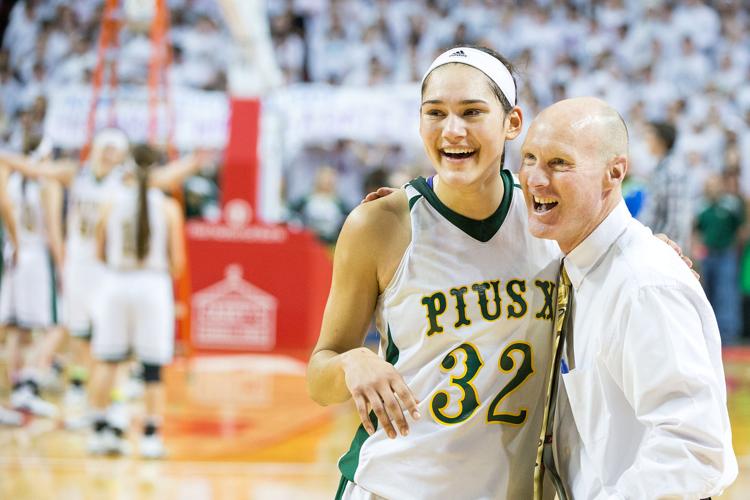 Simon said she's aware of what it meant to be a local player at the home-state school. Including the Nebraska state tournament games, she may have played as many games at Pinnacle Bank Arena as anyone.
"It's been everything," Simon said. "It's been an incredible opportunity. It's been fun to look up to players who came here before me — I wanted to be them when I grew up — and to be able to do that is just incredible."