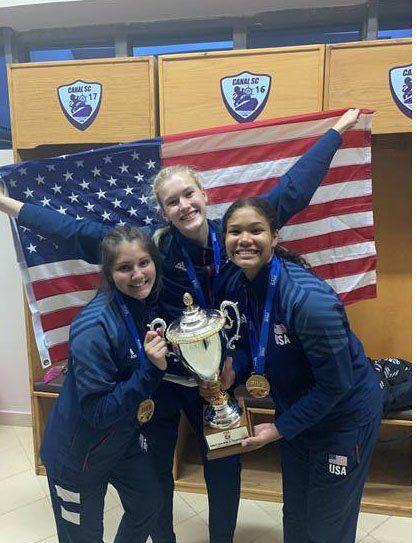 It took a loss to realize how good they were.
After a five-set defeat to two-time defending champions Italy in the pool play at the Under-18 world championships in Egypt, the Americans knew they could hold their own in a field crowded with more experienced and, in some cases, pro players.
"This is one of the best teams that is here and we hung with them the entire match, so that was when we were like, 'We can do this,'" said Lindsay Krause, a junior from Omaha Skutt. "We can play very well and if we keep improving we can do something."
Armed with new confidence, the U.S. won the rest of its pool play matches to advance to the championship and a rematch against Italy on Sept. 14. This time, the Americans won 25-17, 19-25, 25-18, 22-25, 15-10 to earn the gold medal.
Krause was one of three members of Nebraska's 2021 recruiting class — along with setter Kennedi Orr from Eagan, Minnesota, and libero Lexi Rodriguez from Sterling, Illinois — on the team, which captured the Americans' first title at the tournament since the biannual event started in 1989. It was also the first time USA Volleyball won a world championship at any youth-level tournament.
"It was pretty surreal," Orr said. "We kept saying it to each other, 'Oh my gosh, you guys, we are in the world championships.' It was pretty cool."
After tryouts in July, the team played together at a four-day training camp in Anaheim, Cali–fornia. Krause said they didn't have any expectations because the team, made up of high school seniors, juniors and sophomores, had so little time to prepare.
The group started with a sweep of Mexico before losing to Italy. The Americans responded with wins over Korea and Canada to finish second in their pool and advance to a classification match, which they won against Egypt.
In the quarterfinal, Team USA dropped the first set against Japan but rallied to win in four. The Americans swept Brazil in the semifinal to set up the rematch against Italy.
Krause said the most important part of the team's success was its mentality — everyone had a role to play, even those who weren't on the court.
"Every day when we would practice, whoever didn't start would push the starters," Krause said. "We would make them have to fight for every point and improve every day. Every time one of the subs got into the match, they had to play their hardest and they had to work to get those points."
Orr was named the best setter of the tournament. She said she was surprised, considering the talent of the other setters.
"I am really proud of myself for working hard and stepping into a role that (was) pretty tough as a setter," said Orr, who was also the team captain. "You have to be a leader on the court. It's not just about setting all the time."
In addition to the tournament matches in Ismailia, Egypt, the team took a cruise on the Suez Canal on the lone day off between pool play and the medal round.
Since the players returned home last Sunday, it's been a whirlwind to catch up after missing almost three weeks of school. Krause said Skutt coach Renee Saunders gave her the week off to recover physically, catch up on academics and get back to a normal sleep schedule.
Krause will be back in action for the Class B No. 1 SkyHawks against Omaha Mercy on Tuesday. She'll get to have a quick reunion Saturday as fellow national team member Devyn Robinson and Ankeny (Iowa) Centennial play in a tournament at Skutt.
Meanwhile, Orr and Rodriguez jumped back into action last week. Orr rejoined her high school team, which is ranked No. 7 nationally by PrepVolleyball.com, for a win Tuesday night. Rodriguez played in two matches last week and said the memories of the tournament will be with her for a long time.
"I've always had dreams and goals, and I knew that in my head if I worked hard enough I could reach them," Rodriguez told a local television station, "but you don't really realize how special it is until it actually happens."
Photos: No. 1 Nebraska volleyball hosts No. 2 Stanford in a national title rematch