LINCOLN — Last year, the U.S. women's volleyball team shook off a loss during its trip to Lincoln to nearly run the table the rest of the way in capturing the first Volleyball Nations League title.
After another defeat on home soil on Thursday, this one a 25-19, 25-17, 22-25, 25-20 loss to Brazil, the USA will have a long flight to China to again reflect on coach Karch Kiraly's improvement list.
In suffering just their second defeat in the Volleyball Nations League, the Americans were outclassed by a rebuilding Brazilian team that was much more steady in the serve and pass game and got 24 blistering kills from outside hitter Gabi.
"It's an amazing moment for us," Brazil coach José Roberto Guimarães said. "We have a lot of new players, and to play against the U.S. here, it's an honor for us. I think our team played really good, but Gabi, I think, made the difference.
"Gabi played a wonderful match."
Opposite hitter Annie Drews had a team-high 16 kills, and Dana Rettke, a rising junior blocker at Wisconsin, added 13 kills for the USA (7-2), who were often chasing the play thanks to tough serving by the Brazilians.
"Brazil just beat us," Kiraly said. "They played a really solid match of volleyball tonight. They passed at a really high level, so they outpassed us. They outserved us. They played really disciplined defense. My hat's off to them for playing a very strong match of volleyball."
The USA had the home court, but the Brazilians were comfortable — and rarely out of system — in front of a raucous cheering section of their own at Pinnacle Bank Arena. Brazil ended the opener on a 5-1 run and won seven of 10 rallies midway through the second set to take control for a 2-0 lead.
In the third, Kiraly made several switches looking for a spark. He found one in Mikaela Foecke, who had five kills in the third after replacing fellow former Husker Kelsey Robinson.
"Kelsey is one of our top passers," Kiraly said. "She wasn't able to create as much offensively for us, so we made the change, and Mikaela came in. Mikaela is not as strong in the serve reception portion, but was able to terminate more, so we made that trade."
Foecke and Jordan Larson finished with eight kills apiece.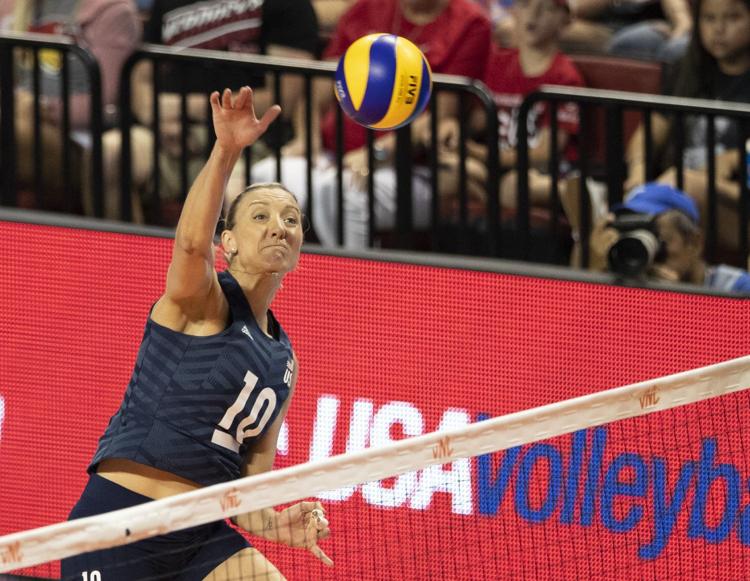 But Brazil kept its composure, and its serving and passing edge, in the finale. After Foecke's kill pulled the USA within 19-18, the Brazilians took the next three rallies on kills by Paula and Amanda and a Roberta ace. Gabi's final kill let Brazil end the match on a 3-0 run and keep its hopes alive to reach the VNL Final Six in July.
The USA is in a three-way tie for second at 7-2, but the Americans will have their hands full in Week 4 in Jiangmen, China, facing host China, the No. 2-ranked team in the world, and Turkey, which sits atop the VNL standings at 8-1.
The top six teams after five weeks of preliminary play will qualify for the Final Six in Nanjing, China.
Kiraly said he would continue to shuffle lineups among his 25-player roster, specifically naming veteran outside hitter Michelle Bartsch-Hackley, opposite Karsta Lowe and setter Lauren Carlini, who haven't yet been called in for the USA in the Nations League.
He declined to say which players on the roster in Lincoln would be making the early Friday flight to China because he hadn't informed all of them yet.
But if the on-court results still left something to be desired, Lincoln's second year of hosting the Volleyball Nations League drew praise from Kiraly. Thursday's match drew an announced crowd of 8,000, an atmosphere that he'd love to have if the USA returned in 2020, which would be just weeks before the Olympics in Tokyo.
"We love playing here," Kiraly said. "Nebraska is such a great volleyball state, and Nebraska fans are so knowledgeable and passionate. We're honored to be able to compete here for the second year in a row in Nations League. Who knows? Maybe we can make it a habit and come back again next year."
Brazil (6-3)........25 25 22 25
U.S. (7-2).........19 17 25 20
Sign up for World-Herald news alerts
Be the first to know when news happens. Get the latest breaking headlines sent straight to your inbox.
Germany def. Korea 25-15, 25-22, 25-16
After not playing Wednesday against the United States, Germany's Louisa Lippman closed her week in Lincoln strong with a match-high 15 kills.
Lippman, who had 25 kills in Germany's five-set win over Brazil on Tuesday, added two aces and a block as the Germans held an 11-1 blocking edge.
Former Olympic MVP Kim Yeon-koung had a team-high 10 kills for Korea, which went winless this week in Lincoln and fell to 1-8 in the Volleyball Nations League.