LINCOLN — The email in the spam folder had the opening line of an offer too good to be true.
"Congratulations! You've been selected for the Nebraska Athletics Hall of Fame!"
Luckily for former Nebraska athlete Greichaly Cepero, her mother had received a hard copy of the letter at their home in Dorado, Puerto Rico, and confirmed that the email was not a hoax.
Cepero, the setter on Nebraska's national championship volleyball team in 2000, was among the fifth class of inductees into the hall of fame on Friday.
"I was surprised because I wasn't aware" of the hall of fame, Cepero said. "I always check all my emails and I was like, 'Is this for real?' Then my mom got the letter because the university has my address in Puerto Rico."
Cepero was a two-time All-American and the AVCA player of the year in 2000. At 6-foot-2, she redefined the setter position, adding a dimension of physicality and blocking rarely seen from the position. She also played for the women's basketball team for three years, starting 24 games while averaging five points and 4.6 rebounds per game.
Greichaly Cepero's speech upon induction into the Nebraska Athletics Hall of Fame. Cepero was the setter and national player of the year during the Huskers' 2000 national championship. She also played basketball from 2001-03. pic.twitter.com/UkUJw6CEeb

— Lincoln Arneal (@LincolnOWH) August 30, 2019
Other members of this year's class were Rhonda Blanford-Green (women's track and field, 1982-85), Wes Suter (men's gymnastics, 1983-86), Grant Wistrom (football, 1994-97) and Francis Allen (men's gymnastics coach 1970-2009). Carol Frost and Ed Weir were also honored as athletic pioneers.
"It means a lot," Cepero said about her induction. "I read about the previous classes and I know it's a big deal, but you never think about it until you actually have to be there. In my case, going back and seeing the previous years and seeing the people who were inducted and what they did, it was, 'OK, wow, this is pretty big.' "
For three of her years at Nebraska, Cepero played volleyball and then transitioned to basketball immediately after the season. She said the lessons of being balanced and disciplined have helped her in her professional life.
"I am amazed at how I was able to do it," Cepero said. "I do remember being tired quite often, but it was something that I enjoyed doing."
Since wrapping up her playing career, Cepero trained with the U.S. national volleyball team and played professionally in Puerto Rico. For the past eight years, she's lived in Nicaragua with her husband, Pablo Romero, whom she met in Nebraska but is originally from the Central American country. Cepero currently teaches English to Chinese children online, which means her day often starts around 2 a.m.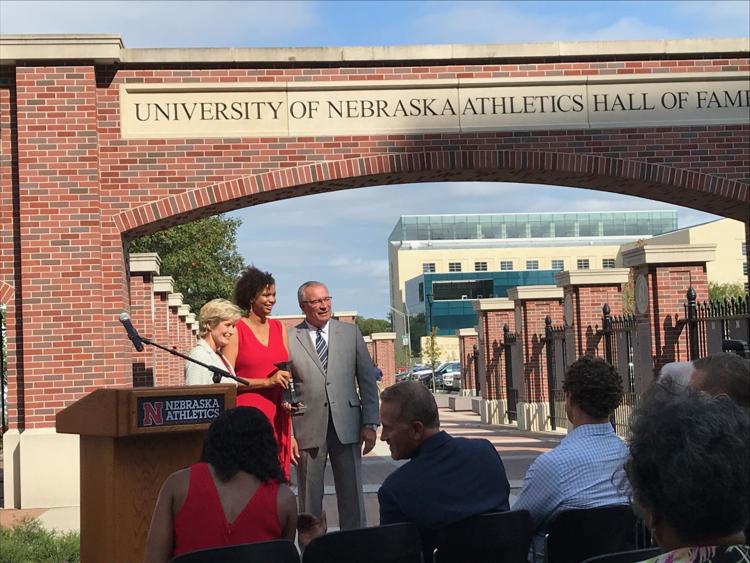 NU coach John Cook said he was proud of Cepero for her induction as she becomes the sixth volleyball player inducted, along with Allison Weston (2015), Janet Kruse (2016), Nancy (Meendering) Metcalf (2016), Karen Dahlgren (2017) and Sarah Pavan (2018).
"For her to experience (coming back) and to be recognized is really cool," Cook said. "Nebraska volleyball is a state treasure. One of the parts of the treasure is going into the hall of fame and having the same respect as the great football, basketball and other athletes they have here."
The trip back to campus for the ceremony was Cepero's first since she graduated in 2006. She took a tour of Memorial Stadium and visited with the volleyball team at the Devaney Center on Friday. She said she was amazed at all the upgrades and how much the athletic department has invested in its athletes.
"Everything is so different, especially the new volleyball facilities," Cepero said. "I felt like I was walking into a futuristic movie."
Cepero was also recognized during the Nebraska-Creighton match Friday night, where she was joined by her parents.
Sign up for World-Herald daily sports updates
Get the headlines from Creighton, Nebraska, UNO, high schools and other area teams.
Cepero spent time with former teammates, including Lindsay (Peterson) Wischmeier, the volleyball team's current director of operations. She said those close relationships helped the Huskers win the 2000 championship and made her playing career in both sports so enjoyable.
"There is nowhere in the world to play volleyball like Nebraska," Cepero said. "The atmosphere and the way the fans support you, when it comes to women's sports, it's very unique."