McCOOK, Neb. — The Nebraska volleyball team faces a tall task filling the shoes of All-Americans Mikaela Foecke and Kenzie Maloney.
Based on early returns, freshmen Madi Kubik and Kenzie Knuckles might be able to help fill the void.
The pair, who enrolled at NU a semester early, put together strong performances to help the Huskers defeat Colorado State 25-13, 25-17, 23-25, 25-12 in NU's spring match Saturday afternoon at McCook Community College's Graff Event Center.
Kubik finished with four ace serves and 15 kills on a team-high 37 swings. Knuckles provided solid floor defense as the libero to go with an ace and four set assists.
"For their first time (on the court), they acted like they belong. They both pass well and at times they served well," NU coach John Cook said. "It doesn't feel like we have these freshmen out here that we are trying to carry along. They feel like they belong."
Kubik said sophomore setter Nicklin Hames and junior middle blocker Lauren Stivrins helped her feel like part of the team and build the team culture. Kubik admitted she was anxious before the match, but was ready to show off the work she's put in the last few months.
She said her first kill "calmed some nerves."
"That first touch or pass, it's like, 'OK, we are in this. Let's go,'" she said.
Kubik, a graduate of West Des Moines Valley, later closed out the first set with an ace followed by a back-row kill. She also closed the match with three kills in Nebraska's final five points.
Jazz Sweet led the Huskers with 17 kills on a .343 hitting percentage. She started quickly with five kills in the opening nine rallies.
Cook said he was impressed by how the junior outside hitter started the match.
"Jazz had a fire under her tonight," he said. "She wants to be an All-American, so she's pretty motivated. Playing like she did today will get her headed in the right direction."
Stivrins added eight kills on nine swings for a .778 hitting percentage. Lexi Sun finished with eight kills in two sets as she split time with Capri Davis (five kills) at outside hitter.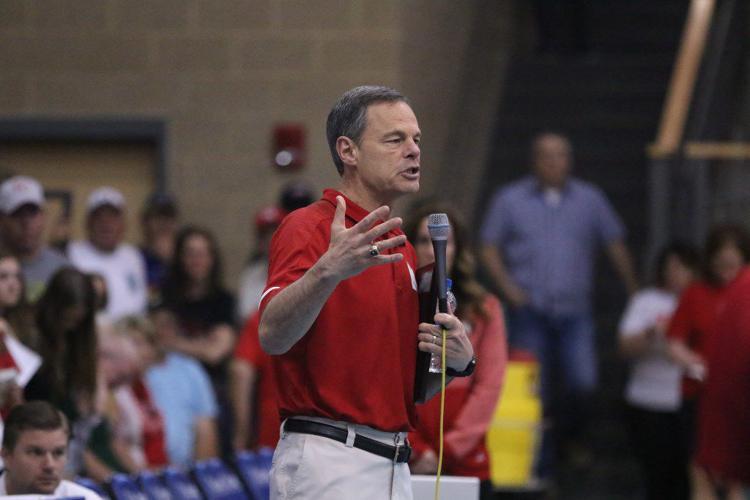 A sold-out crowd of 1,750 for NU's first appearance in McCook provided quite the environment for the Huskers.
"As someone who is not from Nebraska, it's so cool for us to see how you guys all appreciate volleyball and support us," Stivrins, who is from Arizona, told the crowd after the match. "This was so exciting and we felt like queens the moment we stepped off the bus."
Cook said the atmosphere felt like a Big Ten match. The crowd was actually larger than three of the crowds NU played in front of last season. He was impressed with the facilities, which included a specially shipped-in Taraflex sports floor, and the result was one of the more memorable spring trips the Huskers have taken during the last decade.
"It's hard to describe it because where else does this happen? Not in volleyball. No other sports are traveling around the state like this. It's pretty cool," Cook said. "It's one of the best trips we've had."
Sign up for Big Red Today news alerts
Get a daily Husker news roundup, recruiting updates and breaking news in your inbox.