LINCOLN — Jordan Larson has never been shy about admitting she likely isn't far from the day she'll put on her Team USA volleyball jersey for the final time.
That makes the national team's three matches this week at Lincoln's Pinnacle Bank Arena something to savor for the 32-year-old former Nebraska star, who may be playing in front of her home state fans for the final time as the USA, ranked No. 3 in the world, hosts No. 9 Korea, No. 15 Germany and No. 4 Brazil for preliminary matches in the Volleyball Nations League tournament.
"It's kind of bittersweet," Larson said. "It makes me sad. I've dedicated a lot of time to this sport, and to see my time coming to an end, it's kind of sad. But it's been a pleasure to be part of the national team for such a long time."
Larson, 32, is eyeing next summer's 2020 Olympics in Tokyo as her potential swan song with Team USA, but this week she'll be captaining a group that coach Karch Kiraly has put together using a mix of fresh faces and established veterans.
Sign up for Big Red Today news alerts
Get a daily Husker news roundup, recruiting updates and breaking news in your inbox.
Three of the four USA outside hitters are former Husker stars with Larson joining Kelsey Robinson and USA rookie Mikaela Foecke, who rejoined the team in Lincoln on Sunday after getting married on Saturday in her hometown of West Point, Iowa.
In her debut event with Team USA, Foecke has been used as a serving substitute in addition to outside hitter. She put up 18 kills over the USA's first six matches, highlighted by a 10-kill performance against Japan on May 22.
For this week's three matches, Kiraly has called in several veterans, with even more seasoned players figuring to join Team USA in the next few weeks as they rest following the end of their European professional seasons. Team USA will face Korea on Tuesday, Germany on Wednesday and Brazil on Thursday with each match starting at 7:30 p.m. following a match between the other two teams starting at 4:30.
With an Olympic qualifying tournament coming up in August followed by the prestigious World Cup in Japan in September, Larson said the construction of rosters for the Volleyball Nations League may be a little more strategic in 2019. But several of the recent college stars wearing red, white and blue will be recognizable to Nebraska fans as recent Husker rivals.
Jordyn Poulter, an All-American at Illinois who faced NU at the Final Four in Minneapolis in December, joins 2018 starter Carli Lloyd as the two USA setters in Lincoln this week. Former Texas star Chiaka Ogbogu and 6-foot-8 Dana Rettke, who will be a junior at Wisconsin this fall, are each trying to prove themselves at middle blocker.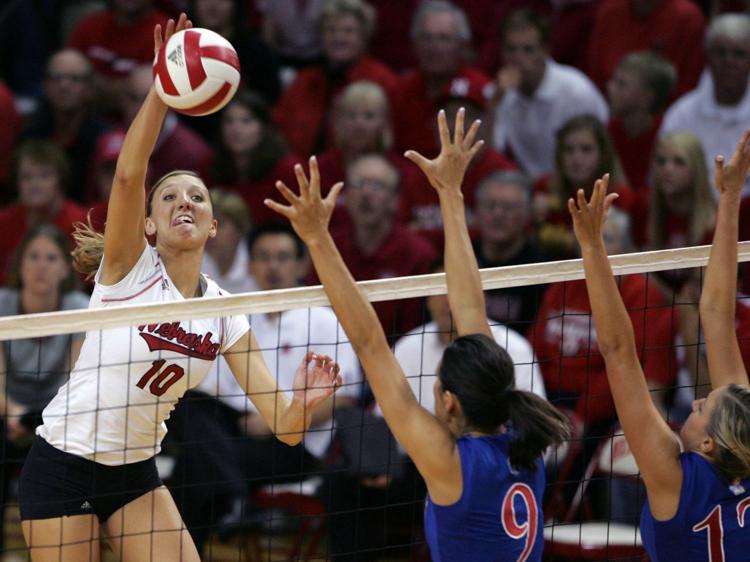 "He wants to get all of us some experience with this group and with the veteran players on this stage and see what we can do in this tournament," Poulter said. "I think it's a great tournament to mix people and see how different people can elevate each other's play."
The Americans are in a four-way tie for first place after two weeks of the Volleyball Nations League, joining Turkey, Italy and Poland with a 5-1 record. Team USA largely used a roster of younger players in the first two weeks, winning their first five matches before falling in five games to the Dominican Republic in their most recent match.
The top six teams after five weeks of preliminary rounds will advance to the championship round "Final Six" in China in July. Last year, Team USA went 17-2 in the VNL and beat Turkey in five games to win the championship match of the inaugural event.
After hosting three matches at the Devaney Center in the 2018 edition of the VNL, USA volleyball organizers were so impressed with the fan support, they bypassed cities that submitted bids to return the event to Lincoln in 2019.
It marks the fifth time in seven years Team USA will have played a match in the state of Nebraska.
"There's obviously a lot of Huskers (on the team), and we always have such a great showing every time we come," Larson said. "(The fans) just love volleyball. I think it's tough when you go all over the country, but you know they love volleyball here and they love watching. Whether there's Huskers or not, they'd come out watching."
The Nebraska 100: Our greatest athletes
The Nebraska 100, originally selected in 2005 and then updated and re-ranked in 2015, came from a pool of nearly 500 names from the ranks of high school, college, amateur and professional sports from the past 140 years. Assistance came from a panel of veteran sports observers from across the state, with the newspaper's sports staff determining the final rankings.