The bus carrying the hopes and dreams of Nebraska pulled up to the back of the Christensen Field Arena in Fremont, Nebraska. Out popped the rock stars.
Meet Scott Frost, head football coach and champion Sporcle trivia player.
And Fred Hoiberg, head basketball coach, Sporcle novice but a veteran of these kinds of statewide pep rallies.
Leading the way was their promoter, Athletic Director Bill Moos.
Moos took the stage first and warmed up the large crowd. Brenden Stai, the best-blocking emcee you'll ever see, introduced the other Nebraska coaches: softball's Rhonda Revelle, wrestling's Mark Manning and women's basketball coach Amy Williams. Good coaches all.
But the crowd was here for the rock stars, and finally they emerged from behind a curtain on the side.
It was like a scene from a Norman Rockwell painting — if Rockwell knew about smartphones. As Hoiberg and Frost walked up onto the stage, some 500 Nebraskans stood and aimed their cellphone cameras at the most celebrated football-basketball duo in Husker history.
It was called the "Big Red Blitz." But with apologies to Madonna, this was Nebraska's version of the "Blond Ambition Tour."
While their blond hair of younger years has weathered some, Frost and Hoiberg both wear ambition on their sleeves. This was about celebrating that.
But while this was their first time on stage together, it also was their first quality time together — on a bus, from Lincoln to Norfolk to Fremont to Ashland (SAC Museum) and back.
They are kids from the same era, separated by some 300 miles from Wood River, Nebraska, to Ames, Iowa. And a few years. Hoiberg played hoops for Iowa State from 1991-95; Frost was quarterback at NU in 1996-97.
But there's been a mutual admiration between the two, even back then, when they could have had no idea they would be sharing the same stage one day.
"I was a Nebraska fan at the time," Hoiberg said. "I was in the NBA when Scott was winning national championships. I definitely remember Scott as a quarterback and I've always been a big fan of his.
"Now that I've gotten to know him, I'm even a bigger fan."
Frost said, "I remember watching (Hoiberg) play. I was in high school when he was in college. I gravitated toward him because he was a Midwest kid who did things the right way, played hard and made a living doing it."
Hoiberg added that Frost has "a brilliant mind," and he wanted to sit down with Frost and pick his brain. He may have gotten a view of that on the bus ride from Norfolk to Fremont.
"He (Frost) was kind of the master of ceremonies on a little trivia game and I didn't win any of the rounds," Hoiberg said. "A lot of those games are under protest."
The game was "Sporcle," which is Frost's favorite game: a trivia website (Sporcle.com) that uses categories such as geography, movies, language and sports.
"Everybody has something on a list and if you get it right, you stay in the game," Frost said. "If you don't, you're out. Fred did well; he just took a couple of long shots with some answers."
These two are full of ambition, but there wasn't much talk about that or predictions thrown around at the three stops. Much of the bravado was provided by Moos, who apparently has changed his direction from the Big Ten back to the Big 12.
At both Norfolk and Fremont, Moos told the crowd that Nebraska is a destination job for coaches, adding, "You don't come to Nebraska so you can go to Texas — you go to Texas so you can come to Nebraska."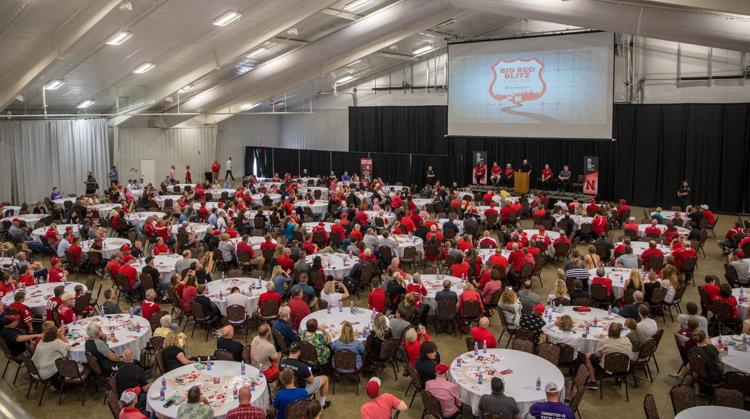 Later, at the Ashland event, Moos said, "We aren't into keeping up with the Joneses. We're Nebraska. We are the Joneses."
That was former Texas Athletic Director DeLoss Dodds' favorite line. I wonder how many other athletic directors have used it?
Otherwise, the tone was perfectly set by Frost, who told the Norfolk crowd, "We won't be where we want to be for a really long time. But we're a lot closer this year than we were last year."
Culture was the theme for Frost. The strides in the weight room. Second year easier than the first. He talked about running back Dedrick Mills coming to Lincoln.
Someone asked Frost what game he was looking forward to the most and he said, "South Alabama." The opener. Frost reiterated he wouldn't talk about any other game at this point.
Another question from the audience in Fremont: How much can you bench press?
Frost pointed to Stai and said, "Not as much as you, but more than him (pointing to the audience)."
Hoiberg chimed in, "I bet I can jump higher."
Frost's theme for the 2019 season was toughness, and he said his players needed to emulate the Nebraska people.
"We've (Nebraskans) been through a lot this year," Frost said. "There's a lot of perseverance and toughness and character in Nebraska people. Our football team needs to resemble that."
The beauty of this Blond Ambition Tour was that Nebraska didn't need to do it. When you have Frost and Hoiberg, you don't need to go out and drum up support.
But both of the rock stars have been at Nebraska and Iowa State when they both won and were accessible to the people. And they know: It makes the winning better.
"This is a priority," Moos said. "Love Lincoln. Love Omaha. And that's where the bulk of our population is.
"But for the people in the small communities around the state, they're the lifeblood. For many of them, their vacation budget is seven weekends in Lincoln. And I found out real fast when I got here: These people want to know you, they want to touch you and feel you."
Hoiberg said he was part of these tours at Iowa State, but there was a new twist to this tour. On Thursday, he met an older man who was a student manager for Hoiberg's grandfather, NU basketball coach Jerry Bush.
"He told me how big an impact he had on his life," Hoiberg said. "It's really special to hear something like that. I've heard all sorts of those kinds of stories since I've been back."
Hoiberg told the Fremont audience how he spoke to a group in the NU Coliseum before the spring football game, and he said he got emotional because that's where Bush coached.
"That's where he beat Wilt Chamberlain (and Kansas)," Hoiberg said. "Was anyone here at that game?"
No hands raised and the crowd and Hoiberg chuckled. Then it was back to the present day and a question for Moos: What did he think about Colorado imploring Buffs fans not to sell tickets for the Sept. 7 game to Husker fans?
"We're on our way," Moos said to huge cheers.
Sounds like the theme to next year's tour.
Photos: Big Red Blitz in Norfolk