LINCOLN — Cam Taylor was on a dead sprint downfield. He blew past his blocker and had the punt returner in his sights. A sellout Memorial Stadium crowd anticipated the big hit with a loud "ooooh!"
But Taylor didn't wrap up. Then the true freshman could only watch as Troy's Cedarius Rookard weaved his way to a 58-yard touchdown in a game Nebraska eventually lost 24-19 last season.
"I was the young guy in the group and everyone was telling me it was going to be OK," Taylor said this week. "But in my head, it's not OK."
As steep as the 2018 learning curve was at times for the Huskers' offense and defense, no unit endured more regrettable moments or drastic in-season change than special teams. The effects were disastrous — major plays for opponents, minor gains on the Huskers' own returns and a chronic disadvantage in field position.
Nebraska began coach Scott Frost's first season aiming to fill special teams with starters or key backups. Such players accounted for roughly half the lineup by Thanksgiving, with walk-ons or redshirts or deep reserves making up the rest.
Special teams coordinator Jovan Dewitt — also the outside linebackers coach — said the unit improved as the season went along. Yet he would still give it a failing grade.
"The old axiom is, 'What do you feel about your team's execution?' And the one guy said, 'I'm all for it,' " Dewitt said. "It was really bad. I can't sit here and sugarcoat it. I'm not going to say that it was good when it wasn't."
But coaches believe the case for a Big Red revival this fall will begin with the third unit, where everyone on staff collaborates. A deeper roster, better technique and some old-fashioned luck can quickly flip the unit from a hindrance to a help.
"Overall on special teams, we need to be a lot better at that this year," Frost said. "I think that's going to be an easy step for us."
After what happened last year, it would be a big one, too.
Sign up for Big Red Today news alerts
Get a daily Husker news roundup, recruiting updates and breaking news in your inbox.
Lack of depth hurt last season
Dewitt doesn't get too specific when discussing special teams gaffes from last year. He doesn't need to.
Everyone remembers the big ones. Punt-return touchdowns by Troy and Michigan. The blocked punt by Ohio State that became a safety. Replacing the starting punter midseason. A near whiff of an onside-kick attempt against the Buckeyes that netted 1 yard and national attention.
But the struggles went deeper than a few lowlights. Consider:
Nebraska special teams were flagged 20 times for 172 yards, and that doesn't take into account "hidden" yardage from returns called back. Overall, the Huskers were one of the 15 most penalized Division I teams in the country last year.
Footballoutsiders.com uses a metric to gauge the efficiency of various phases of special teams. NU was 80th in kickoff returns, 101st in kickoffs, 120th in punt returns and 100th in punts. The team's yards per kickoff return (15.81) ranked 126th out of 130.
Nebraska's average starting field position last year was about the 31-yard line, which was 83rd nationally. Its opponent, on average, began possessions on the 35 — that number ranks 121st overall and 63rd out of 65 Power Five schools.
Nebraska made line change-style substitutions on special teams from game to game early on as it searched for a winning combination. "It was 100 percent a depth issue," Dewitt said, that the Huskers couldn't always put their best foot forward on kicks and returns. To play defensive starters there could mean they see well above 100 snaps on a given day.
"When you come into a new place and you're changing things, you only have so many guys that are able to do what you need them to do," Dewitt said. "And it's no fault of anybody's, it's just how it works out. Sometimes you have to pick and choose your battles of when you can play guys and when you can't and who can do what."
Coaching by committee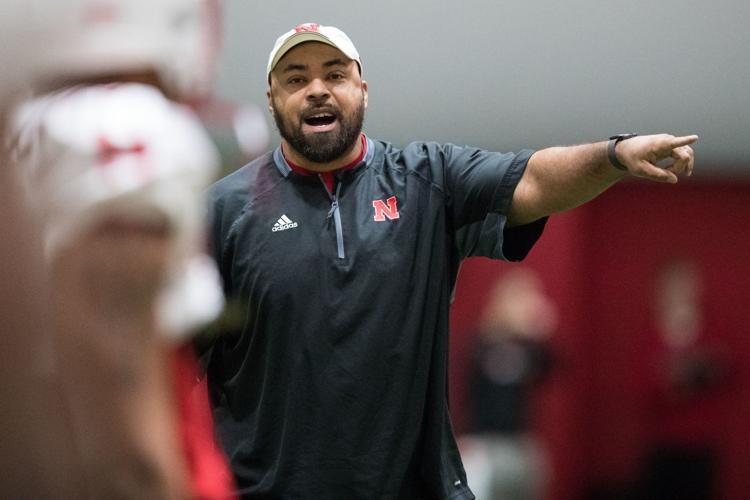 Nebraska doesn't designate any one coach to special teams. It's a total group effort.
The schemes are Dewitt's, and he oversees all the individual units. But more specific responsibilities fall to staffers, from graduate assistants to quality control personnel and position coaches.
Scopes vary. Offensive line coach Greg Austin, for example, mostly just helps with the line for the field-goal unit — "if it's blocked, that's on me," he said. Offensive coordinator Troy Walters works with returners. Defensive backs coach Travis Fisher coaches corners and gunners.
"Every coach has a huge input on who plays what for them," Dewitt said. "And I tell them flat-out, I'm like, 'Hey, if you don't like your guy's production, then change them. Let's get the right guys out there because you're coaching them.' "
Defensive coordinator Erik Chinander, inside linebackers coach Barrett Ruud, tight ends coach Sean Beckton and running backs coach Ryan Held are among those involved with every phase.
Ruud's areas include punt shield, the left side of the front line on kickoff returns and linebackers on kickoffs and punt returns. He usually has those units in mind when determining whom to take to road games, when the roster is limited to 74 players.
"That's the old NFL rule: If you can't help on (special) teams and you're not starting, what are you going to do for us?" Ruud said. "So that's a big priority."
Held insists that everyone in his position group participate in special teams this fall. Offensive players in general will be taking more of the load, he said. They need to, considering how NU's up-tempo attack means more plays for the Blackshirts.
"The offense has to do a better job of holding our end of the bargain and splitting those reps," Held said. "If we can take those reps off the defense and my running backs can go help out and be a strength of it and helping in different various deals, then it helps the whole football team."
'We look so much faster'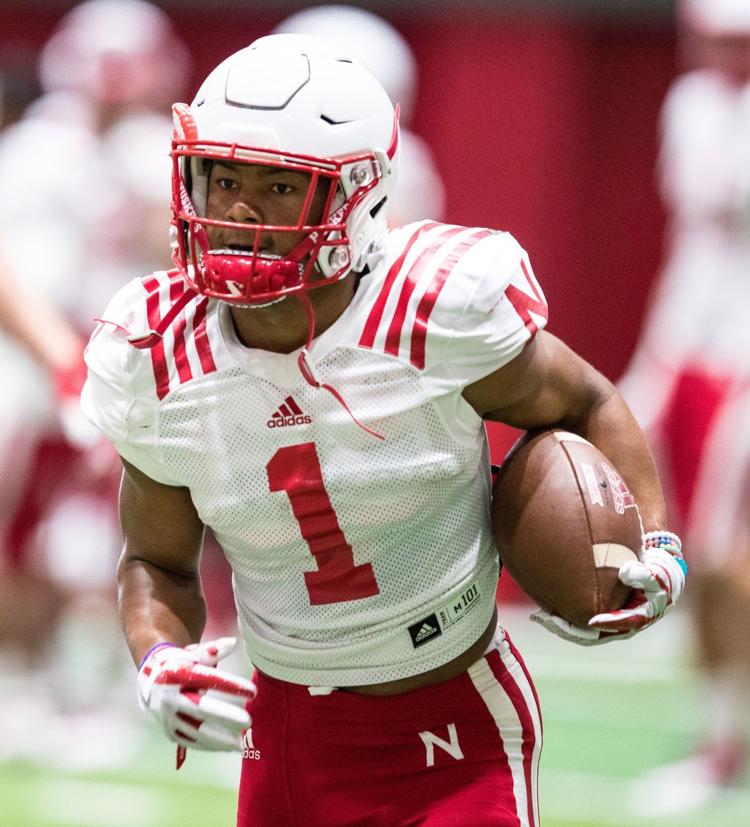 Dewitt says his heart rate isn't nearly as high these days when Nebraska lines up to kick a football. And there are so many reasons why.
Early focus in fall camp has been all drills and technique work since players now have experience with the scheme. Kickers are solid — sophomore Barret Pickering made his final 10 field goals last year and is handling kickoff duties, while left-footed punters Isaac Armstrong and transfer William Pryzstup continue to battle.
Dewitt lists freshman Wan'Dale Robinson, sophomore Maurice Washington and junior JD Spielman among a "huge selection" of potential impact returners. Then he pauses, adding: "I'm more excited about our ability to block for them."
Nebraska under Frost has brought in nearly 100 new players in 20 months through recruiting, transfers and the walk-on program. The increase in roster size, talent and strength gains will show up more quickly on special teams, the assistant said.
"We run down the list of everybody on our team of who we think can be a four-core player, a three-core player, a two-core player in terms of core special teams," Dewitt said. "And the list was significantly longer than it was a year ago."
Added Beckton, who commands kickoff returns when Dewitt is busy: "We look so much faster and so much quicker out there. That's going to attribute to a better special teams automatically."
Players said they are extra motivated to compete for Dewitt now after the coach missed much of the spring recovering from throat cancer. Even while losing more than 100 pounds, he made multiple appearances at spring workouts and gave practice plans to special teams quality control coach Zach Crespo.
"We want to do it for him," junior linebacker Collin Miller said. "He wasn't there, but he was basically there with us. I think he's a great man. He knows what he's doing."
Dewitt also shows charts during meetings that explain how touchdown percentages increase with better starting field position. Tackling an opposing returner shy of the 25-yard line is critical, as is setting up Nebraska's offense beyond that point.
On average, NU began drives last year at a net loss of 4.13 yards compared to its opponent, which was 113th nationally. That number was ahead of only seven Power Five teams that combined for a 16-68 record and only ahead of Rutgers (minus-5.51) in the Big Ten.
That means the Huskers, even while finishing 20th in the country in yards per play (6.31), had to work harder for their points than the opponent.
Quick defensive stops and turnovers will boost field position too, Frost said. But special teams can profoundly change Nebraska's outlook as it seeks a major second-year bump.
"I think guys recognize the importance of it more," Frost said. "Simply said, I think we've got a lot more athletes on the field right now than we did. And you need athletes to cover kicks and block for them. I think we have a lot more of those guys this year."
Photos: Nebraska football practice Wednesday Aug 14