LINCOLN — Sean Beckton noticed the body language right away. It might be the first of many differences for Nebraska's tight ends.
The Husker assistant recalled plenty of install practices last year when his position group buried itself taking lengthy notes. It was hardly a surprise given the new offensive system players were learning. But going fast wasn't among their early strengths.
Teaching moments these days feature far more eye contact.
"Maybe they'll put down a quick note," Beckton said. "But their heads are right back up because they know it."
While Nebraska tight ends have enjoyed noticeable strength gains in the offseason, the real source of their confidence is understanding what to do on the field. Maybe, they say, it will be enough for this offense to take off.
Jack Stoll, once known as an in-line blocker, speaks excitedly about how quickly NU can string together plays. Austin Allen has gone from stressing about where he needs to be in fall camp to refining technique. Kurt Rafdal explains how reading defenses is making him a better route runner.
"Now we're trying to work on the why," Beckton said. "How we're going to execute better, how we're going to execute faster to get results on every single play."
One sign that Scott Frost's offense is humming is that tight ends are involved. His 2017 Central Florida team utilized three — Jordan Akins (6-foot-4, 262 pounds), Michael Colubiale (6-1, 223) and Jordan Franks (6-3, 239) — and all are currently in NFL training camps. The trio accounted for 54 catches (18.8% of the total offense) and 856 receiving yards (19.8%) within the nation's top scoring offense.
Nebraska's tight ends didn't come close to that production last year, collecting 28 catches (10.8%) and 374 yards (12.6%). The 6-4, 260-pound Stoll led the way with 21 receptions for 245 yards and three touchdowns. Allen had a memorable 41-yard gain on a misdirection wheel route against Ohio State, but the unit rarely made any highlight reels.
Beckton's long-term vision for his unit at Nebraska is to recruit runners and pass catchers and build them into blockers. His best ends at UCF were oversized receivers in high school, similar to current NU true freshman Chris Hickman (6-6, 215) and redshirt freshman Katerian LeGrone (6-3, 245). Their biggest strengths were making plays in the middle of the field and dominating in the red zone.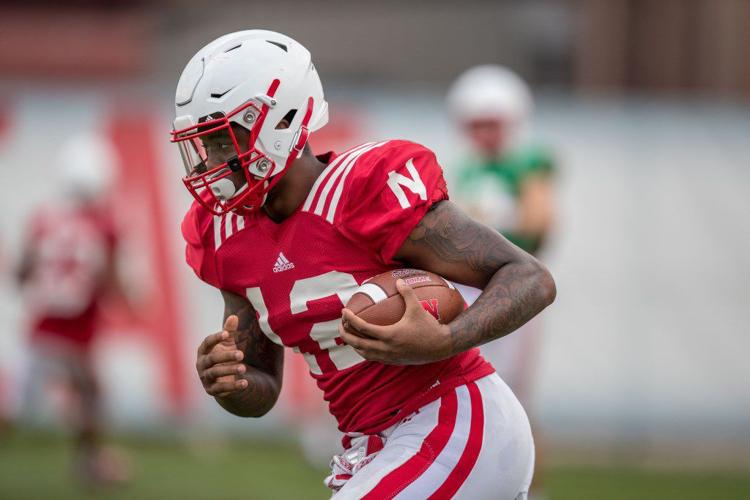 Beckton in the offseason welcomed Rutgers transfer Travis Vokolek (6-6, 250), who is already among the physically strongest tight ends and will be eligible in 2020.
But the older Huskers recruited for a different system are coming around, too. So much so that NU is incorporating more two-tight end sets and being more creative in how it uses the position.
"We can run any play out of any formation," said Allen, a 6-8 redshirt sophomore. "If we wanted to, we could do three tight ends."
Added Rafdal: "(We are) making it work no matter what defense we see."
And Beckton: "Maybe we'll be able to create the situation where we can play with four guys on the field at the tight end spot."
Having quarterback Adrian Martinez back helps, they agreed. So does not losing anyone at the position from a season ago. If Nebraska makes big strides on offense, the tight ends think they can be a key reason.
"We want to look across the ball and see the defense completely gassed," Stoll said. "And to just know that puts a smile on our faces."
Sign up for Big Red Today news alerts
Get a daily Husker news roundup, recruiting updates and breaking news in your inbox.
Photos: Nebraska fall football practice, Aug. 7
We got our first look at the Huskers in action on Wednesday, so check out a photo gallery from practice.