This column's for me, but maybe it's for you, too.
And maybe it's for some folks in the Nebraska athletic department, and even on the home football sideline. I am just a sports scribe. I can't speak for everyone.
But maybe you're like me, and you always heard about how great Big Ten football was. You watched Ohio State-Michigan every year, and that overwhelming crowd, and the cool stadiums, and saw the Big Ten highlights all over TV.
And maybe you wondered if the Big Ten is so great, why aren't its teams playing for and winning national championships.
And maybe you mentioned this to a friend from Iowa, and the friend said, "Well, it's because the Big Ten is so tough and balanced. It's hard to get through undefeated."
And maybe you rolled your eyes at this because you watched the games. Bor-ing.
Sign up for Big Red Today news alerts
Get a daily Husker news roundup, recruiting updates and breaking news in your inbox.
And maybe you, too, were thinking when Nebraska joined the Big Ten that this will be ... what's the word? Winnable.
Yes, that's it. Winnable.
And maybe you looked at the teams in Nebraska's division, and you said the Huskers should win this thing every year.
Maybe you watched Nebraska that first year, 2011 — a Husker team one year removed from playing for the Big 12 championship — get blown out at Wisconsin and finish 5-3 in the Big Ten and said NU just needs to get used to this new conference.
And when Nebraska kept going 5-3 in the league then dropped to 3-5, you said it's because Nebraska is down. Wait until they get a coach and get back up.
And when Shawn Eichorst said he had to take into account where Iowa's program was you quietly agreed.
And when Scott Frost was hired and said he hoped the Big Ten would have to adjust to Nebraska's scheme, not the other way around, you said, "That's what I'm talking about."
And when Bill Moos said, "Ohio State and Michigan are shaking in their boots" — dismissing the other Big Ten teams — you may have laughed. But you understood.
And when Frost went to Chicago last year and declared that the Big Ten teams "better get us now," you said damn straight.
And last year, when Frost looked at Purdue and called it a "winnable game," you nodded in agreement.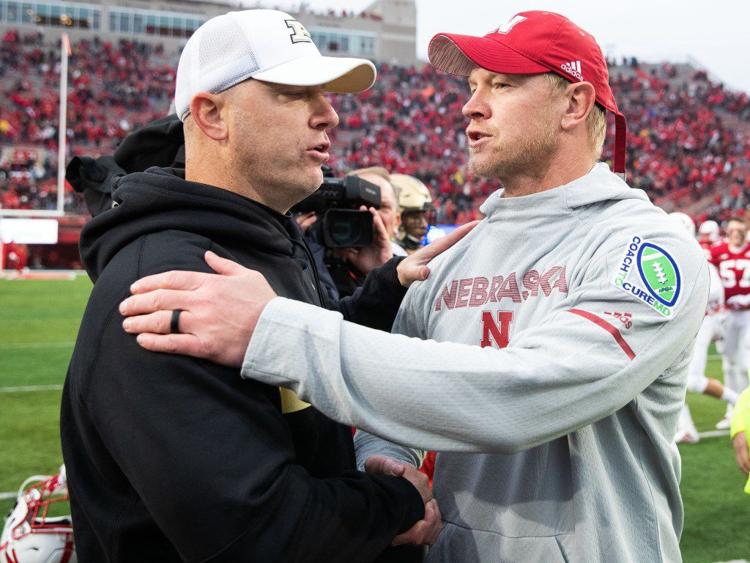 As Nebraska enters its ninth Big Ten season, you — we — may need an intervention. And here it is: 36-30.
That's NU's record in Big Ten games. No comment is submitted. None is necessary.
After a lifetime of mocking this league and eight years of witnessing it, I'm here to tell you that a change of attitude might be in order.
If you don't respect Big Ten football (wink, wink, nudge, nudge), that time is now.
That doesn't mean you have to become one of the Stepford schools. Nebraska won't lose its thirst for chasing national titles. That's in the DNA, part of our charm. Ask anyone wearing an Iowa Outback Bowl shirt.
Frost wants to take Nebraska to the four-team promised land and beyond. But it's time to embrace the way to do that.
It's Nebraska that needs to adjust to the Big Ten, not the other way around.
All the schemes and skill-position stars are great. But to get through this goulash meat-grinder league, Nebraska at some point will need to line up and play Big Ten football.
That means get big and physical and tough. On both sides of the ball.
Funny thing, Nebraska used to push around the Big Eight with that formula. Eight years into the Big Ten, has the message gotten through?
Frost and his staff got a full face of that last year in their first tour of the league, which included stops at Michigan, Wisconsin, Ohio State and Iowa.
They upgraded their defensive line, which also transformed itself in the weight room. This will make the 2019 Big Ten campaign intriguing, as the Daniels and Davis brothers take on the league's offensive line bullies.
This is the group that Frost and Erik Chinander must always maintain and restock. To have a chance to win the West, you must slow down, or neutralize, the offensive lines.
"I feel pretty good about the boys up front," Chinander said. "They take it seriously and play hard. We'll see here pretty quick."
But Chinander, an Iowa kid who played for the Hawkeyes, knows he's not in his Big Ten anymore. Purdue spreads you out. So does Ohio State. One week you're stopping a cutting-edge offense, the next it's Wisconsin power.
"It's better now than when I was in the Big Ten," Chinander said. "The Big Ten was one-dimensional back then. Everybody was the same. Now you have college spreads, NFL two-back teams. You get the full gamut."
Chinander said NU's staff got an early dose of the challenge facing them in this league. After going 13-0 the year before in the American Athletic Conference, they saw Big Ten teams adjusting immediately to Nebraska's schemes.
"Everybody's going to find what you do well and not let you do it," Chinander said. "Last year, they saw what we were doing right away and, with us being young in the system, we had to get into something else right away.
"To be honest with you, the Big Ten has the best combination of players and play-calling. Some of the leagues have really good players and the play-calling becomes let's not call plays that slow them down. Some don't have as good of players and they have to do things to try and help them.
"This league has the best combination of all that."
The other top priority is rebuilding the offensive line. Nebraska coaches are aware of the need to transform up front. The weight room is a top priority now. But matching Iowa and Wisconsin takes time. Nebraska won't get there this year.
But it should be better. The Huskers have no choice.
Earlier this week, I asked Frost if he had learned anything about the Big Ten last year, anything that might make him change his mind about "better get us now."
"It's better top to bottom than any league I've been in," Frost said. "The flip side is, it's winnable if you have a good team and you do play well."
Winnable? There's that word again.
"That's not to sound arrogant," Frost said. "We played well against a couple of the better teams in our league last year and lost, but we had a chance. You have to come ready or you're going to get beat."
Or, come big or don't come at all.
Photos: Husker mascots, past and present
In 2003, to celebrate the unveiling of the University of Nebraska's new and improved Herbie Husker, the Omaha World-Herald published a chronology of long-forgotten mascots of seasons past. These are their stories.