LINCOLN — Scramblin' Fran Tarkenton. The Purple People Eaters. Bud Grant. The Hail Mary. The Met.
When you sit down with Jay Foreman, you want to ask him to recount all the stories. His father, Chuck, was a star running back on those great Minnesota Vikings teams. Jay must have a treasure chest full of goodies.
Then you remember Jay's birthday: Feb. 18, 1976.
A year later, Chuck Foreman played in his third and the Vikes' fourth and final Super Bowl, losing to the Oakland Raiders. That was the beginning of the end of those Vikings, who never won a Super Bowl but are very much legends of Sunday afternoons in the '70s.
Jay just missed a front-row seat to legends he knew nothing about. Several years later, the younger Foreman finally found out.
"(Chuck) came to my school one day and the whole school was talking," Jay said. "I didn't understand why. They said, 'Do you know who your dad is?' I said, 'Yeah, he's my dad.' "
Chuck tried to shield his son from that, tried to keep him out of football. It didn't work. Jay fell in love with his father's game. He played it and played it well. But around Minneapolis, he was "Chuck Foreman's son."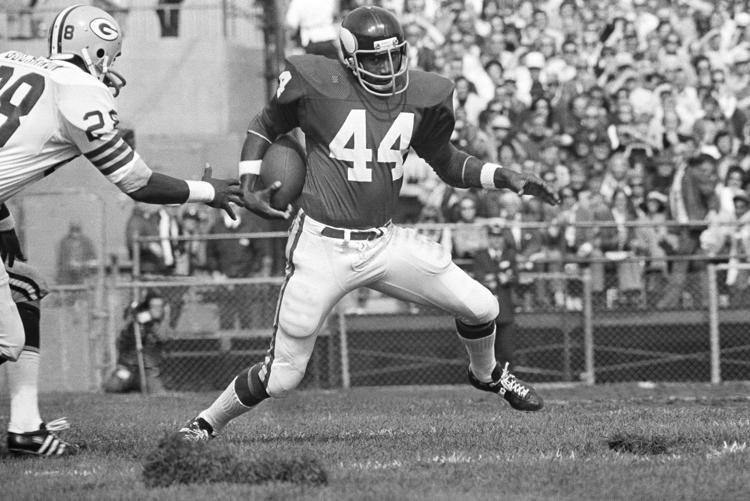 "There was a time I hated that," Jay says.
Then he came to Nebraska and forged his own path, on the defensive side of the ball. He played on two national championship teams. And this Saturday, Jay will be inducted into the Nebraska Football Hall of Fame.
He very much has his own identity.
Jay had his own NFL career and lives in Lincoln, where he runs his Foreman Foundation to fight diabetes. You hear his opinions and insight on sports talk radio. Last month, he made headlines when he spoke to the current Blackshirts and told them he wanted to be buried in his Blackshirt.
Where does that passion come from? I met with Jay this week at the Scooter's in downtown Lincoln to find out.
Q: What does making the Nebraska HOF mean?
A: "I'm very appreciative. I'm honored. My kids are old enough to know that their dad was good. They'll be at the ceremony and you get a ring. It's a good deal.
"I always felt like I had a decent career at Nebraska. To make the hall of fame, it's the final chapter. Not every player gets to go through his career and be at peace with it, feel like you did what you wanted."
Q: I loved those Vikings teams in the '70s. But there's a generation now — your age — who don't remember your dad. What do you know about (those Minnesota teams)?
A: "I've seen the tapes and watched some of the games. I've talked to some of the guys he played against. He was a trendsetter, one of the first true dual-threat running backs.
"I had an interesting childhood. Alan Page used to babysit me. I used to hang out with Jim Marshall, Fran Tarkenton, Ahmad Rashad. Kirby Puckett (the former Twins star) was a great family friend. I used to play basketball with Cris Carter. I thought I was pretty good until that.
"I was a ball boy at Vikings games in the preseason. Jerry Burns was the coach. Randall McDaniel and John Randle were playing. If I had a free weekend from football or basketball, I'd go to a game. It was cool. Lane Kiffin and I were ball boys together; Monte was on the staff then. I played against Lane in high school. That's pretty much how I got noticed by Nebraska."
If his father had his way, Jay wouldn't have played football. He had to sneak out of the house to try out for Pop Warner.
"I would mow lawns and I saved up the $80 you needed to sign up," Jay said. "I took the $80 and got on my bike and rode about five miles to the tryouts. I made it, and we didn't have practice for two weeks. I had two weeks to tell him I had gone out for football."
A: "He wasn't upset or anything. He was excited about the initiative that I had.
"My dad and I had a close bond. He never put any pressure on me to live up to what he did. Being his son taught me some life lessons, some people are going to be jealous and do what they can to make sure you don't succeed. He helped me batten down the hatches, in terms of pressure, and let me be my own person."
Chuck taught his son to learn every position — offense and defense. It paid off in Jay's senior year at Eden Prairie High, when the quarterback was injured. The coach moved his strong safety to quarterback and had Jay play strong safety.
Sign up for World-Herald news alerts
Be the first to know when news happens. Get the latest breaking headlines sent straight to your inbox.
"I went out and knocked a kid out," Jay said. "I got a pick. That's how I got noticed. I knocked a couple people out, had a pick, ran for 150 yards. Pretty soon (NU assistant) Dan Young is calling me. Coach (Tom) Osborne was up a couple weeks later."
Jay chose NU over several Big Eight and Big Ten schools (though Minnesota's Jim Wacker didn't recruit him). He came as a running back, but wanted to move when he saw a freshman named Lawrence Phillips. Coach Ron Brown wanted him at wing back, but Jay balked.
That's when fate handed him a Blackshirt.
"(Linebacker) coach (Kevin) Steele didn't have anybody to coach," Jay said. "He said, 'Dude, you have big shoulders, you like to hit.' He moved me to linebacker.
"It gave me a chance at my own identity. You put the highlights side by side (with his dad) … you can't chase the story that's already been written."
The story of how Foreman got his Blackshirt is a classic, and it says everything about the tradition and why it means so much to him.
"I remember they came out with a Blackshirt poster," Jay said. "The older guys didn't want me in it. I didn't make the poster. Everybody was in it except me.
"It was 1995. I was a redshirt freshman. I hadn't played a game. We were getting ready to go to Oklahoma State for the opener. I remember at the walk-through, one of the dudes came up and challenged me. I think it was Mike Minter.
"He said, 'Are you tough?' Nobody really knew me. I was told to shut the hell up and make plays.
"I just dropped my stuff and said, 'Let's go,' right there. 'I'm going to knock you the hell out.' He just wanted to see how tough you were. To be honest, I was pissed off about not being in the poster. After that, I didn't have any problem."
Q: Did you have any favorite games or memories?
A: "The big games. Florida. (Tennessee) against Peyton Manning. The Colorado games. That's what you remember and what you're remembered for. Those separated the real players from the ones who talked a lot."
Foreman was a fifth-round pick of Buffalo in the 1999 NFL draft and played almost eight seasons, for the Bills, Houston, New York Giants and San Francisco. He retired as a 49er during the 2006 season when a rookie teammate ran into him during a game, tearing his MCL and shattering his knee cap. Foreman already had neck and back injuries in his career.
He bounced from Minneapolis to Lincoln and settled in Lincoln in 2014, when he began his Foreman Foundation.
"My grandfather (Francis), who was my hero, died of complications of diabetes," Jay said. "I always wanted to do something to honor him. My dad is a Type 2 diabetic. It's something that has been close to me."
Jay says nearly 25 family and friends are coming to Lincoln this weekend, including his father. Chuck knows Lincoln well. The father who didn't want his son to play never missed a game.
"He always kept a low profile, but I knew where he was," Jay said. "He'd always come and walk by the fence (in Memorial Stadium) right before the game would start, then go up in the seats and watch. It was cool because we got to talk about what I did and what he thought about this player or that player."
There's a movement in NFL circles to get Chuck inducted into the Pro Football Hall of Fame, via the veterans committee. But this week, the focus will be on another HOF.
"It does mean something," Jay said. "I know how Eli and Peyton (Manning) felt. I've talked to them, how hard it is to make a name for yourself.
"Every time I had an article written about me, it was Chuck Foreman's son. There was a time I hated that. I had a weird animosity toward my dad. But then we talked about it and he said use it as fuel.
"The good thing about it is, he gets to come down here and be Jay Foreman's dad. In 49 other states, I'm Chuck's son. But in Nebraska, he's Jay's dad."