It's summer camp season and Fred Hoiberg has time to talk. That's the good news.
The bad news is all I want to do is ask the Nebraska basketball coach about Johnny Orr.
I'm a Big Eight Conference nut. I loved covering Johnny Orr. There is much to ask this former Iowa State ball boy from the 1980s.
But this is 2019 and these days the ball never stops bouncing in college basketball. June is for camps. But it's also for the NBA draft.
That's a good starting point, because Hoiberg wants to make the NBA draft a big deal at Nebraska. All the attention this week around Isaiah Roby — the first Husker drafted in 20 years — is something Hoiberg wants to be an annual thing.
And he thinks he's going to put together a program at Nebraska where kids come to play an NBA offense and develop skills that the NBA desires.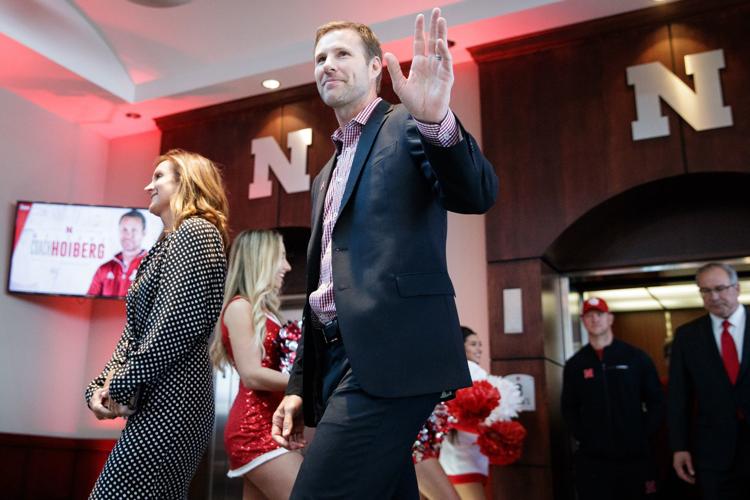 "You want guys that can come in here and reach their potential and play at the highest level," Hoiberg said.
"I was very fortunate to spend 10 years playing and working in the NBA. That's what every kid dreams about at this level. We're going to do everything we can to develop them and put them in position to go through what Isaiah is going through.
"But it's tough. It's tough to make it. Then tough to stick. I know that firsthand."
At the press conference when Hoiberg was hired to coach Iowa State, he talked about having the phone number of every NBA general manager on speed dial. Recruits heard the message. In five years at Iowa State, Hoiberg had nine players who went on to play in the NBA, including four who were drafted.
Since 1980, Nebraska has had nine players go in the NBA draft.
Q: I'm assuming you will use that sales pitch again here.
A: "To have that personal connection to the NBA — I wore three hats there. The draft was a big part of my responsibility. Obviously coaching the last three years, to have those connections to that level, that's important. The guys who were drafted, we helped put them in that position."
Q: The key phrase is put them in position, right?
A: "I would never sit and guarantee a kid is going to make it at that level. The kids have to do the work to give themselves a chance.
"I use the example of Georges Niang (a Hoiberg recruit at Iowa State who plays for the Utah Jazz). He sacrificed a lot of his college life, put everything he could into his four years to give himself a chance to make his dream. And I give him all the credit in the world. Instead of going out on weekends, he was in the gym."
Q: What does the NBA look for in a player?
A: "It starts with length and athleticism. There's true positional size. If you don't have it, it's tough to make it at that level without a skill set. That's where we can help, with the skill set, make them a well-rounded player. Which is what the NBA is looking for."
Q: Where does your offense fit into that?
A: "The system that we run is what I knew, coming from the NBA, 15 seasons. A lot of it is based on concepts. It's really based on spacing. We work as hard on our spacing, way more than we do on sets.
"We work on concepts and rebounding, players knowing where to go next, and they aren't looking over their shoulders (for a play from the bench). Everything flows into every set that we have with good spacing. If we do that, we're going to get something accomplished. It's what I knew coming from the NBA. It's a pro-style system."
Q: You take a lot of shots. Is there such a thing as a bad shot?
A: "Oh, yeah. Absolutely. No doubt about it. We're trying to create open 3s and 2s. At Iowa State, we had a perfect shot distribution where we took a lot of 3s and we got a lot of (drives) at the basket. That's what we're trying to accomplish."
Q: How long will it take to fit this new roster into the offense and roles?
A: "We ran different things in my five years at Iowa State based on who we had on the roster. The second year, when Royce White became eligible, we put the ball in his hands and played very unconventional. We led the nation in 3s that year because we had great spacing, with a 6-10 freight train coming down the floor. It was a mismatch. That was our best chance, I thought, to create shots.
"It's back and forth, but one thing that was very consistent, we shot a lot of 3s and we had a good turnover-assist ratio. We led the nation in assists one or two of those seasons and always in the top 10.
"We're going to experiment with some things this summer. It's going to be interesting. After I got let go by Chicago, I really focused on a couple of teams and just looked at concepts and things they ran. I'm going to try that, with things I saw with Milwaukee Bucks concepts and Houston Rockets. A lot of wrinkles from alignments they use."
Q: Do you like the 3-point line moving back, and how it might create more space and movement?
A: "I think it's a great rule change. The one that made zero sense to me was when they widened the lane and keeping the 3-point line where it was. That would have bunched up things more. Moving the line back will hopefully move the defenses out a couple of steps and open up some driving lanes. I do think the strength of our team is going to be driving downhill and getting to the rim."
Q: We always debate expectations of Nebraska basketball. Is it OK to say the words "Final Four" around here?
A: "I think so. I'm going into this thing with the attitude that we are going to win at a high level.
"Look at the year we had at Iowa State, with Niang (2014), and we were playing as well as any team in the country and he broke his foot in the first round. We still ended up beating North Carolina and lost to Connecticut in the Sweet 16, and they ended up winning the national championship. We didn't have a guy who could have drawn their big guy away from the basket and we would have had a chance to win that game. You never know.
"You look at teams like Texas Tech, what they did. When we played at Texas Tech my first couple years of the Big 12, there were 2,000 in the stands there. You look at how Coach (Chris) Beard has turned that program around. That's a well-coached team. But I look at Tech and think, yeah, you can get to the Final Four."
Q: The Creighton game is a big one around here. You obviously know Greg McDermott — you followed him in Ames, and Doug played for you in Chicago.
A: "He was great to me when I took over at Iowa State. We remain close. My wife and Theresa (McDermott) are close. Doug was one of my favorite guys to coach."
Sign up for Big Red Today news alerts
Get a daily Husker news roundup, recruiting updates and breaking news in your inbox.
Q: Have you guys had any duels on the golf course?
A: "Greg is a good player. He has a lot more torque than I do."
Q: You work right next to the Devaney Center. Do you remember any of your games with Nebraska there?
"My junior year we had a game right there at the end, I hit a fadeaway shot that put us up a couple of possessions. They got us a couple of times, whipped us."
Q: I have to ask for a story about Coach Orr. He set the tone and style for the Big Eight in the '80s with the way his teams ran. Did that influence you watching as a kid?
A: "I was a ball boy when Johnny was changing Iowa State basketball. His teams were so much fun to watch. He had a huge influence on my coaching. He got us to play with great tempo.
"One of the great lines, my senior year, Coach (Tim) Floyd had taken over and we were playing Nebraska at Hilton. We had a crazy practice the day before and the next day we were playing at noon and we were getting beat at halftime.
"Our big man was Loren Meyer, first-round draft pick. Coach Floyd came in and looked Loren right in the eye and said, 'Loren, you understand you're getting your butt kicked by a guy named Mikki (Moore).' "
That's your Big Eight basketball fix for the summer. More installments to come.
Photos: Fred Hoiberg through the years