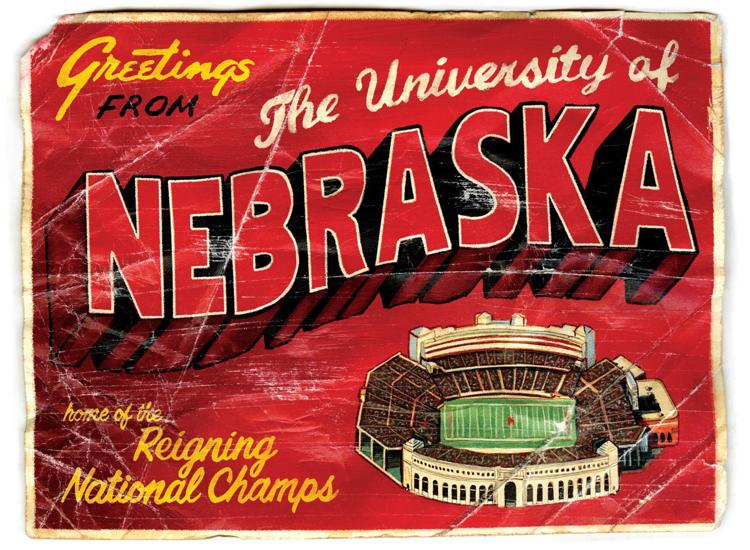 It was after 3 a.m. when Scott Frost knocked on the door.
Down on Miami Beach, ocean waves lapped against the shore under a moonless 72-degree night. Inside the Sheraton Bal Harbour, the party was just beginning. Cheers echoed through the hallways. Three-hundred pound college kids jumped on beds. Grown men shed tears.
Four hours after Nebraska throttled Tennessee in the Orange Bowl, the final coaches poll had just been released. Nebraska was No. 1.
Before heading to the beach with his teammates to run a few final plays into the waves, Frost took the elevator from the hotel ballroom to Tom Osborne's floor and found the coach — officially retired — packing for the trip home. Stoically and quietly content, Frost remembered.
"Mount Rushmore looked more excited."
Frost, with faint traces of eye black on his cheeks, congratulated the fellow Nebraska native and echoed a message the coach would hear thousands of times from fans.
This series explains what has happened within the state's boundaries since the Tom Osborne era and the new and different ground that Scott Fro…
Twenty years later, Osborne is still revered for three national titles in four seasons. But more improbable was the way he did it. He turned one of America's least populated states into a football factory. It was like dropping a farmer in a desert with no tools and watching him, over the course of 25 years, grow the world's richest crop.
The 1997 Huskers — more than any team in the modern era — were homegrown. Tennessee's roster listed 97 total players. Nebraska's roster listed 110 in-state players. They came from 57 towns, including 22 map dots smaller than 1,000 people.
Nine native sons started on offense alone: three from the Omaha metro area, two from Lincoln, two from Columbus, Frost from Wood River and fullback Joel Makovicka from Brainard, where he played eight-man football. The rest of the 110 weren't exactly tackling dummies. Seventy lettered, including 47 in 1997. Twenty-seven became regular starters before graduation. Seven made the NFL. Two became All-Americans. Eric Crouch won a Heisman Trophy.
Since that night in Miami, the harvests have dried up, both from neglect and natural deterioration.
» In the 1990s, 50 percent of NU lettermen were in-state players. This decade, it's 37 percent. The 2017 roster included 47 in-state players, only five of whom were regular starters.
» The scholarship gap is more stark. Through the 1980s and 1990s, 29 percent of scholarship recruits were in-state players. This decade, it's 11 percent.
» The NFL draft shows the same pattern. From 1994 (when the draft shrunk to seven rounds) to 2008, in-state players made up 31 percent of Nebraska's draft picks (24 of 77). The past decade, it's 16 percent (five of 31). Starting with the 2004 recruiting class, 29 Nebraska high school graduates have played in the NFL. Only 12 of them played for the Huskers.
"We've lost touch with our own," said Jay Bellar, executive director of the Nebraska School Activities Association and former superintendent at Battle Creek. "These new coaches thought the bigger, better players are in California, Texas and Florida, and Nebraska kids can't play. That really hurt them.
"If you're in Omaha or Lincoln or even Battle Creek or Norfolk Catholic, you think they don't want you so you find other places to go."
The problem is more serious than missing potential difference- makers like Danny Woodhead, Trevor Robinson, Kyle Emanuel, Shaq Barrett, Harrison Phillips and Noah Fant, the Omaha South graduate now shining at Iowa. Nebraska's roster evolution since 1997 has increasingly abandoned "foundational" players, as Makovicka called them. Low-maintenance recruits whose determination and unselfishness permeates the depth chart. They lead workouts in the offseason — and rallies in the fourth quarter.
"Big hearts made a difference," said former Omaha Central coach William Reed. "Nebraska kids just flat-out played harder for the University of Nebraska. ... It's not all about five-star or four-star. It's like, how big is the heart that goes along with the stars?"
Frost's challenge is to rebuild relationships with Nebraska high schools, restore the developmental system that turned raw talent into hidden gems and revive a locker room that once developed unity and resolve.
It won't be easy. The in-state recruiting demise is complicated. The talent pool is shallower than it was in Osborne's day. Fewer kids grow up determined to play for the Huskers. It's a problem of supply, demand and inspiration.
Said Terry Connealy, a national champion from Hyannis: "We've kind of lost a generation of kids who covet going to Lincoln."
The effects are evident at every level: small towns, big towns and the two largest cities.
In the 1990s, 51 Husker lettermen came from towns of fewer than 2,000 people, including 14 on the 1997 team alone. This decade, 12 lettermen fit that category.
Look at it from the scope of scholarship players. In the 14 years before Bill Callahan, 15 towns of fewer than 2,000 people produced a scholarship recruit. The 14 years since? None.
Here's the most glaring fact: In the past 10 seasons (2008-17), two Husker lettermen came to NU from eight-man high school football. Lance Thorell and Taylor Dixon, walk-ons from Loomis and Wauneta-Palisade, respectively, finished their careers in 2011 and 2012.
It's astounding considering eight-man comprises 24.7 percent of the state's high school players — no state in America had more eight-man (or nine-man) players than Nebraska's 2,965 in 2016-17. Even more astounding considering NU's alumni of eight-man players who turned into standouts: Dean Steinkuhler. Connealy. The Makovicka brothers. Scott Shanle.
Sign up for Big Red Today news alerts
Get a daily Husker news roundup, recruiting updates and breaking news in your inbox.
Pockets of the state once critical to Nebraska's success have stopped producing Huskers. Take the southeast corner. Those five counties — Otoe, Nemaha, Johnson, Richardson and Pawnee — are home to Steinkuhler, 1984 All-American Bret Clark, Chad and Chris Kelsay and Frost's right-hand man, Matt Davison, among other former starters.
Since 2002, the southeast corner hasn't produced a single letterman. Not one.
The story isn't much different in northeast Nebraska, once a recruiting hot spot. Or western Nebraska. Or really anywhere outside the Omaha area and Lincoln.
Look at Class A and B schools outside the state's two largest cities. Almost every one of those towns produced a great player during the Devaney/Osborne era.
Fremont contributed 11 lettermen in the Osborne era. It's produced one since 2002. Hastings, which contributed seven lettermen in the Osborne era, has had one since 2000.
Norfolk sent nine lettermen to Nebraska from 1981-95. It's produced one Husker letterman since 2004. Wahoo sent nine lettermen to Nebraska from 1990 through 2003. Only one since.
Scottsbluff hasn't had a letterman since 1997. Lexington hasn't had one since 2000. North Platte? None since 2004.
The most remarkable drop happened in Columbus, which has produced more lettermen per capita than any of Nebraska's biggest towns.
The 1997 national champions had 10 Columbus natives — equal to Lincoln and more than Bellevue, Grand Island, Kearney, Fremont, Norfolk, Hastings, North Platte and Scottsbluff combined.
When did Columbus' last letterman arrive on NU's campus? 2003.
The Huskers' issues in rural Nebraska are harmful enough. But they correspond with a startling decline in Omaha.
From 1999 through 2008, Nebraska signed 29 players from the Omaha metro area. The past 10 years? Five.
Niles Paul, Ricky Henry, Alex Henery and D.J. Jones played their last Husker games in 2010. All were OPS grads. All went to the NFL.
Since then, NU has received little help from the metro area. Over the past five years, 12 lettermen have combined for 12 total starts. Only C.J. Zimmerer (six), Michael Decker (five) and Ron Kellogg (one) started a game.
This is the place that once produced Johnny Rodgers, Dave Rimington, Ahman Green, Crouch and seven other first-team All-Americans since 1962. Elkhorn and Gretna, two growing suburbs, have mitigated the damage, but it's still severe.
Frost may rebuild Nebraska's appeal within the borders and re-ignite the walk-on program. He's off to an excellent start with a hefty walk-on class in 2018 and four in-state commitments for 2019, including Omaha Burke's Nick Henrich.
But the coach can't possibly grasp — at least not fully — how much the landscape has changed since the 1990s.
In 1999, high school football participation in Nebraska peaked at 15,198 players. Eighteen years later, it dropped to 12,038. The state has lost 3,000 players during an era when high school football nationally jumped 8.0 percent, from 1.01 million to 1.09 million.
Nebraska has more residents than ever and more high school boys than ever — almost 54,000. But growth is coming almost exclusively in the two largest cities. If we exclude the Omaha metro area and Lincoln, enrollment has dropped 14.4 percent in 20 years.
That's a problem for the Huskers because the larger the school, the lower the football participation rate. Bellevue West has one of Class A's best rates — about one football player per seven boys. Compare that to Mullen, where 26 of 28 boys played.
Overall, the state's prep football participation rate has dipped from 29.6 percent to 22.4 percent since 1999. The past decade alone, it's dropped 5.7 percent.
Technology offers more distractions for kids. New sports like cross country have emerged. Young athletes are increasingly specializing in one sport. Concussion risks scare away parents. Those are nationwide factors.
The obstacles specific to Frost are more formidable:
» Limits to walk-on numbers because of Title IX. Attempts to expand the Husker roster to Osborne standards may require NU to cut a men's sport — or create another women's sport.
» The rising cost of college. In-state tuition to the University of Nebraska-Lincoln 20 years ago averaged $2,849. The cost — even after accounting for inflation — has more than doubled, not including increases in housing, meals, books and fees. It's harder for native sons to accept walk-on offers.
» The evolution of college football. The sport values speed more than ever. Size and power football, where Nebraska kids traditionally excelled, is at less of a premium. Moreover, the old path to success — redshirting, developing and waiting two or three years to set foot on the field — has become antiquated. Kids want to play now.
» A generation of kids that has never seen Nebraska in the top 10. Homegrown kids used to dream of wearing the red N. Now they like Oregon and Ohio State, too.
» Demographic changes. The only reason the State of Nebraska is growing is because of its Latino population. Those kids often lack experience and interest in football.
» The biggest issue of all: Small-town depopulation. Rural Nebraska is drying up at an alarming rate, and with it the unheralded heroes of Osborne's program.
We'll cover all of those issues in this series over the next week, from all corners of the state. But first it's important to establish how and why Osborne crafted his plan. And how a series of successors slowly and steadily veered off course.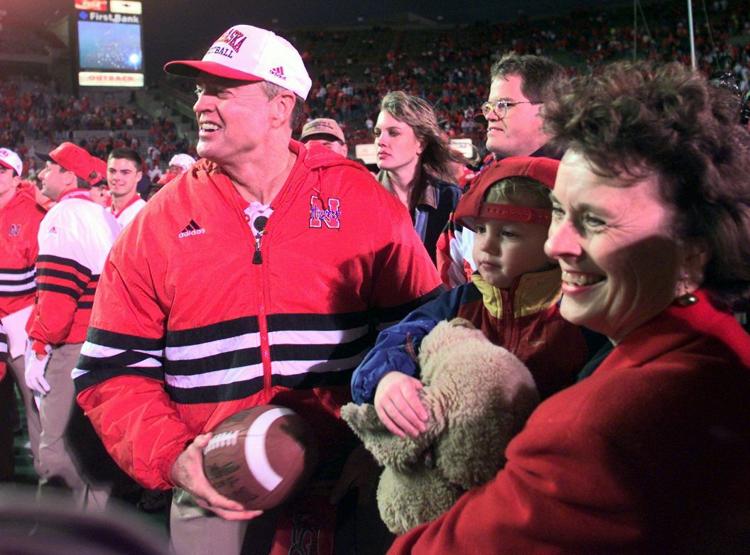 Forty-five years have passed, but Guy Ingles remembers it like yesterday.
Bob Devaney had just retired after the 1972 season. Osborne, his 35-year-old apprentice, had taken over a staff of older, more experienced assistants. Osborne was wet behind the ears, Ingles said, when he gathered his new staff in the South Stadium football offices and thanked them for their support.
And then ... Osborne wasted no time emphasizing the No. 1 key to beating heavyweights like Oklahoma, Southern Cal and Ohio State. The walk-on program.
"That was the first thing out of his mouth," said Ingles, a freshman coach.
Wait, really? This might sound obvious in 2018, but walk-ons weren't valuable chess pieces in 1973. They barely existed.
That spring, for the first time, the NCAA mandated football scholarship limits to free up money for women's athletics. Osborne could see the future because he'd experienced the past.
In the 1960s, Big Eight recruiting rules were among the nation's most liberal. The Huskers could hand out 45 initial scholarships each year and frequently had 150-160 players on scholarship. Occasionally, the last Husker recruit to receive a scholarship became one of NU's best players. Osborne had a revelation.
"Recruiting, to some degree, was like throwing darts," Osborne said. "A guy like Tony Davis, who was a very good player for us, he was the 44th or 45th guy that we offered and he ended up starting for us at I-back."
Maybe Nebraska's best 30 freshmen weren't as good as Texas' or Alabama's best 30. But what if the Huskers had more darts? If they had 70, 80, 90 freshmen, well, maybe they had a chance.
Osborne didn't stop there. He took those 60 extra players and gave them access to the nation's best strength program: Boyd Epley's Husker Power. And one of the nation's first nutrition programs.
He gave them hundreds of snaps each week on the freshman team, then on scout teams. Repetition was the key to improvement, Osborne believed, so he designed practices to maximize efficiency. Four stations with eight units running the same plays over and over.
Osborne's pet peeve was seeing players "standing around" at practice. He and his disciples saw too much of that at Husker practices the past 15 years.
"It drove me nuts to watch," Connealy said. "Kids standing around that had hardly broken a sweat."
Activity fosters development. But here was the real secret to Osborne's success. He didn't just bring in 60 extra players. It was 60 extra local players.
Osborne dangled a couple of incentives — five games a year on the freshman team, the possibility of later earning a scholarship and the opportunity to call themselves Cornhuskers. To be local celebrities in their communities, Osborne said.
How did Nebraska find these kids? Osborne's staff canvassed the state, turning high school coaches into unofficial scouts.
"It was kinda like Coach Osborne created an entire state that was his feeder team — his farm system," Connealy said.
When Jeff Tomlin coached at Alliance in the 1990s, he received in-person visits from Nebraska assistant Dan Young almost every year. Alliance is 367 miles from Lincoln.
"They relied on coaches all around the state to be their eyes," Tomlin said.
Said Bellar: "They made all the high school coaches feel like they were part of the team. Nobody has since."
In the end, Osborne might throw eight guys into a position battle — four scholarship players, four walk-ons. He didn't know who would come out on top, but he could guarantee one thing:
The starter had earned it.
So that's the full blueprint, right? Not quite.
One more step: the offense. Osborne crafted a unique scheme to highlight the strengths of in-state recruits — and hide their weaknesses.
Walk-ons usually couldn't start at the spots where athleticism is at a premium — quarterback, running back, pass rusher or defensive back. But every other position was on the table. Osborne made sure of it with an offense that valued blockers over receivers. He could turn a punishing high school quarterback into a wingback. Or a 220-pound prep wrestler into a bulldozing fullback or even a pulling guard.
Nebraska's extraordinary depth enabled Osborne to recruit from a position of strength. While Iowa State and Kansas were plugging holes, Osborne didn't need scholarship players to make an immediate impact. He could sign a raw offensive tackle from Hartington or Cozad with exceptional potential, stash him in the weight room for two years and — voilà! — you have a 300-pound All-American.
Out-of-state coaches, including those who worked at NU the past 20 years, marveled at the size of Husker linemen, Davison said.
"You watch Nebraska on TV and you thought, holy crap, these guys are monsters," Davison said. "Then you get here and you start recruiting in Nebraska and you say, where are the monsters? And the answer is they weren't monsters when they were 17. They weren't."

In December 1995, Nebraska was on the cusp of back-to-back national championships. Osborne's staff had the credibility to recruit almost anybody in the country.
During a staff meeting, assistants studied film of a 6-foot-4, 220-pound ox from Farwell (population 152). Unlike a lot of guys at that size who wrestled, Kaiser was the point guard on nearby St. Paul's state championship basketball team. No assistant thought he was scholarship worthy, but Osborne liked him.
Then Charlie McBride walked in late to the meeting. Osborne asked him to look at the film. It was hard to see the next Connealy or Christian Peter — "All I knew is he was tougher than nails," McBride said.
Let's make a defensive lineman out of him, the defensive coordinator said. Kaiser gained 70 pounds, started 28 games and became a co-captain.
Osborne reveled in stories like that. After his retirement, he researched scholarship distribution during the glory years. From 1990-97, he signed 6.3 native sons per year. More than 70 percent became starters. Out-of-state scholarship recipients? Only 50 percent.
The lesson: Local kids might be borderline at 17 years old. But development and desire usually bridge the gap.
By the late-'90s, Nebraska had many advantages over the competition: a captive audience that provided plentiful resources; extraordinary continuity on the coaching staff; the option offense; Husker Power. All were just pieces of an in-state recruiting machine that increased Nebraska's margin of error.
In January 1998, Osborne walked away at peak production. Under his chosen successor, Frank Solich, fans realized that it wasn't so easy after all. Player development slowed. Recruiting grew complacent. Athletic Director Steve Pederson wanted a captain with more ability to find blue-chips.
In theory, the idea made sense. But Pederson's choice — Bill Callahan — came from the NFL, where he practiced with 50 or 60 players, not 180.
"He told players there were too many of them," Osborne said.
Callahan gutted the walk-on program. His third year, 2006, the roster included 38 in-state players. He sacrificed development for quick-fix recruiting classes. He also influenced the style of football in the state, Davison said.
"When we went to the West Coast offense," Davison said, "I think a lot of high schools changed their offense and started to become soft, running things that didn't fit the kids very well. That made kids soft in practice because instead of being a bulldozing offensive line, they became a pass-blocking offensive line. I think that hurt the physicality of football in the state."
Bo Pelini took over in 2008 and increased the walk-on numbers, halfway to the Osborne/Solich levels. But he withheld scholarships to in-state players. If a kid wanted to come to Lincoln as a walk-on, great. But with few exceptions, Pelini reserved scholarships for out-of-state players and paid lip service to local recruiting.
Makovicka recalls running into an old high school rival who'd become athletic director at Elkhorn South.
Pelini had never been in his school. Makovicka was miffed.
But we don't have any prospects, the A.D. said.
That's not the point, Makovicka said. Based on Omaha's suburban growth, you will. And the sooner they build relationships, the better their chances of building a pipeline.
"The high school coaches really wanted to jump on board with Bo Pelini because they liked his roughness," Bellar said. "But he never stepped in our school once. ... If those (NU) coaches would sit down and be honest with you, they didn't think it was worth their time."
By the time Mike Riley — another outsider — took over in 2015, the old blueprint was draped in cobwebs. Riley wanted to please high school coaches, but he didn't have the familiarity or time to rebuild on a grass-roots level. His system didn't match his environment.
Eventually the work habits disappeared. Pride vanished.
According to Osborne, some NU coaches "did not understand the things that were kind of unique or peculiar about this place. Doesn't mean they were bad coaches, they just hadn't been here to experience it."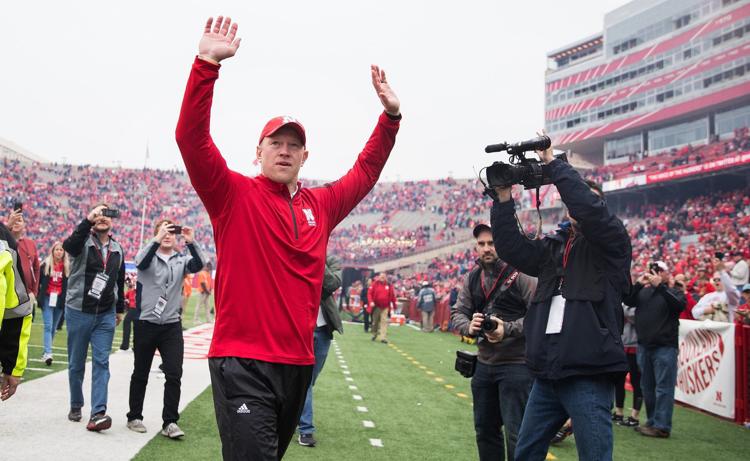 His first child was coming soon. His football team was chasing a perfect season. His name was linked to potential job openings across the country, including his alma mater.
Frost, amid the stress last fall, took a timeout and clicked on his favorite quiz site.
This wasn't Frost's first time on Sporcle. He's been known to wrack his brain recalling Masters winners or NBA all-time leading scorers or 1970s rock 'n' roll bands.
"He's a trivia fanatic," said Husker linebackers coach Barrett Ruud. "He tells me to come into his office and that's usually what it's for. I help."
On this particular day, Frost found a challenge in his wheelhouse: Name Nebraska's 300 most populous towns.
"We went all 20 minutes," Ruud said. "We didn't stop."
To clarify, Frost didn't stop. Ruud was born and raised in Lincoln, a glamorous bubble of multistory buildings, niche restaurants and traffic jams — "I added maybe five answers," the former linebacker said.
Frost, who as a kid visited almost every corner of the state, rattled off about 200 towns by himself.
O'Neill ... McCook ... Wood River ... Cedar Rapids ... Malcolm ...
If anyone is motivated to resurrect the Big Red recruiting pipelines, it's the first native head coach since Osborne.
He wants to build a wall around the state. He wants the deepest depth chart in the Big Ten. He wants borderline prospects to turn down scholarships from smaller schools to walk on at NU.
His point of reference, his vision of what Husker football can be, is 1997. The night he walked with his mentor off the Orange Bowl turf.
"What's good about Scott," Makovicka said, "is he's got the blueprint. And he's got the guy who established the blueprint at his beck and call."
Read the complete 'Homegrown Huskers' series
The "Homegrown Huskers" series spanned 10 days and 23,000 words, relying on interviews with 60 sources and stacks of data. It illustrates the broken relationship between Nebraska football and its feeder high schools. It asks if Scott Frost can restore the model that worked so well for Tom Osborne.
---
Video: Inside the 'Homegrown Huskers' series
Dirk Chatelain describes the inspiration behind this series and the amount of research that went into producing it.