CHICAGO — Rondale Moore flashed a quick smile like he knew the question was coming.
The answer from the Purdue wide receiver should make Husker fans smile, too.
"Our names are similar, we're built the same, we play alike," Moore said at Big Ten media days. "We have a lot in common."
That's the 5-foot-9, 180-pound Moore, who caught 114 passes for 1,258 yards and 12 touchdowns as a true freshman, comparing himself to 5-10, 190-pound Nebraska true freshman receiver Wan'Dale Robinson. They started training together in high school three years ago. Moore was a junior sitting out during a transfer. Robinson was about to be a super sophomore. They couldn't have guessed they'd be Big Ten West rivals.
Well, they are. And if Robinson's first year is half as productive as Moore's, Nebraska's wide receiver room could be a lot better than anyone thinks.
Sign up for Big Red Today news alerts
Get a daily Husker news roundup, recruiting updates and breaking news in your inbox.
As it stands, that position is a minor question mark because of the departure of Stanley Morgan, who rewrote NU's record books. Husker coaches knew Morgan would be tough to replace, in part because there was no obvious "Stanley 2.0" in the program when they arrived. JD Spielman is just as productive as Morgan, but he's a different kind of receiver. Plus, Morgan made Spielman better — and vice versa.
Husker fans aren't conditioned to expect much from true freshman receivers. Three of the five best in the Big Ten era — Kenny Bell, Jordan Westerkamp and Spielman — all redshirted. I'm not sure any of them should have, but they did, and so it went.
Robinson enrolled early at NU and, by all accounts, impressed everyone in the program with his smarts and work ethic — which is the best kind of news. Robinson's highlight tape reveals his physical gifts. But talent, coach Scott Frost said, isn't what determines whether a true freshman plays.
"It's their level of maturity and whether or not they get after it," Frost said. Robinson was impressive from the first spring practice.
"He looked like we expected him to look," Frost said. Freshmen who enroll early typically work out more of the kinks than summer enrollees.
Moore did not enroll early, which makes last year even more impressive. It took fewer than five minutes Friday to appreciate that Moore's physical gifts are just part of the reason he was a first-team All-American as a true freshman. He was as polished as any interviewee at Big Ten media days. Purdue coach Jeff Brohm gushes about Moore as a student and leader. It's clear why. He had just a single B-plus during his first year of college. English class.
"I actually emailed my teacher and asked if I could do some extra credit, because I had an 89.8 (percent)," Moore said. "Of course, she told us at the beginning of the semester that she doesn't round (up)."
Moore's on-field acumen scores an A-plus. His high school offense helped prepare him well enough for Purdue that — Moore snapped his fingers — he hit the ground running in his first game with 313 yards against Northwestern. The Boilermakers lost, but Moore, playing on ESPN's opening Thursday night, became a star.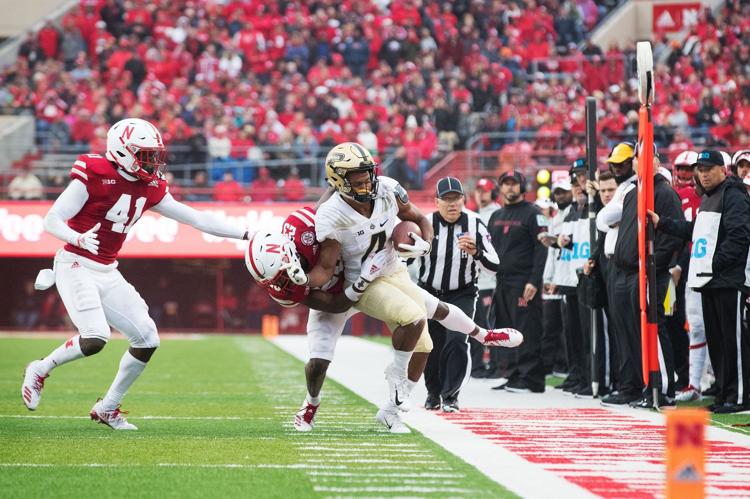 I've talked at length to Moore and Robinson's trainer, Chris Vaughn. The two do have similar skill sets, to the extent it would have been hard for Robinson to play at Purdue because Moore was already there, doing the things he was doing.
Both are goal driven — Moore writes five or 10 of them down on paper. Both have overcome obstacles in life. Both are tough — remember that hit Robinson took in the All-American Bowl from future teammate Noa Pola-Gates while still holding on to the ball? Both, when they're in the middle of a catch-and-run, seem as if both feet are off the ground as they change direction on air.
And both want to carry the load. Part of how Nebraska coaxed Robinson away from home-state Kentucky — which has its own all-purpose star in Lynn Bowden — was by explaining all the ways he could be utilized. Screens, jet sweeps, all three receiver positions.
Spielman had seven carries last season, and with NU's lack of experience and certainty at running back — it's still not clear whether Maurice Washington will play — Robinson, who rushed for 6,795 yards in high school, may get plenty of chances to carry the ball. Moore carried the ball 21 times last season; now that Purdue is replacing its two top running backs, he could run even more.
Frost hasn't trumpeted Robinson too much. That's wise.
Brohm wasn't shy about Moore before last season. Purdue media is smaller than Nebraska's contingent by several degrees, too.
But game recognizes game, and Moore — a straight shooter with the press — didn't seem to be overplaying his hand on Robinson. Seems strange to write Nebraska fans are sleeping on Robinson's potential — or, for that matter, the potential of Jamie Nance, Darien Chase and Demariyon Houston. Maybe, though, they are.
"I'm sure all you guys have seen the film, and I think it'll translate," Moore said of his friend. "He's really eager to learn. He's asked me questions, he's asked our trainer questions. He's all about ball."
More observations from Big Ten media days:
The elephant in the room
It's one thing for Athletic Director Bill Moos to raise the flag on Husker football facilities. He's done so a few times. It's another when Frost goes into such detail about NU's imperfections by invoking the names of Steve Pederson and Bill Callahan, Frost underlined the incompatibility between NU's current setup and Frost's vision.
"There's some things about our facilities that don't fit the mold of what we're trying to build right now," Frost said.
Which Husker fan would deny a native son his full vision?
Transfer market success
Nebraska went 2 for 3 on transfers in 2018, with Tre Neal and Noah Vedral as "hits" from Central Florida and Breon Dixon a miss from Mississippi. NU may have three more hits on its hands.
Nose tackle Darrion Daniels could be the key addition to Nebraska's defense while Kanawai Noa is a seasoned option who will help at receiver. And a Rutgers beat writer told me tight end Travis Vokolek was the Scarlet Knights' only offensive player defenses had to scout against and likely will be a NFL draft pick.
Interior line questions
Frost is right when he says each league team has weaknesses before the season. Still, he rattled off so many names who could potentially play at center that NU seems headed for a full competition in training camp. Long term, that's a good thing. Nebraska hasn't been great at center in a long time.
A good sign for Martinez
Inside linebacker Mohamed Barry and defensive end Khalil Davis both gave Adrian Martinez a little grief during their interview sessions. When teammates lightly joke about you, it's affection, loyalty. When Davis was asked for the best overall player on the team, his answer — "probably Adrian" — tells you their respect for his game.
Ohio State-Michigan silliness
"The Game" will always be "the thing" in the Big Ten, but the league sorely needs better subplots. OSU reporters peppering Michigan coach Jim Harbaugh to explain a comment he made about controversy following former OSU coach Urban Meyer smacks of boredom more than rivalry.
The Big Ten can do better
Small stuff readers don't really care about, but you feel for Iowa quarterback Nate Stanley having his media session right next to Harbaugh's massive audience, especially when there were empty podiums in another room where Stanley could have had a larger, more engaged audience.
Plus, the Big Ten Kickoff Luncheon seems too much about memorabilia dealers buying tickets so they haul suitcases of stuff into a room for a captive group of coaches to sign. Not all of the fans at "FanFest" were doing that, of course, but it's something the Big Ten could examine going forward.
Photos: Nebraska football's 2019 recruiting class
Check out photos of each member of Nebraska football's 2019 recruiting class.