CHICAGO — The man who could be Big Ten football's new king remains such a studied oddity that you're never quite sure when he's on the level.
Did Michigan's Jim Harbaugh actually own on Friday that his team should win the league? Was he being flaky or ironic when asked about being picked at the top?
"Uh, I think that's where I would pick us," said Harbaugh, a 55-year-old man who answers many questions like a millennial who thinks you're pretty dumb.
The reporters at Big Ten Media Days giggled a little. It's about the most reaction any coach has drawn over two days. We're in the basement of a hotel, there are stains on the ceiling tiles and a light flickering in one corner. I'm not complaining about the setup. It fits a guy like me. But this, apparently, is what the league — not exactly hurting for money — thinks of itself.
And you wonder how the Big Ten was left out of College Football Playoff in each of the last two seasons.
With the retirement of Urban Meyer, the league has a power vacuum. Yes, Meyer flamed out with morally questionable decisions. But before that, he dragged the Big Ten into the 21st century. His absence in Chicago is notable. Meyer wanted all the smoke. Who's the new face of the league?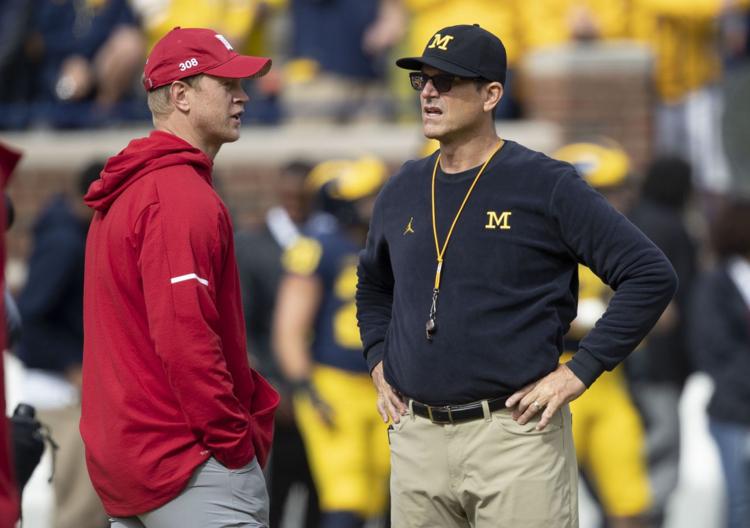 Pat Fitzgerald is as cool of a guy as it gets — his Chris Farley/Matt Foley reference woke up a sleepy media brigade — but he also (gladly) coaches Northwestern, a program with known, established limits.
"It's always fun to read this time of year how we stink," Fitzgerald said.
Scott Frost's honesty and confidence is compelling, but Nebraska needs to win on the field first. Ditto for Purdue's Jeff Brohm and Minnesota's P.J. Fleck. Kirk Ferentz talked about Sammy Sosa and the 2002 Iowa team, if you want to know where he's at. Wisconsin's Paul Chryst is a good football coach who nevertheless rambles through these events with a perpetual shrug.
"Well, we're gonna have one," he said when asked about his starting quarterback.
So, at least for the 2019 preseason, the man of the Big Ten is Harbaugh. The roughly 70 reporters around Harbaugh during his breakout session — roughly five times the number around Ferentz — says as much. He's averaged nearly 10 wins per season in four years. He has a good returning quarterback, Shea Patterson, whom he chose not to bring to Chicago. He's more progressive — more of a risk-taker, too — than he seems, which always excites journalists. He believes in allowing players one free transfer with immediate eligibility, for example. Plus, his team is going to play a game on "foreign soil" soon.
"We like travel," Harbaugh said.
Michigan is a better, steadier program than its series of ugly losses to Ohio State — and bowl flops — might suggest. I know Nebraska's coaches and players were thoroughly impressed by the Wolverines last season. Of course, 56-10 will do that, but it was notable when, after a loss to Wisconsin, an NU defensive lineman squinted at me when asked about the Badgers' offensive line and said Michigan's was far better.
And yet, and yet — it's Harbaugh. The messaging is never easy. He's both obvious and seemingly obtuse.
Sign up for Big Red Today news alerts
Get a daily Husker news roundup, recruiting updates and breaking news in your inbox.
"Win the Big Ten championship, qualify for the playoffs, win the national championship, those are our goals," Harbaugh said. "Then you put those to the back of the mind and focus on how you can achieve those. That's what we're trying to do better, trying to do more. Focus on that day-to-day. I think it's good. I think it's tight. But, like an anaconda, you just want to keep squeezing it tighter."
It seems like a recipe to be tightly wound, which can go both ways. Alabama's Nick Saban lives in that world, and his team's overwhelming talent compensates for a constantly revolving door of coaches. Meyer lived in that world, too, and his teams tended to unspool on him once a year. Meyer's style, as Harbaugh noted on a podcast this week, always created "controversy" wherever he went.
"I don't think it was anything new, or anything of a bombshell," Harbaugh said. "It's something many of you all understand and have written about."
Harbaugh never beat Meyer, though. He only came close once. Last year's loss at OSU was a spectacular failure, a 62-39 loss in which the Buckeyes' new coach, Ryan Day, carved up Michigan defensive coordinator Don Brown, who remains the best coach, Harbaugh said, with whom he's worked.
Brown is now part of a Michigan staff Harbaugh clearly likes more than any other. Harbaugh has consistently churned his staff, especially on offense, looking for the right fit. In offensive coordinator Josh Gattis, who worked five years for James Franklin and worked under Saban last year at Alabama, Harbaugh believes he's hit a home run, a spread-minded coach whose "great system" fits Patterson and backup Dylan McCaffrey.
"The shotgun really fits the RPO world and the up-tempo," Harbaugh said, noting the trend of packaged run-pass option plays that guys like Frost and Brohm employ to the hilt. "That's the kind of systems that they're used to and come out of high school playing. I can say that for most all quarterbacks playing high school football now."
Gattis is one of many young coaches Harbaugh employs. Enthusiastic, full of energy. It fits Michigan's team, Harbaugh said.
"I call 'em the best young coaches I've seen in 35 years," Harbaugh said.
Perhaps that can help Michigan overcome any issues that might arise from replacing elite defensive players like Devin Bush and Rashan Gary. Or perhaps Michigan's offense — with talent all over and a scheme that doesn't plod around against good defenses — takes a big jump in scoring. Perhaps Michigan can win the Big Ten whether or not it addresses those weaknesses.
But if Harbaugh doesn't win the league now — when? Presuming he's on the level — you can never quite tell — he seemed to embrace the urgency.
"Feel like our team is in a really good place," Harbaugh said. "Young, enthusiastic team with players with a lot of good experience. Feel really good about our coaching staff. I feel like it's good. It's tight."
The tighter the snake's grip, the better it'd be for the Big Ten.