LINCOLN — Lovie Smith held his first spring game in four seasons at Illinois. It's fairly fitting that half of the touchdowns were scored by the defense.
And it's equally fitting that the quarterback who was the odds-on favorite to start in 2019, MJ Rivers, put his name in the transfer portal in early May. Whether in the NFL or in college football, quarterback consistency has vexed Smith the way I'm vexed by misplacing notebooks. They're fairly essential for the job, but dang if I don't go through way too many of them.
Lovie and quarterbacks? They don't go well together. In three years, six guys have started a game for the Illini. None of the six remain, if you can believe it. Seven have thrown interceptions in a game. Only one of those, redshirt freshman Matt Robinson, is still around.
That guy, a 2018 recruit whose other best offer was Montana, is now the frontrunner to start unless Illinois lands a graduate transfer — USC's Matt Fink has been mentioned — or true freshman Isaiah Williams, a 5-foot-9, 170-pound St. Louis athlete recruited as a receiver by every other school, can throw as well as he runs.
I've seen Williams at a satellite camp. Smooth runner. Kyler Murray — about an inch taller — has shown, again, that a shorter quarterback can make a giant impact. And Illinois' spread-run scheme could allow for a talent like Williams to thrive the way Khalil Tate (admittedly a much bigger guy) has done at Arizona. Neither Williams (nor Tate, for that matter) has Murray's passing talent.
Sign up for Big Red Today news alerts
Get a daily Husker news roundup, recruiting updates and breaking news in your inbox.
The Illini have few good options here.
And, as a longtime NFL Bears fan, I can say with some confidence that, for as sharp a coach as Smith has always been on defense — one of the best minds — his management of and perspective on quarterback play is heavy on clichés.
"You know, I thought it was good," Smith said of Illinois quarterback play after the spring game. "Gotta protect the football. We're talking about DBs, corners getting interceptions, that's not good. Gotta protect the football, but we feel good about our quarterbacks. It's a competition."
Deep, man. And that was before Rivers left.
Illinois' lack of a quarterback almost certainly consigns it to the basement when it comes to Big Ten West predictions. Its awful defense, which allowed a Big Ten-worst 39.4 points last season, is another culprit.
That weakness, Smith can fix and probably will starting this season. It's been a long-term rebuild on that side of the ball, with Smith using the 2017 and 2018 recruiting classes to acquire talent that he immediately put on the field.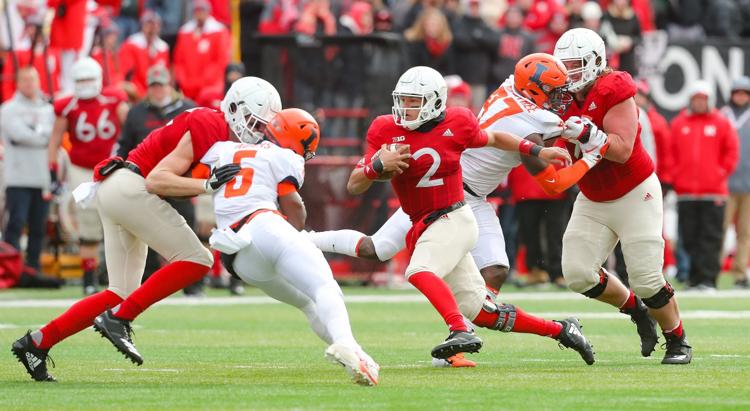 When the Illini switched from the hideous, plodding pro-style offense that averaged 15.4 points per game in 2017 to something that looked like offense in 2018, the young defenders took a big hit. They'll rebound in 2019. Don't be surprised if Illinois shaves a touchdown per game off of its scoring defense.
Illinois' defensive depth chart is stuffed with sophomores and juniors. A few of them — defensive end Bobby Roundtree is one — have NFL futures, though it was reported Monday that Roundtree suffered a spinal injury while swimming over the weekend. Smith has recruited Florida and Texas hard, looking for low three-star prospects with speed and size. Illinois strikes out in its own state a lot, but Smith's decision to hire St. Louis Trinity Catholic coach Corey Patterson as an assistant has resulted in the Illini getting a genuine foothold in a Midwestern recruiting hotbed.
There are signs Smith could make it work in Illinois, if you define "work" as occasional bowl games. When Husker fans visit Champaign's Memorial Stadium Sept. 21, they should see a brand new, $79.2 million Football Performance Center up and running. With Akron, Connecticut and Eastern Illinois on the nonconference schedule, NU could see an undefeated Illini team, too.
If only Smith had a good answer at quarterback. Illinois might be a 6-6 team under those circumstances. But Illinois looks closer to a 4-8 squad in Smith's fourth year.
While Illinois Athletic Director Josh Whitman in December added two years to Smith's contract, the buyout after this season drops from $12 million to $4 million. If Illinois struggles again, and the right offensive-minded coach was on the market — Larry Fedora, Major Applewhite and (gulp) Hugh Freeze will be out there — it'd bear asking if Smith has a clear vision for how to win games.
Michigan State can afford to plod around on offense and still make bowl games because of its defense. Illinois needs a quarterback. Pronto.