LINCOLN — Barrett Ruud doesn't sleep much these days. His two young, energetic sons see to that.
 But the Nebraska inside linebackers coach is eyeing a lengthy, uninterrupted stretch of down time between Friday night and Saturday morning. In a hotel two states away and waiting for a 7 p.m. kickoff at Illinois, there are plenty of hours to fill.
• Ruud — NU's all-time leading tackler and a longtime NFL linebacker — has different duties these days. Like most assistants, he will run meetings early Saturday and get in prep work on next week's opponent. But that familiar sense of anticipation lingers as he waits to flip the switch and perform on a hostile stage.
• "Honestly, you kind of just get bored and get a little bit anxious," Ruud said. "I've been playing football my whole life and I still don't have a good answer for how you pass time for a night game. It's tough."
Even more daunting for Nebraska has been winning away from home. The Huskers have dropped eight straight outside Memorial Stadium and are 0 for 6 under second-year coach Scott Frost. A defeat Saturday against the Illini would give them the longest road losing streak in the program's 130 years of football.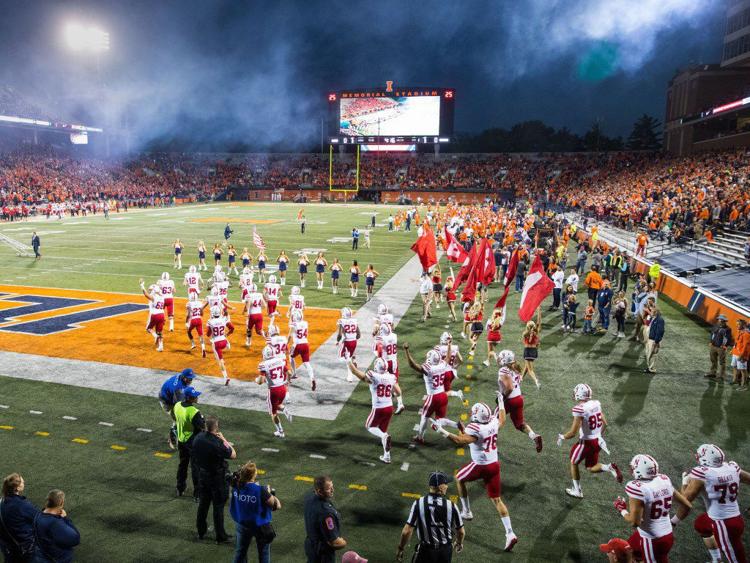 Since then they've absorbed routs, failed comebacks, blown leads and overtime gut-punches. They've changed in locker rooms with curtains for doors, given interviews while opposing bands play jubilantly behind them and sullenly carried boxed meal after boxed meal onto idling team buses.
Four of their eight road losses have come against top-20 squads. The last four have included two overtime defeats — both in stadiums overrun by Nebraska fans — and an average margin of 3.5 points. Las Vegas oddsmakers considered them underdogs in every contest but Colorado this year.
So, yeah, the Huskers — 13-point favorites Saturday — are ready for a different experience.
"It's time to go out there and get it done," quarterback Adrian Martinez said.
"We've got to make that change," cornerback Dicaprio Bootle said.
Added linebacker Collin Miller: "We want to come into Illinois and knock that off."
Exactly what the adjustment should be depends on the perspective. Senior Jeramiah Stovall — a Creighton Prep grad and special teams contributor who was put on scholarship this week — said little "culture" pieces like getting enough sleep, picking up trash and cleaning their visiting locker room can lead to bigger things on the field.
Linebacker and co-captain Mo Barry said the difference is NU hasn't finished on the road like it has at home and in practice. Another senior co-captain, defensive lineman Darrion Daniels, said the best approach is to prepare so well he can execute his assignments at full speed with his eyes closed.
"Tunnel vision" is important away from home, the Oklahoma State graduate transfer said. His 2017 Cowboys team went 5-0 on the road, including wins at Texas, Iowa State and West Virginia.
Sign up for Big Red Today news alerts
Get a daily Husker news roundup, recruiting updates and breaking news in your inbox.
"It's a fun feeling," Daniels said. "It's good being a villain. Going into someone else's territory and ruining their day is actually kind of fun."
Nebraska also lost eight straight away games spanning the 1944 and 1945 seasons and 1957-58 campaigns. The '40s skid bridged the brief coaching tenures of Adolph Lewandowski and George "Potsy" Clark and featured four shutouts. The '50s slide was a low point to the start of Bill Jennings' NU coaching career.
Frost said there's no superstition to what the Huskers do in their traveling routine — they simply need to do what they do on the field. Unlike past Nebraska teams under Tom Osborne or Frank Solich, these coaches don't conduct walk-throughs at visiting stadiums the night before a game. One reason is it allows players to remain on campus for classes for as long as possible. Another is finding better uses for time than a bus ride "just to check out the field, run around on it, play patty-cake and go back to the hotel."
On Saturday morning, players can go to 8:30 chapel or sleep an extra half-hour. Coaches — guarding against lounging — will put the Huskers through some foam rolling to get the blood flowing, then hold meetings. Student-athletes can also watch other morning football games and review film.
Daniels said he pulls up highlights of elite NFL linemen like Ndamukong Suh to get in the right frame of mind. Linebacker Garrett Nelson, a 19-year-old true freshman, is on the other end of the spectrum. He takes walks and does breathing exercises to stay calm.
"You gotta flip the switch when you're ready," Nelson said. "You can't just be amped up all day like I am, so I'm trying to learn how to do that."
The Huskers are learning how to win outside of Lincoln. A positive result in the land of Red Grange and Lovie Smith would be another mile marker for the Frost era.
Just as satisfying: The local band might actually stay quiet.
"There were struggles to win, period, no matter where we were in the past," Bootle said. "Those are things we have to overcome. I see this thing turning in the right direction."
Photos: Husker fans through the years
Through thick and thin, Husker fans have been there for all of the wins, losses and coaches.