LINCOLN — Erik Chinander sounded like a man with a daunting task ahead that he just might enjoy performing.
"There's some hard things going on yet," Chinander said.
Figuring out his side of the Nebraska depth chart, that is.
After a full month of training camp — installing schemes, teaching techniques, conducting major and situational scrimmages — the 2019 season is upon Husker football. Rules still allow 11 men per side. Coaches move from experimental tinkering to firm decisions about who will take snaps on the first drive.
Some decisions — starting quarterback! — are easy. Others, perhaps not so much.
Chinander has great depth on the defensive line. Any number of combinations might work. At linebacker, there is less depth, fewer options. The same is probably true at cornerback, where starters Dicaprio Bootle and Lamar Jackson figure to log most snaps.
"I'd love to have 22 starters, so we can roll that thing through, keep that thing fresh, as many guys as we roll through," Chinander said.
Only 11 get to take the field at a time. Here, based on limited practice viewing and coaches' comments, is The World-Herald's best attempt at who might start and who could be key backups at the start of 2019.
Sign up for Big Red Today news alerts
Get a daily Husker news roundup, recruiting updates and breaking news in your inbox.
Quarterback
Top backups: Noah Vedral and Luke McCaffrey
Skinny: Frost and quarterbacks coach Mario Verduzco have both praised the camp performances of Vedral and McCaffrey. The latter still has a redshirt year; he can play four games this season. The real question, one Nebraska doesn't want to have to face, is who might start should Martinez miss more than a play or two.
Running back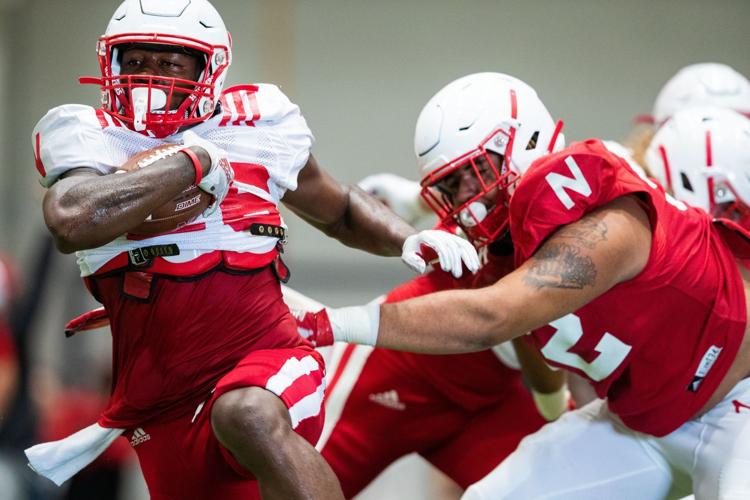 Starters: Dedrick Mills or Maurice Washington
Top backups: Wyatt Mazour, Rahmir Johnson, Brody Belt
Skinny: Washington's playing status remains pending so long as his legal situation is unresolved, but, if/when he's cleared, he and Mills make a complementary duo. Mazour is the seasoned fifth-year senior who's healthy and can play in a pinch, while Johnson is the speedy freshman whom position coach Ryan Held wants to keep in "sixth gear" at all times. Freshman Ronald Thompkins might make a dent in the depth chart if he's 100 percent healthy from rehabbing an ACL tear.
Tight end
Top backups: Austin Allen and Kurt Rafdal
Skinny: Allen has closed the gap between himself and Stoll, position coach Sean Beckton said. Don't be stunned if Allen, at 6-foot-8, catches more passes than Stoll does. Katerian LeGrone continues to grow while Chris Hickman will add weight and perhaps look at a four-game redshirt.
Wide receiver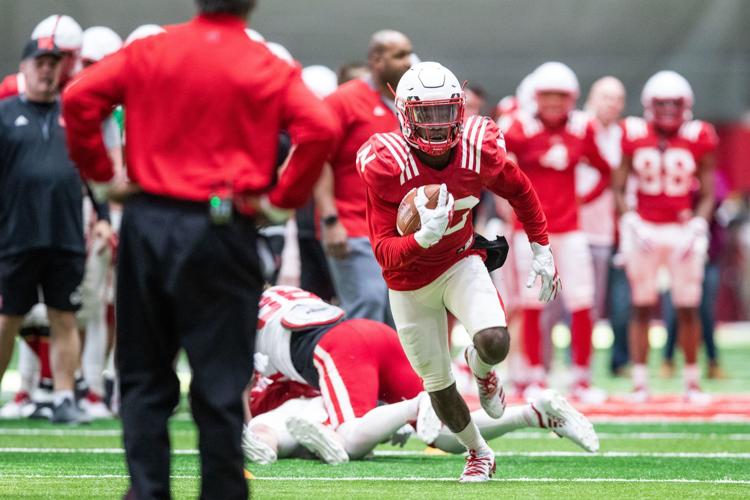 Starters: JD Spielman and Wan'Dale Robinson
Top backups: A whole bunch of names, including Kanawai Noa, Andre Hunt, Kade Warner, Jaron Woodyard, Mike Williams, Jaevon McQuitty
Skinny: Nebraska could dip deeper into its pool of true freshmen beyond Robinson — the dynamic athlete who will split time between back and receiver — but receivers coach and offensive coordinator Troy Walters has tilted his praise toward the list of older guys. Warner has missed practices with an undisclosed injury but freely embraces the dirty work of blocking. He'll have a role when he's healthy.
Offensive line
Starters: Brenden Jaimes (left tackle), Trent Hixson (left guard), Cameron Jurgens or Will Farniok (center), Boe Wilson (right guard) and Matt Farniok (right tackle)
Top backups: Broc Bando (tackle), John Raridon (guard), Matt Sichterman (guard) and Bryce Benhart (tackle)
Skinny: The least experienced unit on the team has a lot of impressive-looking bodies without a lot of logged game snaps. Jurgens appears to be No. 1 at center despite being limited for part of training camp; Farniok, who took most of the snaps with the 1s, may get some drives in the opening game or have to spell Jurgens, who's just fully recovered from an undisclosed injury. Only one true freshman, Benhart, seems likely to test the four-game redshirt rule, and that's only if a starting tackle gets banged up. Nebraska has an excellent setup for 2020 and 2021 on its line depth chart. For now, it's a little green.
Defensive line (3-4 front)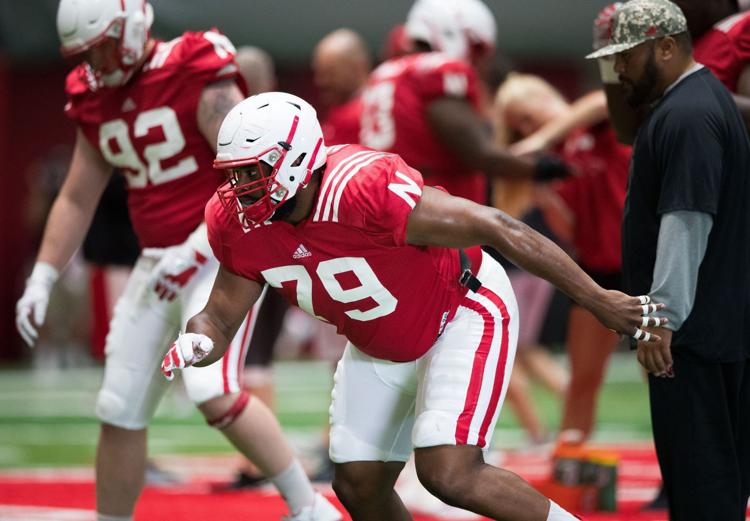 Starters: Carlos Davis (end), Darrion Daniels (nose), Khalil Davis (end) or Ben Stille (end)
Top backups: Deontre Thomas (end), Damion Daniels (nose), Jahkeem Green (end) and Casey Rogers (end)
Skinny: This is Nebraska's deepest unit — so deep the Huskers could, in theory, run a 4-3 every so often. They should have the luxury of using four-game redshirts on newcomers Ty Robinson and Mosai Newsom. Rogers and Tate Wildeman are a year away from being thrust into every-down roles. The Daniels brothers form NU's best nose tackle tandem in many years.
Linebackers
Starters: Alex Davis (outside), Mohamed Barry (inside), Will Honas (inside) or Collin Miller (inside) and JoJo Domann (outside)
Top backups: Caleb Tannor (outside), Nick Henrich (inside), Tyrin Ferguson (outside), Garrett Nelson (outside)
Skinny: Nebraska needs to stay healthy here. The Huskers have shed many of the linebackers who signed with former coach Mike Riley, and while the cupboard is filling up, don't expect more than three inside linebackers in regular rotation for now, or more than four outside linebackers. Henrich would have been a fourth inside linebacker if not for a knee injury in the spring; he's on his way back but likely headed for a four-game redshirt. By 2021, this will be among the team's deepest and most seasoned positions. Right now — don't get hurt. Domann could play in multiple defensive packages. Tannor and Nelson are more likely to be pass rushers.
Defensive backs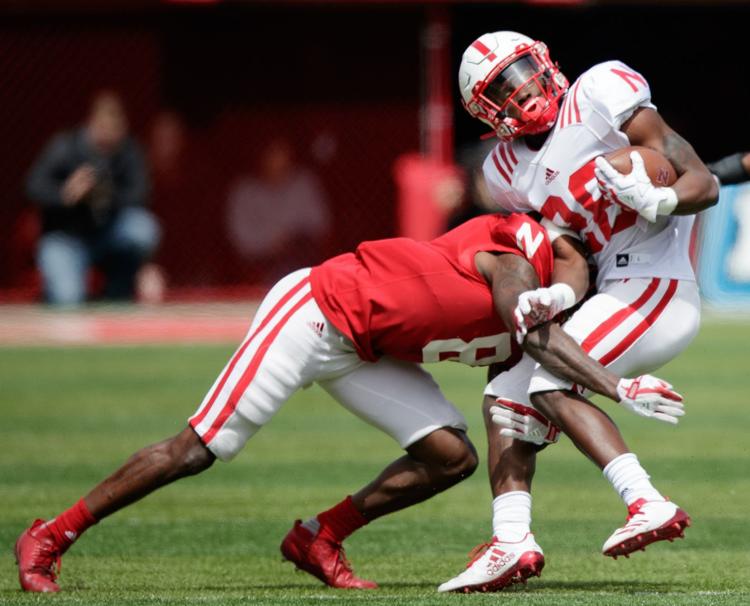 Starters: Lamar Jackson (corner), Dicaprio Bootle (corner), Deontai Williams (safety), Marquel Dismuke (safety), Cam Taylor (fifth defensive back)
Top backups: Quinton Newsome (corner), Eric Lee (safety), Noa Pola-Gates (fifth defensive back)
Skinny: Jackson and Bootle make for one of the Big Ten's best corner tandems. Their health is key; the No. 3 corner is likely Taylor, a sophomore, followed by Newsome, a true freshman. At safety, Nebraska is in good shape with Williams, Dismuke, Lee and, again, Taylor if needed. Pola-Gates should be a special teams star. Braxton Clark, a corner, has been dinged in practice. Presuming Domann's healthy, his versatility allows the Huskers to stay more often in base defense, or perhaps a nickel defense in which Domann stays on the field.
Special teams
Starters: Barret Pickering (kicker), Isaac Armstrong (punter), Chase Urbach (snapper), JD Spielman, Wan'Dale Robinson and Maurice Washington (returners)
Top backups: Dylan Jorgensen and Gabe Heins (kickers), William Przystup (punter), Cameron Pieper or Cade Mueller (snappers)
Skinny: Nebraska likely has more options at returners but hasn't said much about them. There are tantalizing freshmen but, again, is it worth burning a redshirt for one?