AMES, Iowa — Eleven retired men in Iowa State hats and rain jackets squeeze around two tables in the Dutch Oven Bakery coffee shop.
"Get on with it," someone grumbles.
They simultaneously flip nickels, dimes and quarters next to pale ceramic mugs full of dark $2 coffee, the clamor of loose change spit-spatting on the tables of the dim bakery, softly lit by the neon "Open" sign.
"Heads," Rick Fellingham announces.
Five men raise their hand.
Six men raise their hand.
"Tails are in," Gary Thompson says.
All the men who flipped tails flip again. They continue until one poor sap flips the only heads or tails of the group. That man picks up the check that day. A bookkeeper keeps tally of who pays. The spreadsheet dates back decades.
This table, with this ritual, meets at 8:30 sharp every morning. And it is around this table — between refills of coffee and the clang of coins — where the legend of Fred Hoiberg has germinated most.
Sign up for Big Red Today news alerts
Get a daily Husker news roundup, recruiting updates and breaking news in your inbox.
These 11 each have connections with Fred. His high school football and basketball coaches are here. The two men who called his games on the radio in high school and college, too. And though Fred hasn't been a full-time Ames resident in five years, around this table he's still a frequent topic of conversation.
"He was good enough that he would've gone from college football to the NFL and played pro football. No doubt," says Fellingham, a retired radio personality who called Fred's high school games.
"I always knew, whatever the endeavor, he'd be successful. Always," says Wayne Clinton, Fred's high school basketball coach.
Parts of the Fred Hoiberg story have been told and retold, especially around this table. The origin story of the folk legend of Ames is fit for a Hollywood script. A golden boy who grew up in a small house in the shadow of Hilton Coliseum, who restored ISU to order as both a player and coach.
But in Hollywood, for a script to be greenlit, it needs a twist. A turn. Something to inspire a movie executive to cave to the film.
And the turn in this story, the twist that even these men don't know, is that Fred's legend was destined to be written in Nebraska red. That so much of it happened in Ames, Iowa, was just a quirky coin flip in history.
The truth, woven into the fabric of history a century ago and proven with the presence of a grave and the promise of a father, is that Fred Hoiberg is not an Iowan who left for Nebraska. And though his name may hang in Ames' crisp atmosphere, still and forever, the one they call the Mayor was never meant to stay.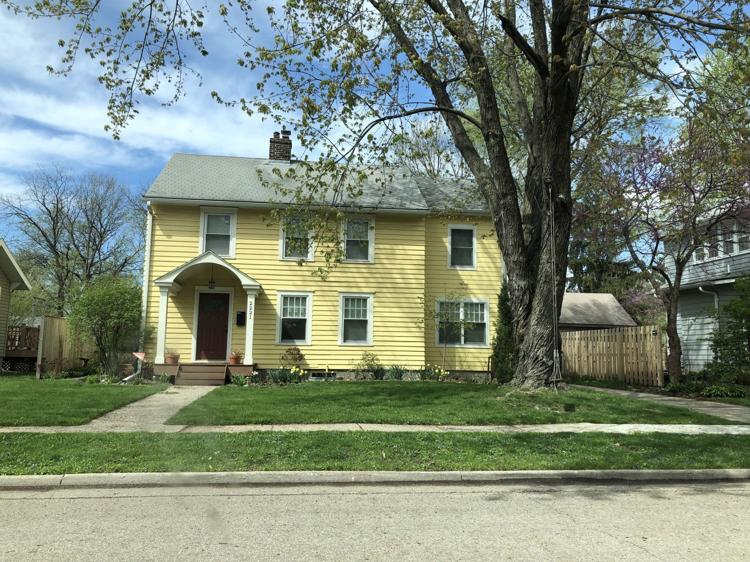 Eric Hoiberg, Fred's father, sits in his navy Ford Focus, gazing at the yellow home on the corner of Donald Street.
NPR plays in the background. Eric pulled in to park 30 seconds ago and has yet to look away, analyzing every inch of the home through his sunglasses.
"It was white when we lived there," he says.
The two-story house with wood siding is a slice of wholesome Midwestern charm. A red brick chimney peeks out of the top of the roof, tilted just so. A concrete walkway leads to a stoop with two steps, which introduces a maroon front door. A swing hangs off a branch of a maple tree in the front yard. The worn, wooden seat and light brown rope sway in the soft wind 2 feet above freshly mowed grass.
"That tree we planted when Andrew, our youngest, was born," Eric says. "The front door, as I recall, was green. A white house with a green door."
This was the Hoiberg home of more than 30 years. It sits in a community populated by ISU professors and students. Eric, a sociology professor at ISU for decades, walked to work every morning. He and his wife, Karen, walked their children to the elementary school two blocks away. The house nestles in the four blocks between Iowa State's campus and Hilton Coliseum.
For a hero from Ames, this is where the screenplay would begin. Opening on the white home, with Fred, out front, shooting hoops. There are marks Fred left behind. Plenty, actually, and we'll get to that. But the story of Fred begins somewhere much different.
It begins nearly 70 years earlier, far before the memories made on Donald Street.
It begins at the pavilion at Antelope Park in Lincoln in the mid-1950s. A cool summer night. Let the punch of the horns and the smooth voice of Sinatra ease you back. Feel the breeze and see the lights illuminating a dance floor full of dressed-up teenagers from Lincoln Southeast High School.
There's Eric, alone at a party they called Keen Time. He's a sophomore. Across the room, there's Karen. They'd known each other for years. Went to middle school together, lived blocks apart on South 26th Street. They danced that night at Keen Time. And though Karen — a fast-talking social butterfly with short blond hair — wasn't immediately smitten, something caught.
Both ended up at the University of Nebraska-Lincoln, freshmen in 1962. He was a Phi Psi. She was a Delta Gamma, daughter of Jerry Bush, Nebraska's men's basketball coach. They were in love.
They stood next to each other in the stands of Memorial Stadium for Bob Devaney's first game as head football coach. Eric bought a new, red cowboy hat for the occasion. Their seats were in the card section, where East Stadium is now. At homecoming that year, Karen won Miss Quarterback, 1962.
"I just happened to kick a football over the student union," Karen says. "It is kind of embarrassing."
They married after graduation and moved to Mead, 40 miles north of Lincoln. Karen took a job as a third-grade teacher. Eric drove to Lincoln daily for graduate school. After one year, they moved back to Lincoln, renting a home on 34th Street. Karen's sister lived in their basement and paid rent while working on her dissertation.
The newlyweds lived a simple Nebraska life. They watched Husker football games at the Bush home with Jerry, even after Nebraska fired him after nine seasons. Or they'd watch with Eric's father, Otto, who worked at UNL for decades doing community outreach and engagement.
First came Steve, in 1969. Then came Fred, in 1972. It took Karen and Eric a week to pick a name, and they settled on Fred for two reasons.
"Fredrick and Kristian, his first two names, were both kings of Denmark," Eric says.
"I was teaching at Sheridan Elementary School — my best friend taught third grade and I was fifth. And she used to use this little boy to send notes to me all the time," Karen says. "His name was Fred Norris."
Baby Fred Hoiberg was quiet. A quick learner. When moms got together and put their babies on the living room carpet, Fred was the fastest crawler. One morning, Karen wanted to enter Fred into a baby-crawling contest at a local park. Eric didn't think it was such a good idea, not with Fred sick.
"He talked me out of it," Karen says. "But he would've won."
Fred had a deep voice even as a toddler. He was serious. Curious. One time, Fred was sitting on Karen's lap while the family was driving down South Street, and Fred saw a half moon in the sky.
"Who broke that moon?" he asked.
The family moved to Ames just before Fred turned 2 after Eric accepted a full-time professorship at Iowa State.
Children gravitated to Fred at an early age. He was the kindergarten representative for the student government at Louise Crawford School. Around the neighborhood, Fred made friends fast. Frank Genalo lived two houses behind the Hoibergs in a blue house with a bigger backyard. He was one of the only kids in the neighborhood with a basketball hoop and a yard big enough to play baseball. On Saturday mornings, Fred and Frank would sell Kool-Aid and lemonade to students walking from Greek row to the football games.
"They didn't understand Kool-Aid wasn't what the students wanted," Eric said.
Most days after school, Steve and Fred would hop two fences to play 2-on-2 whiffle ball at the Genalos. They ran home at sundown.
Frank and Fred were mirror images. Both athletic. Both among the smartest in the class. They played what's known as the earliest version of fantasy baseball, called Stratomatic Baseball.
"Frank really pushed Fred," Karen said. "Frank really was brilliant."
As elementary school progressed, Frank's gait became a little off. He'd hit the ball far enough for a triple but barely make it to first base. He couldn't stand on a balance beam in gym class.
One afternoon, when the boys were in sixth grade, Frank's mother called in tears. It was Friedreich's ataxia, she said, a rare recessive genetic disease that, like Lou Gehrig's disease, depletes the body over time.
As one neighborhood boy's spotlight grew brighter, the other's body took away his talents and voice. And as the two boys grew up, Frank's speech became less and less discernible.
But Fred always understood. He'd translate Frank to friends and family. He was one of the only people who could.
"Fred's pediatrician once told him, 'You can't ever take your talents for granted,' " Karen said. "I think that had a big impact on him."
In the late 2000s, when Frank moved to the Mayo Clinic in Minneapolis, Fred visited when he could. As Fred moved up in the coaching world, he often left tickets for Frank at the arena.
On Jan. 14, 2013, Frank passed away at the age of 42.
Outside the Genalo home today — a pale blue, one-story ranch — a once clean white rectangle of plywood fit for a proper backboard is now deteriorating, but still nailed to the garage. A crooked metal rim hangs on with no net. This is where one of the best shooters in Iowa State history learned. In the driveway with Frank, who back then matched him shot for shot.
Behind the home, a diamond shape of boys' tracks from years of whiffle ball are still imprinted on the ground.
Fred's mark on this neighborhood never left. Neither did Frank's.
The note is short, just 36 words, handwritten in black ink. The paper remains in pristine condition in a scrapbook in the Hoiberg house.
From Gary Thompson, to Wayne Clinton:
Enclosed please find check for Iowa AAU team for Fred Hoiberg. His grandfather was Jerry Bush who coached Nebraska during my playing days at ISU. I'm hoping the Hoibergs know who all contributes to this cause.
Thompson, a former ISU guard and Big 12 radio announcer, was hearing stories about this Hoiberg kid. Fred was just 12 at the time, but the stories were so amazing, so encouraging, Thompson didn't want to sit by and let a talented local boy slip away. So he sent a check to help keep Hoiberg on the AAU circuit and bolster the boy's résumé.
This blond-haired boy, Fred, already almost 6 feet tall, was wowing ballparks and gyms in and around Ames. He'd show up to his brother's golf groups and beat everyone four years older. One time, Karen remembers, he was being intentionally walked in a baseball game. Frustrated, Fred reached out and clocked a homer.
A quiet but intense competitiveness was building. Fred and his dad built a Pinewood Derby car for Cub Scouts. Fred's car finished last in most every race. When they left the school cafeteria after the event, Fred, mad, heaved the car across the parking lot.
"It was a hell of a toss," Eric said.
Clinton — a chatterbox and Fred's middle school gym teacher — spread the good news of Fred Hoiberg from the moment he met him. One of the first days of classes in seventh grade, Fred picked up a ball and dunked. Clinton, who doubled as the Ames High basketball coach, saw gold.
"And I thought, 'Well, I can't wait until he gets to high school, because I know I'm going to have a diamond in the rough now. We were gonna be pretty good.' "
Clinton put Fred on the sophomore team as a freshman, just the third freshman ever to play at a higher level. For the playoffs, Clinton moved Fred up to the varsity bench. When the substate game was out of reach, Fred played the final 27 seconds of the season. He made two free throws in the final seconds. Karen remembers Fred pulling on his short shorts before making both shots.
"I've only made one mistake in coaching and that was not starting Fred as a freshman," Clinton said.
Fred averaged 26 points and 14 rebounds per game as a sophomore. He'd only have about five points in the first quarter, Clinton said, making sure the rest of the team got into the flow of the game. He'd maybe have 11 by halftime.
"Then, all of a sudden, you look up and he has 25," Clinton said.
Word spread. A legend was forming.
"They talked about Fred Hoiberg being a basketball player so I thought I'd go watch him play," said Dennis Soderstrum, a member of the coffee group and longtime ISU fan. "I got there a little late and I sat down and he just got the ball in his hands the first time he dribbled in and stuffed it. This was a sophomore in high school. And I couldn't believe how good he was."
But more important than his star rising — sophomore year was fateful for another reason.
The story is an Ames favorite. The coffee group knows it well. Fred's parents know it well.
Carol was the popular senior. Fred, the quiet, star athlete, was two years younger.
"A friend of Carol's invited Fred to go to prom, but then a guy she liked in another small town had prom that weekend and invited her," Karen says. "So she said to Carol, 'Will you go with Fred?' So that's how it started."
A warm spring night in 1989. Let the hazy, synth hook of "Take My Breath Away" by Berlin take you back. Fred, in a black suit that doesn't quite fit. Carol, in a pink dress with her brown hair blown out and curled. The lights of the Ames High gym illuminated sweaty teenagers. Somewhere, amid the smell of hairspray and the sweat, Fred and Carol danced. Something caught.
"His one and only," Karen says.
"When that happened, I told the rest of my staff, I said, 'We don't have to worry, he is off the grid. The rest of the girls won't be chasing him around now so he's gonna concentrate on school and basketball,' " Clinton said, laughing.
Carol enrolled at Iowa State the next year. Fred's stardom went national as a junior and head coaches from across the country took notice.
In a substate game Fred's junior year, Iowa State coach Johnny Orr made the trip to the game in a blizzard. Fred's parents couldn't even make it, forced to turn around in the snow. Orr sat behind the bench.
Fred had 36 points at halftime. Orr was so giddy he followed the team into the locker room at half and grabbed Clinton's jacket.
"We gotta get this kid to Iowa State!" Orr yelled with a smile.
Fred was only really interested in three schools. Stanford, Iowa State and Arizona. Nebraska coach Tom Osborne wanted Fred to play football. But Fred wanted the hardwood. Osborne still called the house all the time though, Eric remembers. Especially during one month when Osborne was nervous Tommie Frazier might go elsewhere.
Fred took visits to each school. When he returned, he'd tell his parents that's where he wanted to go. He loved Stanford for the academics. Then he visited Arizona, and thousands of students signed a banner telling Fred to become a Wildcat. Then he'd visit ISU, and they'd sell him on his hometown team and being close to family. Plus, Carol was there.
When Arizona coach Lute Olson or Stanford assistant Ernie Kent came to town, sometimes, they did in-home visits at Carol's home, since Fred was there so often. That worried Kent about his chances, Karen remembers.
Torn, Fred brought a bowl with three poker chips to the kitchen table one night.
Red for Stanford, blue for Arizona, white for Iowa State.
Fred closed his eyes, turned his head, shuffled the chips in his hand and picked one out. Then did it again, and again, and again.
Each time, luck gave him the same answer.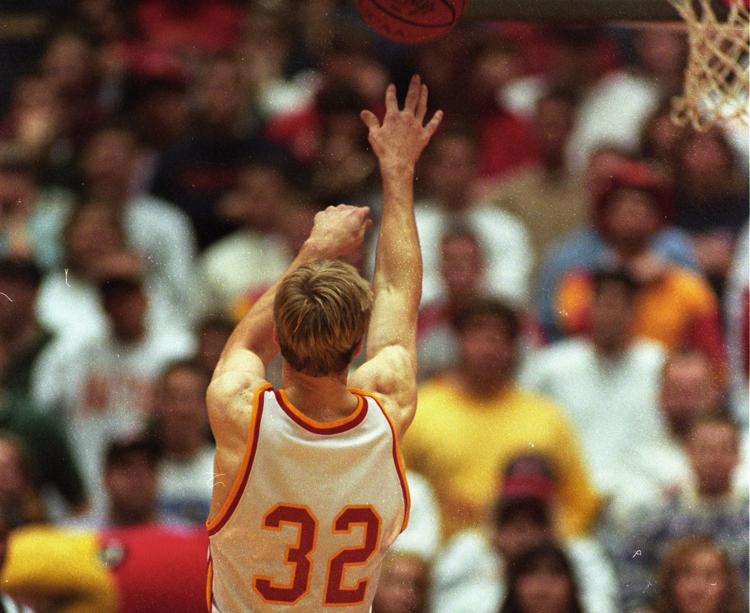 Ric Carmer ducks his head to fit down the narrow black stairs to the basement of Wallaby's Bar and Grille.
"He's down here somewhere," Carmer says. "Sorry for the mess."
Carmer turns a corner and steps over bubble wrap. Four empty cardboard boxes once full of Samsung flat screens line the path to the back corner.
The smell of stale beer fills the basement. Carmer squeezes by a cluster of ivory Christmas wreaths; two lockers, one pale blue, the other deep purple; a metal jack-o'-lantern; a full-length, framed Cubs jersey from 1952. Underneath the stairs, black frames — all holding posters of Iowa State seasons — lean against each other. Carmer reaches a hand for the thickest.
He presents a black and white canvas — a yard tall, 2 feet wide — of Fred Hoiberg in a suit, hands on his hips, face stoic. Carmer wipes off the dust.
"Here he is," Carmer says.
Carmer's bar is a museum of Iowa State athletics. Hoiberg memorabilia is everywhere. A signed high school jersey, an old pair of Adidas he wore with the Bulls and his Minnesota Timberwolves No. 32. At Wallaby's, the current Iowa State head coaches — plus Orr — get the black and white canvas treatment and hang throughout the restaurant.
Carmer points to the blank spot next to Orr. That's where Hoiberg used to hang. But no longer a Cyclone coach, he's exiled to the spot under the stairs. Orr now hangs alone, next to only a hook on the wall.
"Took me a few weeks to do that," Carmer said. "That wasn't easy."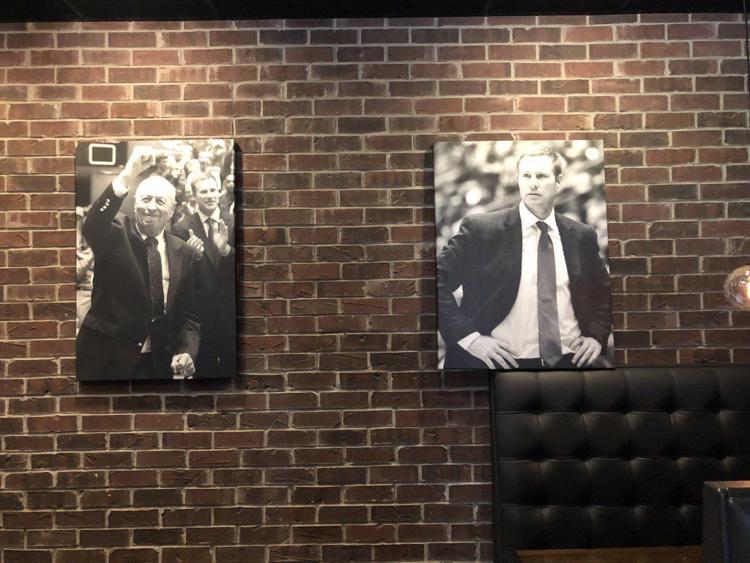 To explain the relationship between Ames and Hoiberg now — the complicated, odd situation both sides find themselves in — there's more folk-hero building to do. So let's jump back to Hilton Coliseum 1992, to the day after Valentine's Day. To Justus Thigpen standing 5 feet from the 3-point line with the ball, 16 seconds remaining and the clock ticking.
Iowa State fans clad in bright yellows and whites stand. Orr, in a brown sport coat and yellow tie, kneels in front of his bench, his team down 83-81 to No. 2 Oklahoma State.
Hoiberg, a freshman, floats to the corner as Thigpen drives to the right. Three Oklahoma State Cowboys collapse on Thigpen. Hoiberg drifts to the high post, catches a quick pass, shoots a quick shot, a whistle blares, the ball banks in.
"Hoiberg is fouled!" The TV announcer courtside screams, audible only to those with TV sets set to high volume.
The TV broadcast pans to the blond-haired 18-year-old, fist pumping and high-fiving his teammates.
Oklahoma State led by 18 that day. Led by seven in overtime. Hoiberg swished his free throw, his 18th point of the game, to give ISU its first lead.
Hoiberg remembers the court quaking to the noise of Hilton after the buzzer. The hometown kid, 21 games into his career, had made his mark.
That game still plays on Cyclone TV — a station available in Ames — on a regular basis. Eric and Karen caught the end of it in the waiting room at the hospital a few weeks ago.
The bucket sent Ames and Iowa State fans into a full Hoiberg frenzy that lasted four years. Fans brought yellow signs into Hilton that read, simply: Fred's Fans. He got a standing ovation during starting lineups. When ISU was up big, and he exited the game, he'd get a standing ovation for that, too. In 1992, he got votes in the mayoral election.
"The fact that the people of Ames and Iowa have identified with Fred and give him that title, I'm more than willing to share it with him," Mayor Larry Curtis said in 1992.
He led Iowa State to two straight NCAA tournaments, scoring 20.2 points as a junior and 19.9 as a senior.
Orr, who died in 2013, was the first in Fred's life to call him Freddie. In a 1995 All-American promotional video, Orr called him the best all-around athlete he'd ever coached.
"There isn't anything he doesn't do, and there isn't anything he doesn't do well," Orr said in the video. "I don't know if I've ever had a player as popular as Freddie."
Senior year, at the Iowa State banquet, Fred won about every award available. MVP for the team, MVP for off-the-floor duties. There's a photo of Fred that ran in the paper in the Ames Tribune from that night. He's wearing a tie with orange basketballs and white hoops, arms full of gold trophies.
When Fred got back to the table after accepting each award, he placed them neatly at his feet under the table, so no one would see.
The night of the 1995 NBA draft, the Hoibergs sent out invitations reading, "The party will convene when and if Fred gets drafted."
News trucks parked out front. Friends and family waited at nearby homes. The Indiana Pacers took Fred 52nd overall. Immediately, Donald Street flooded, and the party began in the white house with a green door and maple tree in front.
Iowa State loyalists became Pacers fans. Until 1999, when they cheered the Bulls. Then switched again in 2003, and bought No. 32 Timberwolves jerseys.
"Wherever he was, that's who we all pulled for," said Fellingham, one of the coffee group members.
Forced to retire early due to a heart condition in 2005, Fred took a job in the offices of the Minnesota Timberwolves. And for four years, he took notes on a legal pad on his future head coaching strategies.
When Greg McDermott left Iowa State, few thought of Fred as a replacement. He'd had zero coaching experience. He'd never run a program, especially not a Division I program.
Athletic Director Jamie Pollard asked for an interview anyway. Pollard drove up to Minneapolis, where Fred was still working with the Timberwolves.
The news broke while Karen and Eric were on vacation.
"I could not stop giggling," Karen said. "I was so happy. We were so happy."
Fred said in his opening press conference he wanted to stay forever. Wanted to coach his sons at Iowa State down the line.
But even the most loyal ISU fans were hesitant. Thompson in particular worried about Fred's lack of experience.
But three years later, after Fred brought ISU to two NCAA tournaments and won the Big 12 tournament, Thompson and fans across the state began comparing him to Orr.
There were a handful of differences. Orr liked to be the center of attention. Fred did not. Orr ran practice like a tight ship. Fred stood back and let his assistants do most of the talking, until he came in with the final word.
But both went fast. Both won big. Both are viewed as legends despite Orr's 14-year stint, and Fred's five.
"Viewed very similarly," says Carmer, who used to pilot planes for Orr in the 1980s on recruiting trips.
That's why he put Fred's canvas next to Orr's. That wasn't an accident. And why, when you enter Wallaby's, there's a piece of the original Hilton Coliseum hardwood hanging. It is signed by two coaches — Fred and Johnny.
"Fred will always be a legend here," Carmer said.
When Fred left in 2015 to coach the Chicago Bulls, Iowa State fans were more than OK with it, Carmer said. It made sense to move up and away. People were happy for him.
"He was always an NBA guy," Thompson said. "Anyone who knew Fred knew that was on his mind."
It wasn't until Fred came back to the college game — two months ago — when the mixed feelings began.
At 9:40 a.m., the crowd inside the Dutch Oven Bakery changes.
Half the group of 11 shakes hands, pulls up their hoods and walks out into the humid spring rain for home.
A few stragglers with less on their to-do list stick behind for another cup of coffee.
And of these few, all don't know how to digest this whole Nebraska thing.
"The biggest surprise, of anything he's ever done, is when he said he would go back to Nebraska," Fellingham said. "Seriously."
A few grunt in agreement.
"Never thought he'd leave the NBA," Thompson says.
"Nebraska was the furthest thing from my mind," says Clinton.
"But he took it on as a challenge, don't you think?" says Soderstrum.
"I didn't know the history, though, with his grandfather, that it dates back like that," Thompson says. "With that it makes a little more sense."
They all nod in agreement and take a sip of coffee.
What they don't know is the roots are even deeper than that. Deeper than grandfather Jerry Bush as head coach or Fred's parents meeting in Lincoln.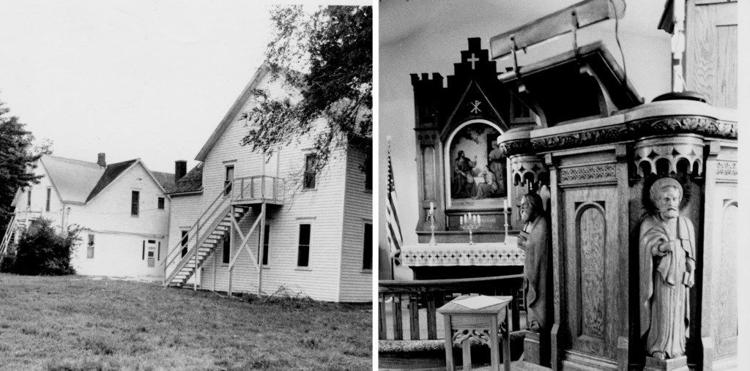 The first Hoiberg, then spelled Hojbjerg, landed in Nebraska in 1907, before the construction of Memorial Stadium. Before World War I, before Woodrow Wilson took office, less than 20 years after the invention of basketball.
Karl Peter Hojbjerg, later Americanized to Carl Hoiberg, was a Lutheran minister from Denmark who served in the tiny town of Nysted, Nebraska. Danish immigrants populated the surrounding area just north of Wood River, and the church tasked Carl to run the Danish schools. He and his wife, Hilda, settled in Nebraska for six years.
While there, they lost a child, Leif — pronounced: life. They buried the boy in the Nysted Cemetery in 1910. When the family went back to Denmark a few years later, they agreed one person should return to Nebraska to be buried next to Leif, so he wouldn't be alone. In 1931, Carl moved back with his other son, Otto, to his original assignment and lived his remaining years as a Nebraskan.
Twenty-two years later, in 1953, Carl died at the age of 80. His grave rests — as promised — in the shadow of a tree, right beside his son's grave in Nysted Cemetery.
And this — this — is where the Hollywood screenplay begins for Fred Hoiberg. A grave by a tree. A promise fulfilled.
Without that promise, there are no Hoibergs in Nebraska. Without that promise, Otto Hoiberg does not move back with his father, and does not begin work at the University of Nebraska in Lincoln in 1948. And without that promise, Otto doesn't raise his son Eric in Lincoln, and Eric would have lived elsewhere and missed the Keen Time dance in 1959. He wouldn't have seen Karen from across the room, wouldn't have fallen in love with her and Husker sports, wouldn't have settled in Lincoln and bore a son, Fred, named after two Danish kings and chatty fourth-grader Fred Norris. And Fred Hoiberg would have never grown up in Nebraska T-shirts, watching Nebraska football games on Thanksgiving Day and holding the Huskers close to his heart in Cyclone country.
History can change in an instant, but its effects are not always instantaneous. Sometimes, they need to fertilize and feed. The history of the Hoibergs has now bloomed with Fred's hiring at Nebraska. His hiring and movement back to Nebraska completes a familial circle, connecting both sides of his Nebraska family. The grandson of Jerry Bush, the great-great grandson of Carl Hoiberg.
"The roots, they're deep," Eric says. "Crazy deep."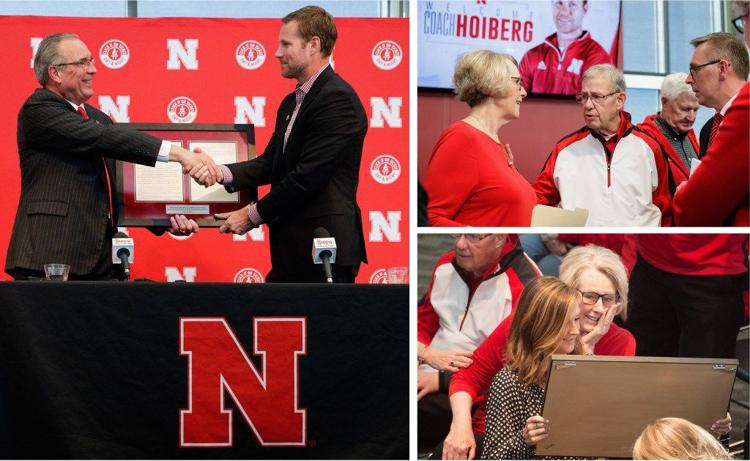 The realization that the hometown hero has another home is somewhat jarring for those in Ames with lukewarm coffee left in their cups.
The group, dwindling now in the midmorning sun, wrestles with the idea. Especially since the new home is Lincoln.
"I always thought people hated Nebraska football. But it is Nebraska in general. And it doesn't make any difference what the sport is, if it's Nebraska, then there is a certain dislike," Clinton says.
"It's because they left the Big 12," Fellingham adds.
"They aren't Iowa, but they're hated almost just like Iowa," Clinton says.
But Fred is still Fred. His reputation among Iowa State fans is strong enough to dissolve that discomfort. And those in Ames, they'll allow the golden boy a pass to be a hero somewhere else. Somewhere that needs him. Somewhere, maybe, he was always destined to end up.
"I hate Nebraska," Clinton says. "But I'm going to be cheering for Fred."
Photos: Fred Hoiberg through the years