When Scott Frost and his staff arrived at Nebraska, one position group — that had struggled for three years — was the straggler on buying into the new direction of Husker football.
"That was the one we had the most problem," Frost said May 30 during his Big Red Blitz tour in Fremont. "Had trouble doing what we asked them to do — go to class, do the little things right. We had some dissenters in that room."
The staff's immediate response, in its 2018 recruiting class, was to add five defensive backs. The Huskers later added a sixth with a junior college cornerback (Will Jackson) and a seventh with Central Florida transfer Tre Neal. The message to incumbent Huskers was unmistakable: Shape up or sit down.
Funny thing about high expectations. They usually work. They did for Nebraska's DBs.
"That thing has really flipped," Frost said. "That's one of the rooms we can count on most now."
So even with the departure of three senior safeties (Neal, Antonio Reed and Aaron Williams) who took the bulk of snaps last season and two four-star recruits — Cam'ron Jones and CJ Smith — who were part of that hyped 2019 recruiting class, Nebraska's secondary appears to be in its best shape since 2014. Smith, NU's most recent departure, affected depth to some degree, but it also underlined how competitive the secondary has become in a short time. Here's a breakdown:
» Dicaprio Bootle and Lamar Jackson return as starting cornerbacks. The duo combined for two interceptions and 22 pass breakups last season and had strong spring campaigns, as well.
Jackson rebounded from a midseason benching against Purdue to finish strong, snuffing out Michigan State and Iowa receivers. WalterFootball.com projects the 6-foot-3, 215-pound Jackson as the No. 12 cornerback in the 2020 NFL draft class.
"Lamar Jackson has really turned a corner and he's going to do some good things," Frost said.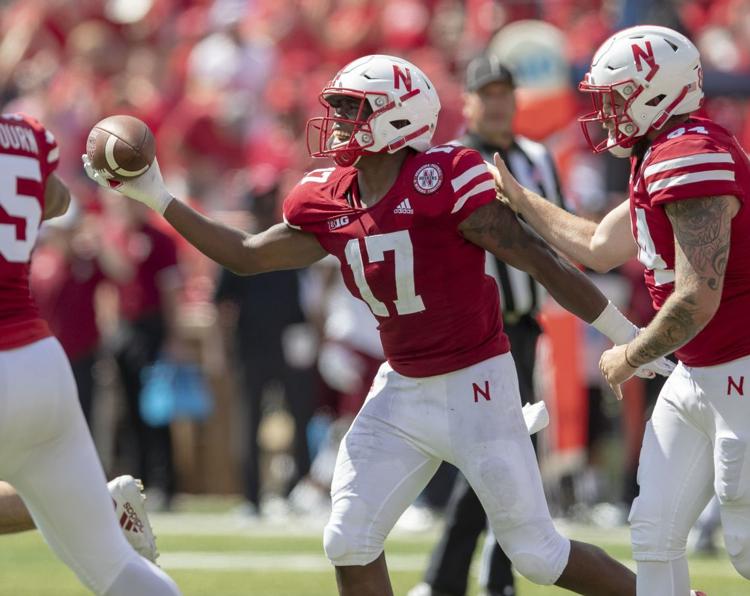 » Cam Taylor has the flexibility to play multiple positions, Frost said.
The sophomore from Montgomery, Alabama, quickly became a leader in the secondary room because of his strong, positive personality. Defensive backs coach Travis Fisher has repeatedly said Taylor will be a "surprise" for Nebraska in the fall.
» At safety, Deontai Williams and Marquel Dismuke are the front-runners to start, though neither job is set in stone.
Frost said the 6-1, 200-pound Williams may have been Nebraska's best safety at the end of last season — when Neal, Aaron Williams and Reed were still taking the majority of the snaps. The son of a former NFL defensive back, Williams needed a season to fully digest defensive coordinator Erik Chinander's system and successfully pass Fisher's weekly quizzes for players.
"It's not just renegade football, it's not intramural football right now anymore," Chinander said of Williams during spring practice. "It's learning stuff within the scheme of the defense, playing within the scheme of the defense, but still playing with that same violence and intensity he had when he kind of didn't know what he was doing."
Dismuke, one of the last of the "Calibraska" recruits who signed under former coach Mike Riley, has played sparingly since the 2017 loss at Minnesota, but a strong spring — coupled with the departures of Jones and Smith — puts him in a spot to start. He'll have to fend off Taylor and potentially senior Eric Lee, a cornerback who cross-trained at safety during the spring.
Frost looks forward to seeing what Williams and Dismuke can do. "It's going to be fun to watch those two," he said.
Coaches are equally high on the quartet of recruits signed by Fisher in the 2019 class: Quinton Newsome, Javin Wright, Myles Farmer and Noa Pola-Gates. Their addition balances the loss of Smith and Jones.
"Some of the freshman DBs who are coming really have a chance to make some waves," Frost said.
The 5-11, 170-pound Pola-Gates, a four-star signee from Gilbert, Arizona, who spurned USC, Oregon and others, is the most intriguing even as coaches have gushed as much about the 6-2, 180-pound Newsome.
Pola-Gates' size and quickness fit safety — his preferred position — but also the slot cornerback, or nickel spot, where NU lacked consistency last season despite trying several options.
Offenses, including Nebraska's, are increasingly using slot receivers to break big plays. Defenses can use safeties, corners or even hybrid outside linebackers — like Husker junior JoJo Domann — to defend those receivers.
If finding a top-shelf nickel is Nebraska's one question in the secondary, it is much further along than it was last June, when Fisher was openly challenging the defensive backs in his room to fend off the true freshmen. NU's pass efficiency defense ranked fifth in the Big Ten last season. That was better than 2015 (10th), 2016 (seventh) or 2017 (14th). Opponents' completion rate last season was lower than in 2015, 2016 and 2017, as well.
The Huskers could start four upperclassmen. They could have one of the Big Ten's best corner combos. And if the depth isn't quite where coaches want it, the caliber of player in the room — and what's expected of them — is on an upswing.
"It's going to be fun to see that competition bring the best out of everybody," Frost said.
Photos: 2019 Nebraska spring game
Nebraska played the second spring game under Scott Frost on Saturday April 13, 2019.