LINCOLN — Darrion Daniels lined up at the epicenter of what was about to be a 22-man skirmish on the north end zone.
Ten in red lined up behind him. Eleven in white — including three tight ends and a fullback — readied directly in front of him.
Daniels was enraged. The gall of these Northern Illinois Huskies. On third-and-1, the nose of the pigskin inches from the goal line, and they were really gonna run?
"I'm not gonna lie, I take offense to that," Daniels said. "I take it as a slap in the face."
His brother, Damion, caught the running back midair and wrestled him back to earth. On fourth-and-1, NIU lined up again in a bunch set, but quarterback Ross Bower audibled, took a snap and threw on the run. Walk-on safety Eli Sullivan closed quickly and smacked the pass away, sending North Stadium and Husker sideline into celebration.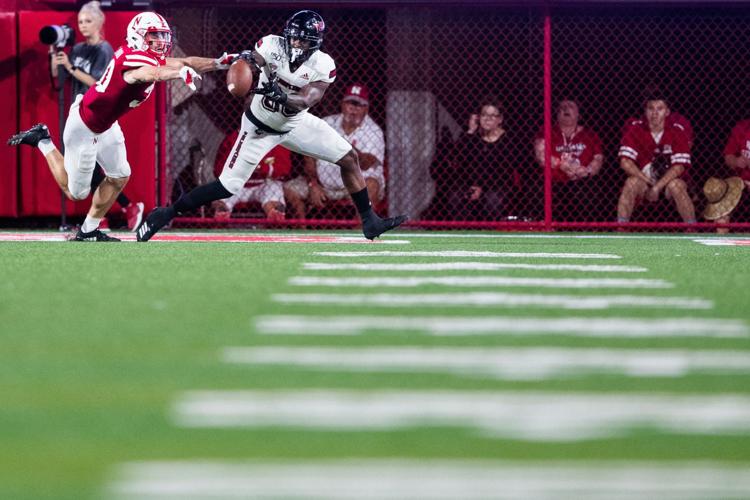 "That's football right there," Mohamed Barry said. "When it's our call to put out the fire, we have to put out that fire. And we have to have that desire to be there."
Nebraska's defense held Northern Illinois' offense to six points Saturday. Though it was a MAC team at home under the lights, the Blackshirts want that goal-line stand to burn into your brains. To remind you they're not here to mess around.
They aren't a side dish to the offensive filet. They think they're the main course.
"Coming into the season people were talking about just hanging onto the offense, being those kind of Pac-12 defenses in high tempo (offenses)," Barry said. "We're trying to be an elite defense, not just a defense that counts on the offense. We're trying to win games for this team."
Sign up for The World-Herald's afternoon updates
Receive a summary of the day's popular and trending stories from Omaha.com.
For most of this season — save for one quarter in Boulder — the defense has been consistent while the offense has floundered.
Through three weeks, Nebraska is 51st in Division I in scoring, giving up 21 points per game. Take away that 24-point fourth quarter against Colorado, Nebraska would be 10th (12 points per game). They've only given up a dozen total first-half points.
The War Daddys up front are keeping teams to 2.18 yards per carry, 12th best in the country. And they've lived in the backfield with 26 tackles for loss — tied for seventh with Clemson.
The defensive backs have 16 pass breakups, tied for third in college football. Corner Lamar Jackson leads the Big Ten with six.
Erik Chinander wants his unit to cause turnovers, and it has, with nine through three games. That's third in the country. At this point last year, Nebraska had caused three.
"I told the defense (NIU) had five (points) when we came in at halftime, and they had eight when we came back in after the game," coach Scott Frost said. "That's what we expect."
The Blackshirts took that loss at Colorado and wore it all week. They gave up a 96-yard flea flicker to start the fourth quarter. A quick touchdown two minutes later closed the 17-point lead down to three. A Steven Montez pass over Jackson to Tony Brown tied the game 31-31 and sent it to overtime.
Barry said the team empathized with all those Husker fans in Boulder — all 30,000 by some estimates. They spent all that money on gas and hotel rooms just to see them fail.
"We let one get away last week and we knew that," Jackson said. "We used that all week to fuel the fire and just made sure we got through this week and do exactly what we did and put up a dominating performance."
They responded. But the Big Ten is a different animal.
Illinois is scoring 34 points per game. Justin Fields and Ohio State come to Lincoln in two weeks, bringing a well-oiled, five-star machine scoring 46 per game. Northwestern runs for 184 yards per game, fifth in the conference.
"We know we're Blackshirts, but we're still in the process of finding out who our Blackshirt group is," Daniels said. "There are a lot of great defenses who came before us and we're still trying to make our mark, we're still trying to find ourselves. These past three games, it gave me personally a lot of hope. It showed me what we can do."
Photos: Nebraska takes on Northern Illinois