LINCOLN — When Nebraska football coach Mike Riley talks about how his 2016 team will improve on its 6-7 record from 2015, he consistently indicates a desire for the offense to run the ball better and throw fewer interceptions.
Riley also wants more from the defense, coordinated by close friend and longtime confidant Mark Banker.
In fact, Riley wants the Huskers to be a top-three defense in the Big Ten.
"You've got to be in the top five and preferably the top three to win a championship," Riley told The World-Herald in late April. "Historically, that's probably true. You have to be up there in the turnover margin, you have to be better running the ball and you have to be better in total defense. You can't hide from history."
In March, Banker echoed Riley's goal.
"What we'll probably do is take the average of the top three defenses," Banker said.
Defense is measured over many categories, making it possible for a unit to be top three in some categories and not in others but still have an overall profile that lends itself to conference championship-caliber football. Nebraska's defense played this brand of ball in 2006, 2009 and 2010. All three years, NU advanced to the Big 12 title game. The Huskers lost all three games, in part because the offenses produced seven, 12 and 20 points in those games.
But, after five seasons in the Big Ten, NU's defense has rarely ranked in the top three of any significant category. Points per game? Never higher than sixth. Yards per game? Never higher than fourth. Plays of 30 yards or more allowed? Never higher than ninth. Yards per carry? Never higher than fifth.
Over five years and in eight selected defensive categories — that's 40 data points — Nebraska ranked top three in the Big Ten just five times. It did not lead the league in any of those eight categories at any time over five seasons.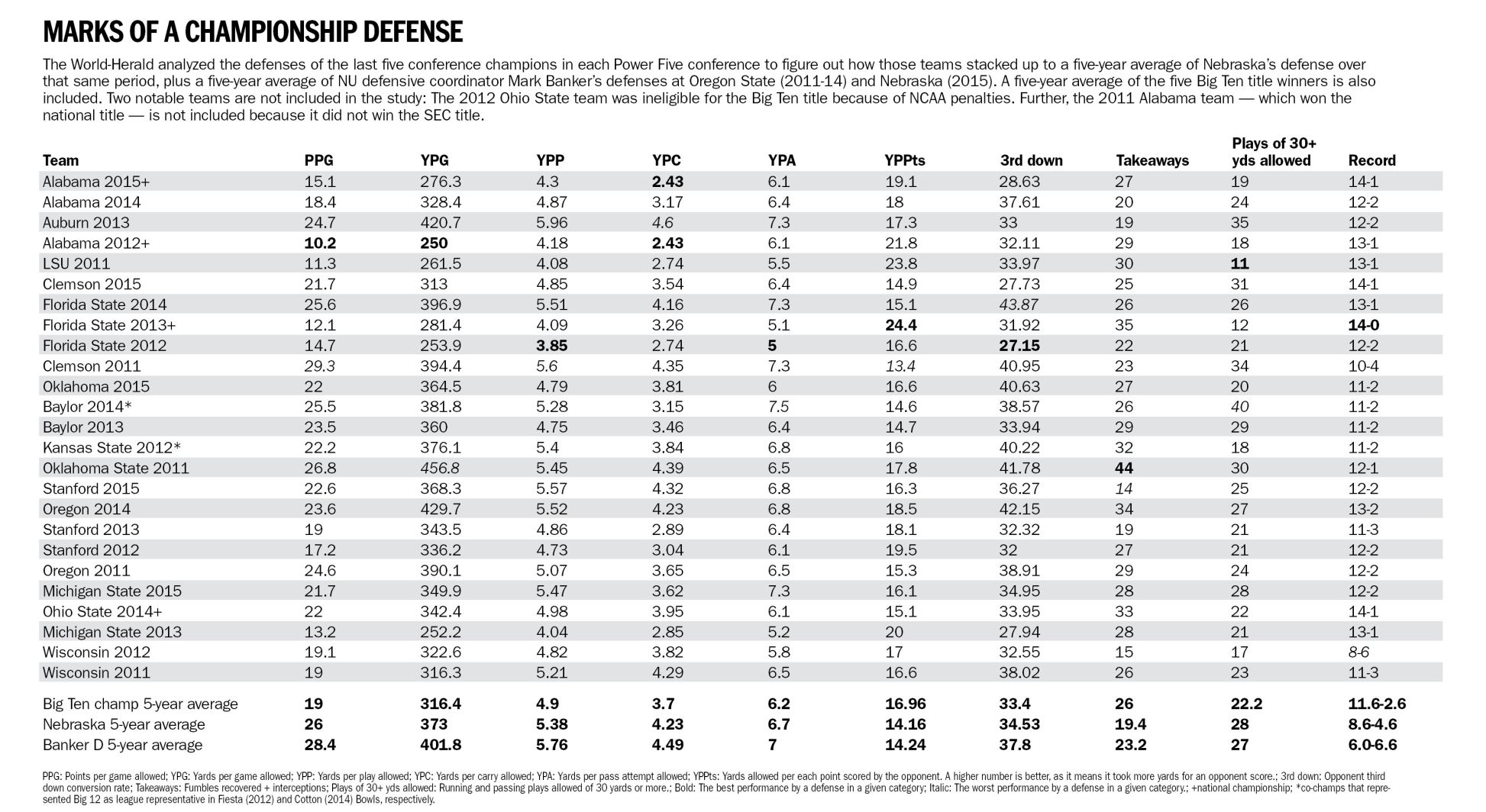 A look at 25 Power Five conference champions since 2011 reveals that, since joining the Big Ten, NU's defensive average falls significantly short of some, although not all, of those conference title defenses.
In the Big Ten, the defenses of the last five league champs — Wisconsin in 2011 and 2012, Michigan State in 2013 and 2015 and Ohio State in 2014 — gave up, on average, 56.6 fewer yards and one less touchdown per game than Nebraska defenses.
NU's struggles in the league have been present since its very first Big Ten game. Nebraska played at Wisconsin and gave up 48 points and 486 yards to the eventual league champs.
"How we came out and played is not Nebraska football," former cornerback Alfonzo Dennard said that night after a 48-17 loss. "So we got to find ourselves."
Five years later, the Huskers are still looking.
Banker has taken a robust, hands-on approach to the improvement process. He personally took over coaching the safeties. Also, this winter, he met with Tucker Zeleny, NU's director of sports analytics.
"He had a lot of stuff written out on a white board and said, 'Hey, these are things I'd like to look at as a season-ending summary,' " Zeleny said. "We put something together. He gave us a lot to go off of and, as I was putting stuff together, I had a couple ideas pop into my head."
Zeleny and his staff produced an in-depth report using Tableau analytics software. The report had every sortable detail imaginable for each defensive play Banker might have wanted analyzed. Zeleny even produced data that charted yards per carry based on which hole an opposing runner chose to hit.
A defensive stat Zeleny particularly believes in is defensive yards per point; that is, the number of yards an opposing offense must gain for each point it scores. A high number is better — the higher the number, the more yards it takes to score, and the better the defense is. The stat can also reflect how often opposing offenses enjoy good field position gained through turnovers or special teams.
TeamRankings.com has tracked this stat since the 2003 season, Bo Pelini's lone year as defensive coordinator at Nebraska. NU's yards per point stat that year was 20.5 — second in the nation. The Huskers returned to the top 25 in 2006 at No. 16 with 17.9, but no recent Husker defense has matched the 2009 bunch. That group had an off-the-charts mark of 26.1 defensive yards per point, which led the nation. It took 261 yards for an opponent to score 10 points.
Since 2003, only one defense, 2012 Notre Dame, fared better in the stat than the 2009 Huskers.
Since Nebraska joined the Big Ten in 2011, it has never ranked higher than 53rd in the stat. NU's five-year average of 14.2 yards is lower than 24 of the 25 Power Five conference title teams studied since 2011. Only the 2011 Clemson team, a 10-4 squad that lost four of its last six games, had a worse average, 13.4. Clemson coach Dabo Swinney fired defensive coordinator Kevin Steele after that season.
Many defenses in that list of 25 were stalwarts, especially in the SEC and Big Ten. The outliers to that list sometimes had good reasons for excelling despite average-to-poor defenses.
For instance, the 2014 Florida State and 2014 Oregon teams had Heisman Trophy winning quarterbacks in Jameis Winston and Marcus Mariota. Riley, familiar with the Ducks' program, said Oregon typically didn't dwell on defensive numbers.
"Oregon's always been an outlier," Riley said. "I always thought Oregon played to its offense. Their defense gambled. They'd play that 3-4 and it was all over the place. They'd give up some big plays but they'd make big plays, and they didn't really have to worry because they were going to average 50 points per game. And they had (Marcus) Mariota."
Still, Oregon coach Mark Helfrich this offseason demoted his former defensive coordinator, Don Pellum, and hired former Michigan coach Brady Hoke to revamp UO's defense. When Mariota left, Oregon's offense could no longer cover for its defense, which gave up 485.3 yards and 37.5 points per game last season.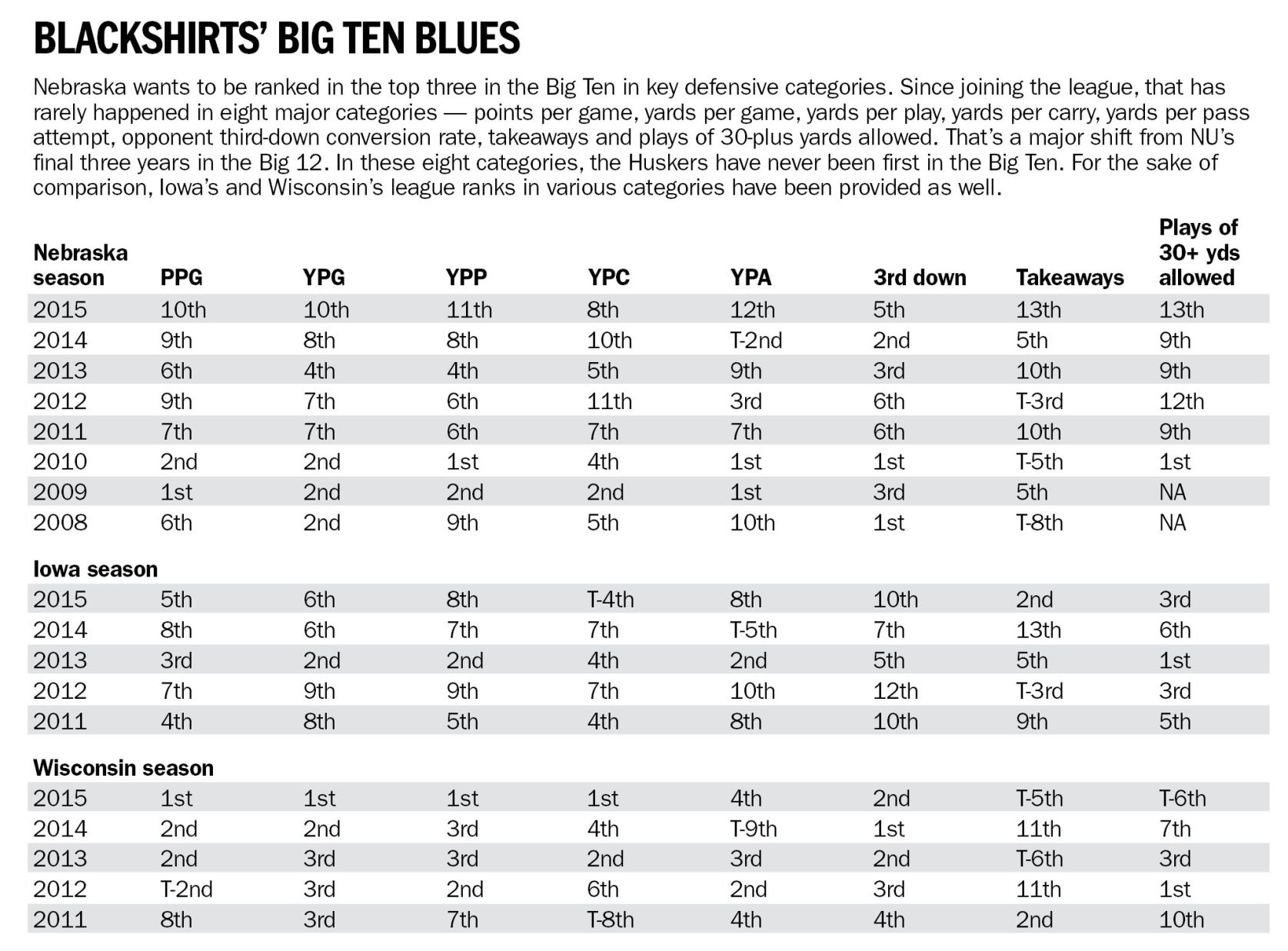 Nebraska's own 2012 defense wasn't among the elite units in the Big Ten, but the Huskers still managed a magical run to the Big Ten title game thanks to narrow wins and improbable late comebacks against Northwestern, Michigan State and Penn State. NU was even favored to win the Big Ten championship against Wisconsin, which was playing in the game only because NCAA penalties prevented Ohio State and Penn State from being there.
But the Huskers' defense blew a gasket on the game's first drive. The Badgers' own defense returned an interception for a touchdown. Wisconsin led 14-0 and romped 70-31.
"What is defensive football?" Pelini said that night. "It's play your gaps, handle your responsibility, be where you're supposed to be and make tackles. We did none of the above."
Flash forward to 2015, when the Huskers allowed late scoring drives in losses to Illinois and Wisconsin, an effortless first quarter of yards and points to Miami quarterback Brad Kaaya, two long touchdown runs to Iowa and the freedom to repeatedly call and execute the same bootleg pass to Purdue.
Year five was, in many ways, the nadir for Nebraska's defense in the Big Ten. The worst of NU's defenses since 2007.
Banker saw the struggle coming.
"It's sad to say it didn't shock me," he said in March. "(Last) spring, it was happening time and time again. Whatever you practice is what you'll get in the game. I was just hoping and working at the fact that we could eliminate those things."
This year, armed with more knowledge and players who've finally transitioned to a new scheme, perhaps Nebraska finds what it seemed to have lost after 2010 — an ability to play elite defense within its own conference.