After nearly 40 years of covering these games, I'm starting to look at college sports in a whole new way.
My oldest daughter, Sarah, will be a high school senior next school year. The cards and letters from universities, big and small, arrive every day. Test scores are coming in.
She's selected a favorite, where she wants to go, and we're looking at the possibility of scholarships. We visited her favorite school last month. So far, so good.
But recently the roster movement with Nebraska basketball got me thinking about the surreal world of sports that I cover.
I've told Sarah to take her time selecting a school, and try to picture herself there for four years. Comfort and fit with the school matter. This is where you will live. The people and friends you make will likely be ones you keep the rest of your life. College can be the best time of your life.
I'm trying to imagine what my reaction would be if Sarah went to school for a year, then was told that a new administration was in charge, and it would be best if she found another school to attend.
Of course, kids leave schools all the time. They get homesick and want to go somewhere closer to home. Or they partied too hard and flunked out. There are other reasons. Kids leave colleges all the time.
But none of that is close to the world of college football and basketball, which is an insane world.
Sign up for Big Red Today news alerts
Get a daily Husker news roundup, recruiting updates and breaking news in your inbox.
Last year more than 1,500 Division I college football players entered the transfer portal. In basketball, so far this year there are 827 in the portal. That's crazy stupid.
That's a lot of young men bouncing from school to school, and in some cases they are on their third school. Imagine that.
I'm not here to debate how or why this happens, but it starts in the world of specialized youth sports, in the select leagues with adults and kids who dream big dreams. Many kids are growing up learning to be free agents. The few who will move on to big-time college sports will likely end up transferring at least once, if not twice. They're chasing rainbows.
This brings me back to Fred Hoiberg, and the massive roster flip going on with Nebraska basketball. And how some Nebraskans are reacting in horror.
Hoiberg is doing what he was hired to do. He appears to be doing it the right way.
Look, you get immune to this stuff. There's so much turnover now in college sports, players coming and going every year. The kids become faceless, commodities. You see another player has come or gone from Nebraska, and it's like a day of trading on Wall Street. Measure the value, weigh the trade-off. Go home. Come back tomorrow.
I believe most Nebraska fans are fine with Hoiberg's roster flip. They recognize the lack of abundant talent on the roster. They also see a specific system being brought in and none of these players were recruited to it.
There's a saying: We like the sausage but don't want to see how it's made. Husker fans want to win big. They want to eat.
Heiman, a 6-11 freshman from Platteview, did an interview with The World-Herald after announcing he was entering the transfer portal. When asked about his meeting with Hoiberg, Heiman said, "He asked me not to return."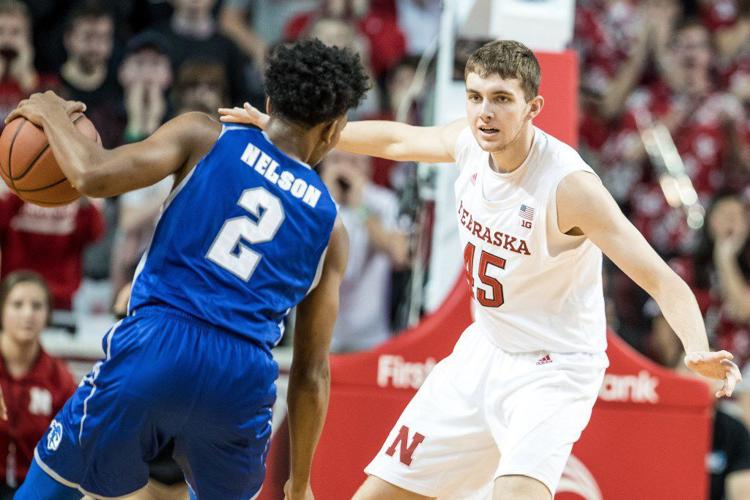 There it was. Hoiberg told the kid to leave. And he said it to a Nebraska kid.
Some took offense at this. I get it. But in this case, Hoiberg was being cruel to be kind. Letting Heiman hang around for four years and never play, or even contribute in practice because he would never fit the system, that would have been cruel.
That quote peeled back the surface on the harsh realities of college sports. Heiman was recruited by a coach to fit into a system. That coach got fired. The player no longer fit. Good luck, kid.
This practice has gone on forever in college sports. Every coach has done it. All of them. Maybe they phrased it differently, maybe they tried to drop hints.
It's especially prevalent when a new coach comes in and has to change the culture and doesn't want to wait. This was true with Scott Frost last year.
There's no joy in this process. I've spoken to media types who covered Hoiberg at Iowa State, where he flipped the roster and brought in transfers. They said the coach hated doing it. But the sooner his system was installed with players who could run it, the better for the long-term health of the program.
Sure, Hoiberg could have kept some holdovers and tried to run an offense that fit their strengths for a couple of years. But then that puts him behind schedule. For further reference, see the first two years of Mike Riley in Nebraska football.
There are instances where a kid defied the coach. Back in 2005, Creighton basketball coach Dana Altman met with a kid named Anthony Tolliver. Altman told Tolliver it wasn't working out, that Tolliver wasn't doing what he was told, wasn't being coachable, and that he probably should leave.
The difference here: Altman recruited Tolliver, who fit into what Altman wanted to do.
It's important to remember that this game is a two-way street. Kids pull up stakes and leave coaches in the lurch all the time. Just as coaches recruit players and then leave for bigger jobs. It's a vicious circle.
Nebraskans are getting a 101 course into how the sport works these days. On Saturday, reports had Yvan Ouedraogo, a 6-8 French big man, about to commit to Nebraska. Ouedraogo joins a fleet of athletic and quick-shooting transfers heading to Lincoln for Year 1.
They'll all need introductions. But so will the coach. Seems appropriate.
To some, this looks a little too much like the NBA, free agents and kids who might be here a year, might not, and not the traditional way of building a college winner.
The traditional way will come later. This is how you jump-start a program and Hoiberg is using the same set of cables he had in Ames.
For a lot more Husker fans, it's exciting and new and suddenly a year that looked like a building block might be a lot more. These are the players who will recruit for Nebraska, will show the way and what it's all about.
Hoiberg is already out ahead, running and not looking back. Husker basketball fans not used to this pace will have to learn to keep up.
It's OK to be uncomfortable with it, and OK to think about a Nebraska kid who wanted to be a Husker but suddenly didn't fit in. He's not the first. Won't be the last.
This is the business of college hoops. But it was good to hear from Heiman, good to get the reminder that there's a human side to this, too. Everyone has a story. There are success stories and other stories that seem to involve leaving town in the dark of the night.
Nebraska fans will move on from this, and toward the excitement of a new coach and team. There's much work to do. Husker fans are hungry. And that reminds me of another saying.
If you can't stand the heat, stay out of the kitchen.
Photos: Nebraska football and basketball recruits attend Husker spring game
The Red-White spring game was a major recruiting event for both the football and basketball programs. Check out some photos of the top prospects as they hung out on the sidelines before kickoff.