LINCOLN — It is still jarring.
Doc Sadler back in a gym in Lincoln, barking out signals in his Southern drawl on where to be in a defensive stance; Fred Hoiberg at the top of the key, ball in his hand, yelling during drills and then shooting his fundamentally perfect jumper for his Nebraska team to rebound; 11 new faces stretching before practice and going through shooting drills, guys who played at Tennessee and Nevada and Western Kentucky last season now in Husker uniforms.
The transformation of Nebraska basketball is surreal. But it was real on Tuesday afternoon when media members were allowed to watch the fourth practice of the Hoiberg era.
It was the first of two practices on the day. But there was plenty to take away from a short glimpse of the 2019-20 Huskers as they prepare for a summer trip to Italy. I jotted down everything that jumped out to me as odd or interesting and filled four entire pages of a notepad, tilting it sideways and upside down to find more space.
Dalano Banton might be the player with the highest upside I've seen in a Nebraska practice gym. That includes Isaiah Roby, James Palmer and Isaac Copeland. The Western Kentucky transfer is all legs and limbs, with a short torso and long, braided hair. He can make it across the length of the floor in fewer than 10 strides. He's a 6-foot-8, 195-pound point guard who — seriously — can take the ball up the floor and initiate as well as anyone on the team. He can bang around down low and has a smooth jumper. During a drill that required Banton to slam into a football pad to block out, he smiled and yelled the whole time. Loved it. When you think Hoiberg, you think transfers and you think Royce White and Georges Niang. And you should think Banton, too. He has to sit out a year. But watch out when he's eligible.
It took about 45 minutes before a player shot a ball during practice. That's not totally abnormal for a college practice, but worth noting considering Hoiberg's emphasis on shooting.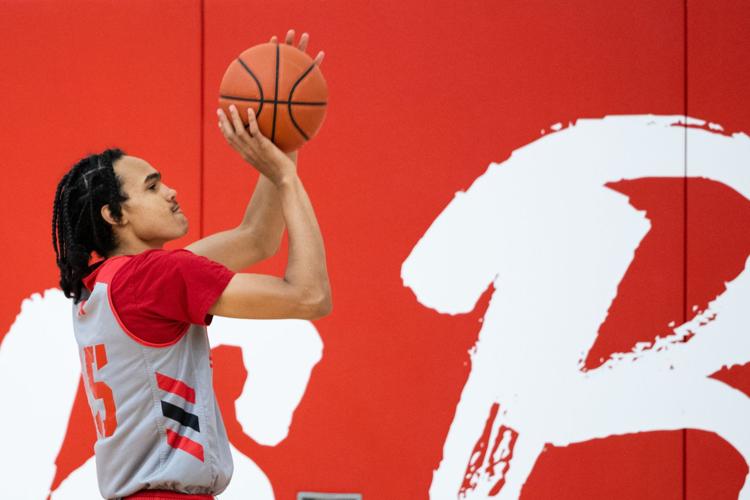 Matej Kavas is impressing early. He shot better than 45% from 3-point range last season at Seattle, and coaches have been pleasantly surprised with much more than just his stroke. He's long. Lean. Close to an NBA body at 6-7. He could play the 4 or 5 if needed if he can rebound consistently. His shot, though, is pretty slow. Theoretically, it will be quicker in games. But Big Ten defenders will be in his grill quicker than defenders he faced at Seattle U. So if he wants to get his shot off, it might need to get faster. Surely he has a coach who can teach him how.
Shamiel Stevenson, the transfer from Nevada, looks like he could start at running back on the Nebraska football team. This is a BIG guard. He's 6-6 and a full 245 pounds. Nebraska hasn't applied for a waiver for immediate eligibility yet, but the assumption is it will, and I know coaches feel pretty good about getting him eligible.
Cam Mack did not practice. He is on campus, though, and will be able to play in Italy. He and Nebraska are waiting to make sure he passed a class back at Salt Lake Community College. Nebraska's crazy, crazy high on him, but we didn't get to see just why yet.
At times, this practice was pretty. Really pretty. Good passes, solid communication. Other times, it looked like a pickup game at a park with kids from four different high schools on the same team. This will take time. Talent is one thing. Cohesion is another.
True freshman Samari Curtis has scoring in his DNA, but the 6-4 guard from Ohio was hindered a bit with tape on a thumb and made some rookie mistakes. Nebraska will be super young. It may be ugly at times this season, but with Curtis' talent level and a few other guys, NU could really be something in the not-too-distant future.
Derrick Walker is a dude. Walker, who must sit out this season, is bigger than anyone on Nebraska's team last season. He's 6-8, and the roster says 235 pounds, but if he's 235, it's all muscle. He didn't practice, but he did shoot. And he's a talker, yelling out encouragement to guys who were talking during practice. A glue guy.
Akol Arop and Kevin Cross kept up but appear to need time in the weight room, which is typical for freshmen. Arop needs bulk. Cross needs to slim down and harden up. After playing center at Creighton Prep, Arop is learning how to be a guard, and that'll take a bit. Cross can move some bodies. In a blockout drill, he decleated a manager.
Palmer and Glynn Watson were at practice. They watched for a bit from the training room.
Sign up for Big Red Today news alerts
Get a daily Husker news roundup, recruiting updates and breaking news in your inbox.
Sadler ran the warmups, and no music played. Music blared last season during warmups. I assume the coaches want to encourage everyone to talk and get to know each other.
Don't sleep on Thorir Thorbjarnarson. Hoiberg and his staff like him. They've always liked him. Why? He plays really well in space, and the new offense is all about spacing. Many of Thorbjarnarson's buckets last season were on backdoor cuts or came when he made something out of nothing. He understands the game. He can cut up a defense. And it showed in the time we got to watch. He — seriously — could see playing time this year.
You know those And1 Mixtape Tour TV shows from back in the day? And how, during a game, there'd be one guy on the mic talking the whole time and narrating everything? At a Nebraska practice, that's assistant Armon Gates: high energy, lots of encouragement, will get on a guy if he does something wrong. Always talking. Fills up the gaps of practice. Essential keeping him on staff.
Assistant Matt Abdelmassih keeps a low profile during practice. He's usually on the sideline and gives small tips or translates Hoiberg to players in a 1-on-1 setting.
Let's talk about this "4-point line." Hoiberg put down blue tape about 5 feet back from the 3-point line. I think it is genius. Nebraska runs every set from the 4-point line (or in transition), and the team actually has to redo a set if it doesn't. It is not only designed to create more space when initiating, but it is also made to condition guys to come off a ball screen or a handoff to have enough time to set up for a shot behind the 3-point line. Usually, in a set run at the top of the key, the quick jumper would be from 15 feet. But — as coaches will now tell you — that's the most inefficient shot in basketball. So, now, instead, the quickest shot off a screen is a 3. Which is what Hoiberg wants. The 4-point line could create some bad habits with guys taking long 3-pointers, but it could also help Nebraska's range. Which needs to happen anyway.
Hoiberg coaches like someone who led the NBA in 3-point shooting for a season. He's obsessed with footwork and lining up the feet, shoulders and hips. It's all about the lower body, and he points that out all the time. He's a mostly calm communicator who, in huddles, talks quietly and deliberately. Like most everything he does, he's professional. Players seemed to respond.
John Johnson, who was recently hired to be the liaison between Bill Moos and the basketball program, was not at practice. He begins at Nebraska next week. Any time the media were allowed into practice under Tim Miles, former Associate Athletic Director Marc Boehm was usually present.
You're going to ask, and the answer is: No. Nobody knows who the starting five will be. If they say they do, they are lying. The coaches don't know. The players don't know. Coaches haven't even seen Cam Mack play. Or how Yvan Ouedraogo, a 6-9 forward from France, fits in. Every spot is up for grabs. You'll have to be patient. You can sense it — from fans to the coaches — how badly people want to see this work. But we're in a tricky time. It's way too early to talk about lineups or expectations. Too little is known, and one practice or even a trip to Italy doesn't provide enough information. I have ideas on whom I'd start, but I'm not the one with a $3.57 million salary and a whistle.
You can tell that, at times, Hoiberg is frustrated. I don't think it's because he has regrets or wonders what he's doing in Lincoln, but because he senses what this really could be. It's as if he's anxious. The talent is there. The support is there. What happens over the next few months? Who knows? But judging by the entourage of media at practice on Tuesday, Hoiberg has interest in Nebraska as high as it was last year — a year that many believed could be the best season in Husker hoops history. Whatever happens, this, for sure, will be worth watching.
Photos: Huskers and Fred Hoiberg host summer practice