LINCOLN — The Nebraska basketball team sat in the back of a boat, cruising on Lake Como in Northern Italy, when a guide pointed to a house on a hill in the distance.
"That's George Clooney's," the guide said.
The team glanced and nodded.
"And that's where Miley Cyrus is staying right now," the guide said, pointing at another house.
The day prior, the pop star had split up with her longtime partner, Liam Hemsworth.
"Our guys really perked up when we drove by that," Fred Hoiberg said. "It was great."
And those were the moments that mattered overseas for Hoiberg and the Huskers. Those small, funny stories they'll remember off the court, like seeing the Leaning Tower of Pisa or going up into a lighthouse on the very northern tip of the country to catch a glimpse of Switzerland.
"That was the only time Doc Sadler opened up his wallet the whole trip," Hoiberg said. "It was like, one euro apiece for 10 of us to go up."
After four games and 10 days in Europe, the Nebraska basketball team is no doubt closer, Hoiberg said. They left a quiet group, and returned a somewhat rowdy one.
NU won all four games it played against Italian and Lithuanian pro teams. Now back in the States and over jet lag, Hoiberg is going through the film. He'll cut up edits of each player to go over, and overall team edits to talk about in meetings.
Sign up for Big Red Today news alerts
Get a daily Husker news roundup, recruiting updates and breaking news in your inbox.
His main takeaway of the on-court performance, after mulling over the trip and watching some film: good, but not great.
"We did it defensively, good, active hands," Hoiberg said. "Had a lot of guys that contributed."
Junior Dachon Burke led the team in scoring, with 13.5 points per game. Graduate transfer Haanif Cheatham scored 11.7 a game. A new Husker led the team in scoring all four games, including walk-on Charlie Easley, who had 15 in the final win.
Hoiberg played everyone evenly, about 20 minutes per game. That might have messed with the rhythm of some guys in some games, Hoiberg said, but he wanted to try out different systems with different groups.
The biggest positive was how well Nebraska took care of the ball. Which is an encouraging sign, since teams are usually pretty sloppy this early, he said.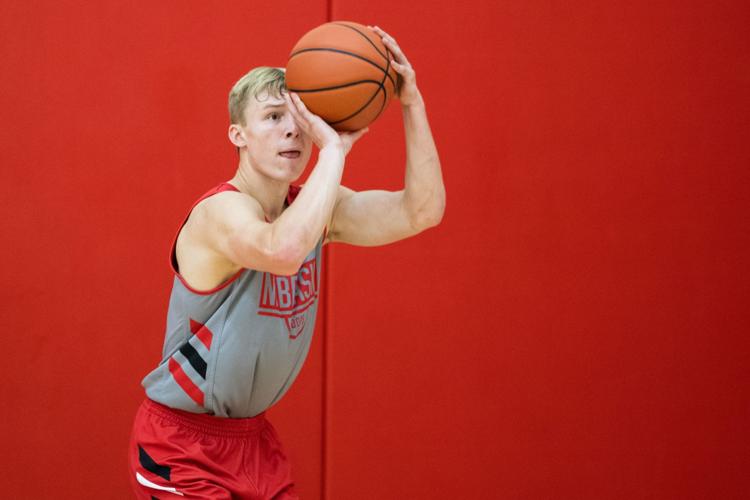 "I think a big part of it is, they're buying in to making the right play," Hoiberg said.
The worst part of the trip — but most valuable in the gym at least — was Nebraska's third game. The Huskers out-scored a Lithuanian pro team 31-7 in the second quarter and racked up a 24-point lead. Then nearly lost it, winning that game by only three.
"I'm glad it happened, because it's such a great lesson that if you take your foot off the gas, it shows them how quickly other teams can climb back into it," Hoiberg said. "You want some adversity, you want some things to happen, good and bad, and that game was a perfect example."
Hoiberg had a few blow-ups, too, he admits. BTN followed the team around all week, and they plan on having a three-part special on the trip. Hoiberg wouldn't let the cameras into the locker room at halftime, but after the final game, Hoiberg really lit into the team.
"It'll be interesting to see what they can use," Hoiberg said.
The trick now is to start the process over again with a few new guys. Freshman Akol Arop did not travel to Italy. He didn't get the proper paperwork needed in time to travel, and spent the trip working out in Omaha. Junior college transfer Cam Mack was also absent because of a sickness that left him hospitalized for a few days. He was released from the hospital, is back on his feet playing basketball and on campus. Freshman Yvan Ouedraogo was supposed to meet up with the team in Italy after playing in a tournament in Greece, but travel complications kept him away.
Hoiberg said Arop and Mack missing out was a real bummer, and that Ouedraogo should be on campus by the first day of classes next week, but might be a day or two late.
Mack and Ouedraogo missed all 10 practices leading up to the trip, so they'll have some catching up to do, Hoiberg said. The more important of those two, though, may be Mack, whom coaches are extremely high on. Assistant Matt Abdelmassih told The World-Herald this summer that he believes Mack could end up being the best point guard in the country, and Mack told The World-Herald when he committed to NU that he was recruited to Lincoln to "run the show."
Nebraska will have four hours a week for the next month to catch him up on what he's missed. Practices to prep for the season begin at the end of September.
"Once we start back up we'll try and catch him up as quickly as possible and in an efficient manner, not overloading him with too many things," Hoiberg said. "He's an important part of our team. He's a smart kid that will have the ball in his hands."
For the first time since 2015, Hoiberg was on the bench coaching college students. He said being back on the bench was natural, despite coaching in a Husker red and in a foreign country.
"I really enjoyed it, I enjoyed the camaraderie and the players in the group, the highs and lows of it and the misery that you go through at times when you're there, but I also think that's gratifying," Hoiberg said. "I like our group, and at the same time, we got a long ways to go. But it's gonna be a fun ride."
Photos: Huskers and Fred Hoiberg host summer practice