It started like a sequel.
Tuesday afternoon in Lincoln, another blond mid-40s Midwesterner stepped off the same elevator into the same club level at Memorial Stadium. Fred Hoiberg walked to the same table and sat in the same chair next to the same athletic director.
You didn't have to be there to feel the similarities to Dec. 3, 2017, when Scott Frost received the grand entrance. The folks at Nebraska know how to present a story.
Sign up for Big Red Today news alerts
Get a daily Husker news roundup, recruiting updates and breaking news in your inbox.
But if you zoomed out on this introductory press conference — if you stepped back from the celebration and observed the wider scene — you would've noticed some critical differences between Frost's homecoming and Hoiberg's welcome. Details that illustrate why Hoiberg may have picked the Huskers.
For Frost, the audience in 2017 featured a couple hundred former players standing shoulder to shoulder. The first few rows to his left were occupied by university leaders, former Husker teammates and, of course, Tom Osborne. Not a single family member.
For Hoiberg, the space had more breathing room. In those chairs to his left, he saw his parents, his wife, his brother, his aunts and uncles and cousins. It wasn't quite his living room, but it was pretty relaxed.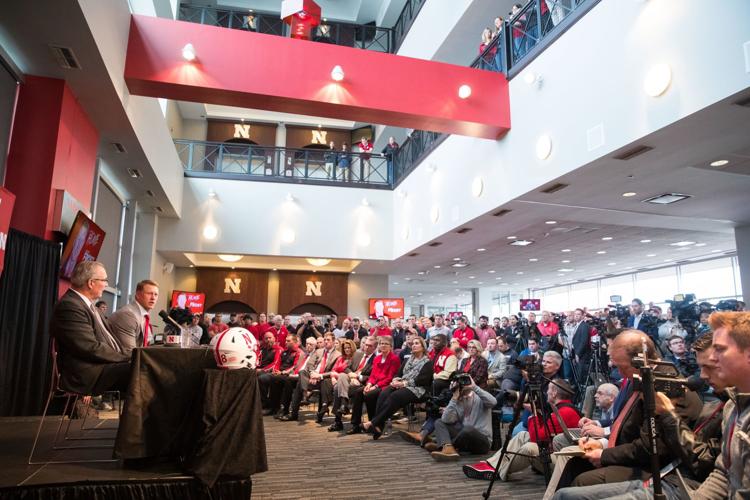 The biggest differences were intangible.
In 2017, Frost sensed a crowd begging for hope and — most important — pride. He stepped off that elevator swinging his sword, a white knight in a gray suit and red tie. Nebraska football was a heaping mess, and before Frost could reclaim Big Red's place in the college football hierarchy, he needed to unite the fan base, lift spirits and address the past.
Oh, Frost knew all about the past. He made multiple references to Nebraska's mistakes. This is what they did. This is what we're going to do now. You could almost see the goose bumps rising from all those former players. Frost made them believe again.
Hoiberg, who didn't wear a tie, carried no such bravado Tuesday. He swung no sword. The son of a college professor gave a 1,200-word family history lesson because, unlike Frost, his audience didn't know it. The more he talked, the more comfortable he seemed, the more it became clear that Nebraska basketball's greatest weakness (tradition) may be an asset now.
Where Frost needed to be a hero, Hoiberg need only be good.
In 2017, Frost scanned his audience and knew every pair of eyes looking back at him — including those at home — had strong opinions on Nebraska's path forward. Consciously or subconsciously, he felt the need to satisfy.
"I'm hoping the Big Ten has to modify their system for us," Frost said somewhat famously to cheers.
For all his support, Frost was in a tough spot. He'd never been a head coach in a league like the Big Ten. And everything he wanted to do at Nebraska had already been done. No matter how good of a team he compiled, it wouldn't be 1971 or '95. And he wouldn't be Tom Osborne.
Hoiberg, on the other hand, walked in with a clean slate. Nobody in that press conference — not the media, not the administrators, not the football coaches in the back, not even the godfather, Kent Pavelka — could come within 94 feet of his basketball knowledge.
He took Iowa State to four straight NCAA tournaments, won two Big 12 tournaments, made a Sweet 16, sent nine players to the NBA, coached NBA playoff games with Dwyane Wade and Rajon Rondo.
Hoiberg doesn't have to study the eras of Barry Collier, Doc Sadler or Tim Miles to succeed here. He doesn't have to wonder or worry what ex-players think. Match exactly what he did at Iowa State and he'll be a hero, even if he leaves in five years.
Of course, you know all this. Nebraska is a football state, dummy.
But consider what it means for those two blond mid-40s Midwesterners sitting under the lights. Consider the emotional weights on their shoulders.
Frost reaps the benefits of Husker football fanfare. But his job is restoration — not construction — and it comes with a burden. Hoiberg must know the feeling.
I've watched all three of his introductory press conferences: Iowa State, Chicago Bulls, Nebraska. He looked most comfortable Tuesday, and I suspect it's not just because he has more experience.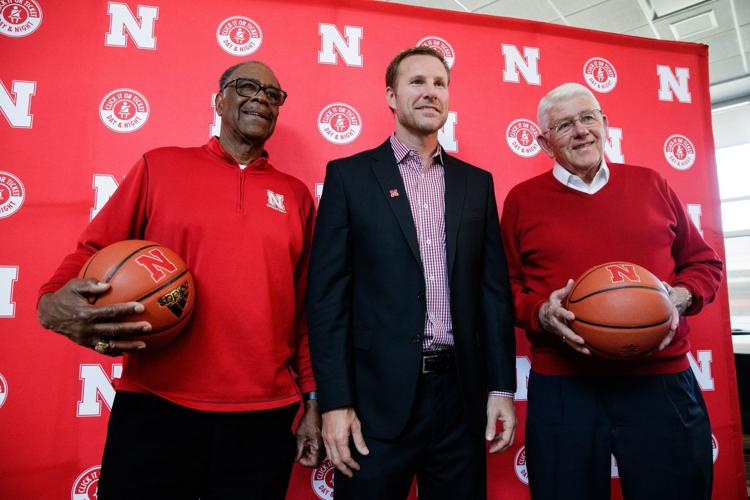 Iowa State depended on Hoiberg to restore the program — Larry Eustachy's ugly exit in 2003 stained ISU's image, and the Cyclones had only made one NCAA tournament since.
The Bulls counted on Hoiberg to finally overtake LeBron James in the Eastern Conference. Easier said than done. By Christmas his first season, Jimmy Butler questioned Hoiberg's leadership style, essentially criticizing his toughness.
Hoiberg comes to Lincoln with little pressure and even less baggage. During Tuesday's press conference, he teased a reporter about his shoes. He joked that he could've been "Gronk before Gronk." He interrupted an answer to seek his dad's grammatical advice — "alumnus or alumni?"
His biggest moment of stress came when a Des Moines reporter asked him about potentially bitter Iowa State fans.
Hoiberg doesn't have to make Final Fours like coaches at Kentucky, Kansas or UCLA. He doesn't have to soothe Husker fans' angst or stoke their pride. He doesn't have to change a thing. Consciously or subconsciously, it must be part of the reason he chose this place.
In the city where he was born, Fred just has to be Fred.
Three more points with Hoiberg
What distinguished his prolific Iowa State teams was pace, versatility and 3-point shooting.
As Hoiberg put it, "my best teams had five guys on the floor that could make a play and make a shot. That was a biggest thing for us was to try to find skilled players."
At Nebraska, Hoiberg said, "some (fans) will look at the guy next to them and say, 'What the hell was that shot?'" But quick 3s are key to his system.
"I love shooting 3s in transition before the defense gets set. If we can come down, run a ball screen, make a team execute pick-and-roll defense early in a possession and play off it with good spacing, we're going to have a chance to get great looks."
Since 2015, Hoiberg has focused more heavily on analytics.
"It's funny, after the game, you always go back and look at where you're getting your shots and where you're giving up shots. ... If you take less contested 2s and more 3s and you get more rim attempts, you generally win the game. ...
"It is a little different in the NBA. You try to manufacture the corner 3 because it's the shortest 3-point attempt at 22 feet as opposed to almost 25 from the top of the key.
"There's certain areas you try to get your shots from, but if you can give up consistently mid-range shots and contest them, you're going to have a chance on the defensive end."
Recently, Hoiberg watched video of his Iowa State playbook.
"It was almost an hour long. We also have a playbook that we ran the last 3 1⁄2 years with the Bulls. As we get to know these players and understand what we have on the roster, we'll try to put the right system in place."
Hoiberg noted Tuesday that he coached nine Iowa State Cyclones who went on to the NBA. What's more remarkable?
In 2014-15, Hoiberg's last season in Ames, he had six future NBA players on the practice court: Georges Niang, Naz Mitrou-Long, Bryce Dejean-Jones, Monte Morris, Abdel Nader and Deonte Burton, who was sitting out as a transfer.
Three were late second-round picks. Three were undrafted. Five are still in the league.
"It was always competitive," Burton told The Oklahoman in February. "Always a little chippy. But that's the nature of basketball. That's what made us a good team, because we were always trying to compete."
Hoiberg, because of his background, was "unbelievable" in their development, Nader said.
"He could relate to us. He understood the things we were going through. Just being a collegiate athlete. He really taught us a lot. Grateful to have him."
Of all Hoiberg's connections to Nebraska, he didn't mention one of the most obvious. Doc Sadler assisted Hoiberg at Iowa State. What role did the former Husker coach play in his thought process the past month?
"Anytime Doc called, I hit ignore," Hoiberg said. "I'm just kidding. I talked to Doc a lot. Doc loves Lincoln. ... He told me the great places to eat.
"Doc is one of my closest friends in this business ... and he had nothing but positive things to say."
Photos: Nebraska introduces new basketball coach Fred Hoiberg
Nebraska introduced new basketball coach Fred Hoiberg during a press conference on Tuesday April 2, 2019.