LINCOLN — There's something about a Tommy Armstrong fourth-quarter comeback.
They haven't always ended in wins — only Michigan 2013, Iowa 2014 and Michigan State 2015 have — but they generally reveal the most exciting part of his game: when he's outside the pocket, arm locked and loaded, legs ready to run.
There's nothing adventuresome about Iowa quarterback C.J. Beathard. He'll stand in a pocket and take big hits before he squeezes a pass into traffic. In Big Ten play, he threw all of nine touchdown passes. In the Hawkeyes' three biggest wins — at Wisconsin, Northwestern and Nebraska — he completed a ho-hum 53.2 percent of his passes for a pedestrian 5.7 yards per attempt.
Of course, you know Beathard's record as a starter last season: 12-2.
And you know Armstrong's record as a starter last season: 6-6.
And you know how Iowa's 28-20 win over the Huskers played out. Beathard avoided the big mistake, while Armstrong threw four interceptions. Advantage: Hawkeyes.
Last June, I suggested that whichever Big Ten West quarterback rose to the top of a five-player logjam would likely lead his team to a division title. Beathard, Armstrong, Minnesota's Mitch Leidner, Illinois' Wes Lunt and Wisconsin's Joel Stave were the five.
Beathard was the best of them. According to ESPN's QBR system, he had the second-highest rating behind Armstrong. He had the best overall completion rate and the best against Big Ten foes. He threw the fewest interceptions — just three in league play and five overall. As beat up as Beathard was — he had offseason surgery for a sports hernia — he didn't miss a start.
Four of those five quarterbacks return for 2016. So do Northwestern's Clayton Thorson — who frankly stunk at times last season but rode his defense to 10 wins — and Purdue's David Blough. Only Wisconsin, with its brutal schedule and new defensive coordinator, enters this season without a long-term starter.
The Badgers won't win the Big Ten West. The schedule is too brutal. The team is short of elite playmakers. The team's best assistant — defensive coordinator Dave Aranda — left for LSU in the offseason. You might as well count out Purdue, too.
But those other five teams, all with returning quarterbacks, could win the division. Iowa is the prohibitive favorite. Iowa will probably be my favorite. But it's not a slam dunk.
Iowa's bowl game is one reason. Nebraska's bowl game is another.
In Nebraska's win over UCLA, you saw a picture of what Armstrong can be if the offense is built to best suit his skills. NU played from behind for chunks of that game, but coach Mike Riley and offensive coordinator Danny Langsdorf didn't waver or deviate from the game plan, and neither did Armstrong. The fourth quarter was about finishing off the Bruins, not furiously trying to get back in the game.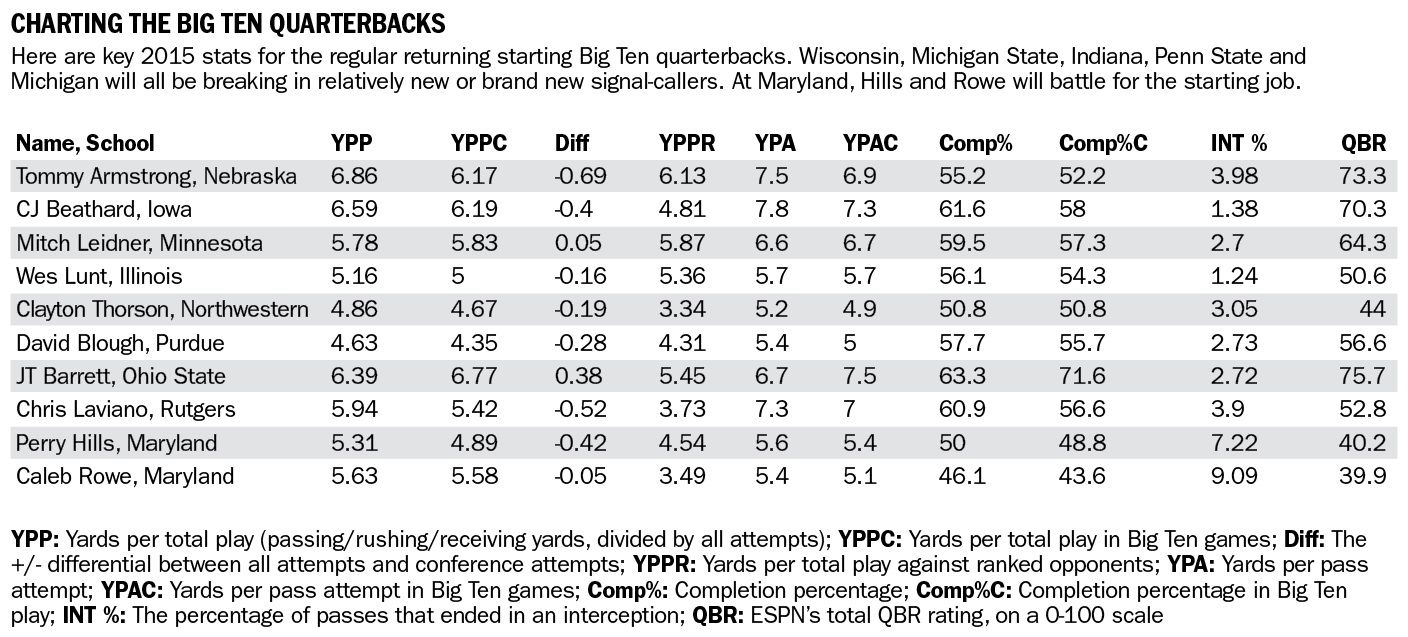 Iowa, by contrast, played from behind against Stanford in the Rose Bowl. The Hawkeyes trailed just once at halftime all season. They were trailing 14-0 six minutes into the game. Before the first quarter had ended, Beathard made a back-breaking mistake, throwing a pick-six. He was sacked seven times. He wasn't elusive enough to get around the pass rush. The few limitations he had, you saw, and 2016 foes will try to go to school on some of what Stanford did.
Nebraska, meanwhile, has spent six months trying to learn from its win over UCLA. If Armstrong can cut out the turnovers — which he has yet to do in three full seasons — he's more dynamic than Beathard. He's more dynamic than any other Big Ten West quarterback, including Leidner, who's received a curiously high NFL draft grade from a couple of gurus.
NFL potential doesn't always translate into collegiate success. Ask recent Penn State QB Christian Hackenberg — a surprising flop in 2014 and 2015 — or ask the Denver Broncos' Trevor Siemian, who could be an NFL starter this fall after a mediocre Northwestern career. He threw 27 touchdowns and 24 interceptions over four years.
Leidner's stock, and Siemian's rise, are to some degree reflective of the players around them. Minnesota is not a haven of skill talent; none of the Gophers' wideouts would start at Nebraska. The same would be true of Northwestern's wideouts. The Wildcats ranked 126th nationally — and last among all five teams — in passing yards per attempt. That reflects Thorson's mediocrity, sure, but it points to the talents of his targets, as well. They don't get open deep.
Nebraska's receivers get open a lot. The Huskers might have six guys on the roster who could play on Sundays. De'Mornay Pierson-El might be the best receiver on any other Big Ten West team. At NU, he might be No. 5 right now. Cethan Carter could be the Big Ten West's best tight end, too.
Armstrong has an embarrassment of riches that his divisional competitors don't enjoy. It's part of why he throws for as many yards as he does. It's part of why, when he gets out of the pocket, he's so scary. He has options.
So does another quarterback in the East Division: Ohio State's J.T. Barrett. When I look at what Armstrong could be, if he ever nails down the decision-making piece, I see Barrett, who has even better weapons — even more options — but has been better at avoiding calamity. He throws short passes well. He moves around the pocket with poise. He takes what the defense gives him more often than most college quarterbacks.
Don't be surprised if he's Big Ten Player of the Year — even if his team lacks the experienced defense to win the East.
Armstrong has all of Barrett's potential and, for this one year, he's working with the same caliber of offensive weapons, when you account for experience and talent. The road schedule is no doubt dicier. But the plan should be better. And Armstrong, as a fifth-year senior, should have the fullest command of his teammates and the offense.
Can he combine the stewardship of Beathard's style with his own swashbuckling approach? If so, Nebraska can win the West.
If not, Beathard is likely to be there, steady as he goes, avoiding the big mistake, keeping Iowa plugging along.