LINCOLN — Scott Frost sees the smiles in the hallways of Nebraska football.
Husker players with passion and buy-in. Chins up, shoulders back, perhaps even a strut because of progress made in an offseason that has NU on the cusp of the Top 25 and picked by Big Ten writers to win the West Division.
There's more talent in the locker room than last summer, Frost said. More muscles. Fewer fat rolls. And the chemistry of the team — which includes a new leadership group inching ever closer to the full return of the famed Unity Council — "is to a degree I haven't seen very often."
Glue. Culture. All good things.
Sign up for Big Red Today news alerts
Get a daily Husker news roundup, recruiting updates and breaking news in your inbox.
But Frost wants to see more as training camp begins. After a 4-8 season, he can't afford to settle for less. After losing slugfests to the Big Ten's burliest teams, he won't.
"I want this team to prove that it can be tough," Frost said Thursday to reporters before NU's annual Fan Day. NU begins practice Friday.
Frost said Nebraska has "some" tough guys, more who will be and young players who'd like to be — and must be to win in a league where the word "grit" takes on a literal meaning on frigid, windy afternoons in November. Nebraska won two games over Illinois and Michigan State in those conditions last year. The Huskers want to out-tough foes all the time.
"Our talent level, our speed, our strength, all those things are going to be considerably better this year, but it doesn't matter if you don't go hit somebody in the face on the field," Frost said. "We need to block and tackle with that kind of mentality."
Senior defensive end Carlos Davis put it more bluntly.
"He wants more dogs," Davis said. "He wants people to not complain so much and put your head down to go to work. He wants us grinding."
Sophomore nose tackle Damion Daniels leaned into the conversation.
"When you're down, fight it," he said. "He wants to see who's going to fight when you're down. Who's going to get us out of that hole?"
Davis said it's easy to "be all riled up" on the first four days of camp, but Frost wants to see who has the same attitude by Day 8.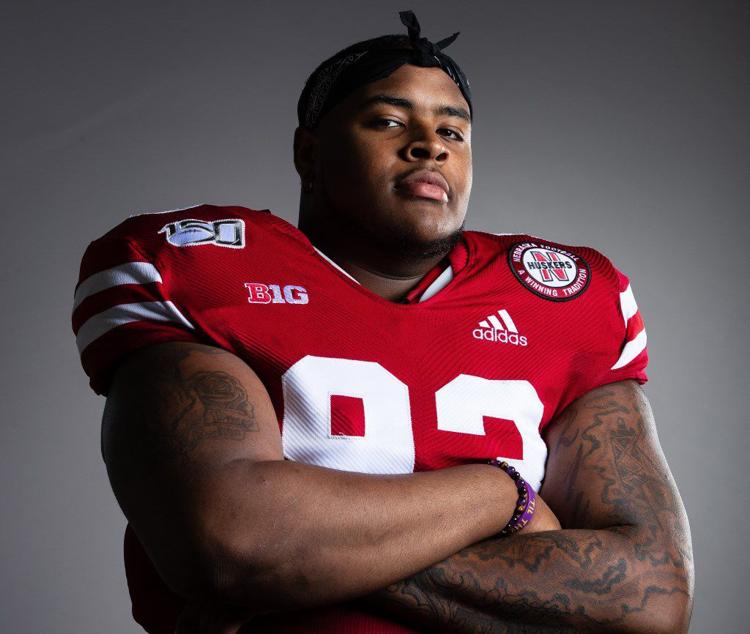 Nebraska still has work to do in that area, Davis said. But the team has grown up more in the offseason, he said, especially after a spring in which the defense asserted itself more in practice and openly challenged the offense. That led to a lot of chatter, Daniels said. A little bit more than that, too.
"We were at each other's throats from the beginning of the practice to the end," Daniels said. "Lot of mess-talkin', getting in each other's faces. This spring ball was the most competitive one I've been a part of. A lot of fun, as well."
Music to Frost's ears. On Thursday, he said his least favorite days as a player — and thus the days that forged NU's greatness in the 1990s — were the Tuesdays and Wednesdays when the top offensive and defensive units squared off for a period in practice. Good on good. Full contact.
On Tom Osborne's recommendation, Frost incorporated those periods into Central Florida's practices for the 13-0 season he coached in 2017. He'd like to do the same at Nebraska if the depth allows. NU couldn't always do it last season.
"You always run a risk as a head coach when you make that decision because you can get somebody tweaked or hurt in practice," Frost said. "But the benefit we thought we gained (in 2017) from that — just staying sharp, refining our toughness and grit — was more valuable than any potential risk of somebody getting injured."
There's also a mental toughness that comes from more confidence and familiarity in the system. Frost said he could pick almost any play in his offense and run it right now. Quarterback Adrian Martinez — one of two sophomores on the leadership group — will view freshman errors made in 2018 as "kindergarten" stuff this season. Many defensive players who had zero continuity for three straight years actually have the same position coach and coordinator for the second straight season.
"Better execution, tighter execution, better detail," Frost said.
Frost himself broke into a few smiles. Even as he said Nebraska hasn't "earned" any "premature" preseason expectations — Frost didn't vote for NU on his Top 25 ballot — he didn't slough them off, either.
He likes his team a lot more than last season. The hallways have energy and players have a few butterflies at the start of camp. Nebraska football, Frost said, is "primed and ready and rested" for the start of camp. There is much to accomplish.
"There's a whole different feel this year," Frost said. "More of a winning feel. A feeling that I'm used to. I can't wait to get to work with these guys."
Photos: Nebraska Football Fan Day 2019
Thousands of fans attend the Nebraska Football Fan Day at Memorial Stadium in Lincoln, Nebraska, Thursday, August 1, 2019.