LINCOLN — Kanawai Noa had never been to the Midwest before he chose to play his senior season at Nebraska. But it turns out the native Hawaiian and former California receiver rather likes the spaciousness of the plains. Secluded. Not as congested.
So the media horde that awaited Noa on Wednesday — inching him into the doorway of a crowded interview area — must have been a surprise. It wasn't quite like this at Cal.
"Not this close," Noa joked about TV cameras so near his face it seemed like a breaking news event.
In practice two hours earlier, Noa consistently got past tight coverage from defensive backs. When the Huskers had a brief 16-down scrimmage, the 6-foot, 200-pound Noa was with the first group. Up close, he's not much smaller than Stanley Morgan, the record-breaking receiver Nebraska lost to graduation.
Morgan's departure left a question mark so big that offensive coordinator and wide receivers coach Troy Walters scoured the transfer portal looking for immediately eligible graduates with proven production.
"His name came up," Walters said. "We did some research and background on him."
Noa's career numbers at Cal — 96 catches, 1,267 yards and six touchdowns — dwarf every receiver at NU not named JD Spielman.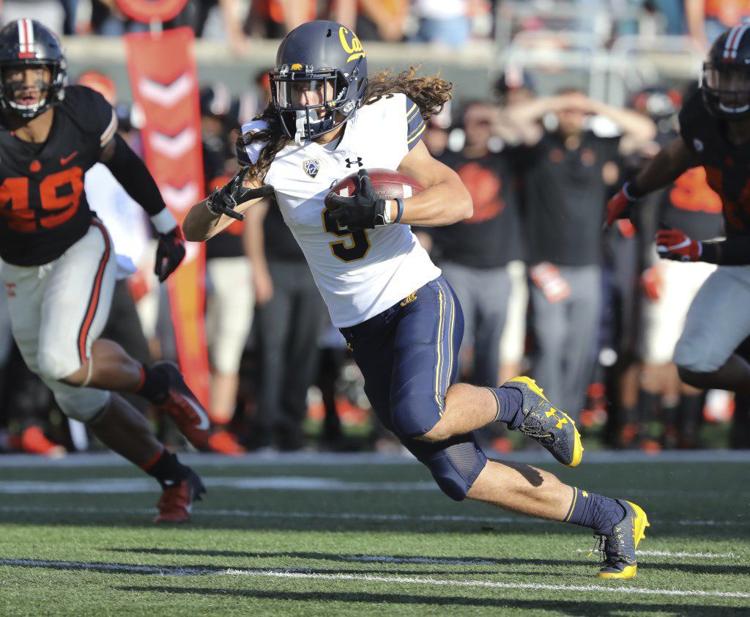 Offensive quality control coach Steve Cooper, a former offensive coordinator at Portland State, had coached Noa's older brother. Noa also knew Tony Tuioti, the former Cal linebackers coach who now coaches NU's defensive linemen.
On Noa's end, he didn't have a lot of suitors after choosing to transfer from Cal. Injuries limited his 2016 and 2018 seasons, which sandwiched a breakout 2017, when he had 56 catches for 788 yards.
"I had an off year last year," Noa said. "I missed five games, so there were questions: Can I play a full season? Am I healthy enough? That's the questions coaches had."
Nebraska liked Noa's potential and his familiarity with a spread offense. And once Noa visited, he felt like he clicked immediately with coach Scott Frost. Noa describes himself as a "quiet dude." He sees Frost the same way.
"He's not an obnoxious all-out-there type of coach," Noa said. "He's going to be, 'Hey, this is what you've got to do.' So immediately when I came on my visit, I felt at home. It was so easy to connect with the coaches. They were very welcoming."
Because this was his "second rodeo" in picking a school, the other intangibles had to line up, too, Noa said.
The right offensive coordinator? Frost and Walters fit the bill.
"He's a stud," Noa said of sophomore Adrian Martinez. "He's super talented, especially when you can throw off your back foot. That's super hard to do. Just seeing that, being able to make plays from nothing."
Noa knows good quarterbacking. As a freshman at Cal, he caught passes from current NFL star Jared Goff. Martinez has the same arm strength, Noa said.
"The difference is he's very mobile, so he can make plays outside of the pocket," Noa said.
At Big Ten media days, Martinez praised Noa for already knowing all three receiver spots. At Cal, Noa mostly worked in the slot. NU should be strong there — with Spielman and Wan'Dale Robinson, among others — so Noa could operate more on the outside.
He's fine with that. He's new to the team, has to "earn my keep" and will play wherever he's asked.
And he's getting to know his teammates. Spielman is quiet, but a good resource for questions about the offense. Kade Warner is the lead motivator who knows every receiver position.
Noa feels like a freshman in some ways. But when asked to describe his strength as a player, he answered with a veteran's self-assessment.
Naturally, it had to do with space.
"My strength is exploiting the defensive coverage," Noa said. "My post-snap read is probably my best attribute and finding space, which really works with our offense. It's all read option. I'm making decisions on the fly."
Sign up for Big Red Today news alerts
Get a daily Husker news roundup, recruiting updates and breaking news in your inbox.
Photos: Nebraska fall football practice, Aug. 7
We got our first look at the Huskers in action on Wednesday, so check out a photo gallery from practice.