He wasn't around last Saturday. Adrian Martinez looked slow, hesitant, even jumpy at times. The errant snaps from Cam Jurgens threw off the timing. But Martinez wasn't himself against South Alabama, wasn't the quarterback we came to know last season or expect to watch this season.
In fact, for one afternoon, Superman looked human.
It happens. And it's probably a good reminder. It's just that we haven't seen a quarterback like No. 2 in a long time around Lincoln. Not with his skillset. Not with his maturity and ability to handle big situations with ease. Our expectations immediately soar.
Sign up for Big Red Today news alerts
Get a daily Husker news roundup, recruiting updates and breaking news in your inbox.
But quarterbacks are often as good as the players surrounding them, the execution around them. That's a good reminder, too.
It was a week for theories. One is that Martinez was a little sloppy because he bought into the preseason hype. That seems like a reach.
Martinez has Heisman-type talent and that might one day be in his cards, but not this year.
The fact that he was mentioned was a bonus. His supporting cast is still being built. So are the winning habits.
I don't buy that theory. So I conjured up one of my own. With so much inexperience and uncertainty around him last week, was Superman trying to do too much?
There's a new center and left guard trying to remember which way to go. There's that center, with the hiccups on his snaps, going high and late and throwing off Martinez's timing. There was a new running back and new receivers, freshmen and transfers.
You're a guy like Martinez, a leader, and you figure that maybe you have to lift up the team all by yourself — even though Scott Frost's offense calls for the offense to stay within the lines and take what is there, not create something that's not.
Maybe somebody went the wrong way and you have to improvise. Maybe you go the wrong way because you feel like you have to be perfect, like you have to make the big play or else.
It's a fabulous theory, thank you, and one that I offered to quarterback coach Mario Verduzco earlier this week. Coach Mario chewed on it for a minute, like one of his cigars, and spit it back out.
"Nah," he said. "There's no excuses. None of them. He's got to play better. I've got to be better. We know it. That's it."
Translated: "The Kid had a bad day, so did I. It's our job to get better."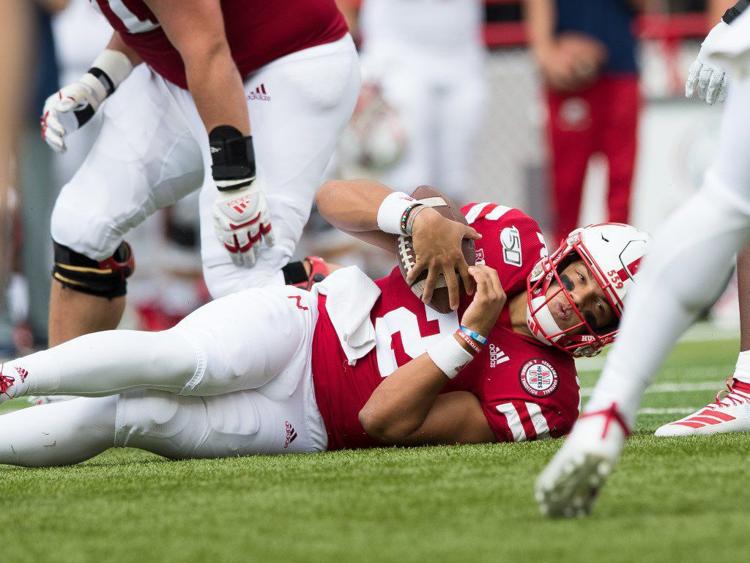 All eyes will be on Martinez on Saturday, for his response at Folsom Field. It's been a grand stage over the years for Nebraska quarterbacks. Tommie Frazier, Scott Frost, Eric Crouch and Zac Taylor have performed well and led victories under the Flatirons.
It's an interesting situation for Superman. Expectations are higher for him than a year ago, and especially now after a subpar game.
You might say the same is true for Nebraska's team. Last year was a true honeymoon period. Anticipation was higher than expectations. In the first year of Frost, his offense and the quarterback, the bar was not that high.
It's higher now, for coach and quarterback. The level of experience around Martinez and the offense is still developing and might be all season. But there's talent there, kids like Wan'Dale Robinson with exciting ability. They'll develop on their own timetable.
What they need from their quarterback, their leader, is to focus on doing his job. Running the offense. Don't worry about revenge or last year's injury. Focus on a CU defense that looked soft last week. The best revenge is victory.
Higher expectations are what you want, but learning to handle them is part of the growth curve for this program and quarterback.
There's definitely some pressure Saturday. People are ready to win and to see Superman again on a weekly basis. Let's see if he can move a Boulder.
Adjusting with the times
That is, watch a Nebraska game on TV? Asking for a friend.
I celebrated my 28th year at The World-Herald last Sunday. In those 28 years, I've missed two Nebraska football games. One was in 1991, when I was in Minnesota covering the World Series. Another came in 2009, when I had H1N1 flu.
This Saturday will be my third, and the beginning of a new era.
Dear readers, I'm coming off the road.
The only thing tougher than the SEC West is the newspaper business. But I'm absolutely OK with this. After 42 years of travel, it's time. I dread the trips now. This will rejuvenate me.
Coincidentally, my first road trip was to Boulder in 1977. I climbed into a car with two University of Missouri journalism mates and drove all night on I-70. I'll never forget watching the sun come up over the mountains. I remember Boulder, that gorgeous Folsom Field, eating at a spot called Abo's Pizza Show. Wonder if it's still open.
I won't find out this weekend.
I fell in love with college football — and this job — on the road. From Miami, Florida, to Norman, Oklahoma, to Tokyo, Japan. From Olean, New York, to Ames, Iowa, to Laramie, Wyoming.
The World-Herald's dime has treated me well. I covered two Summer Olympics and several Final Fours, Super Bowls and other events. But there was nothing for me like the bowl games, the big games, all those Orange Bowls (12), Fiestas and even that one Shreveport trip.
I feel like I've spent a lifetime in cars, on the backroads and byways of middle America, through small towns, past churches and ball fields and farms and always eating that healthy fast-food car buffet.
I could write a book about those trips, Nebraska's game in Tokyo in 1992, the Big Eight towns, all that. Maybe one day I will.
There's still work to be done here. But somewhere along the way, you have two knee replacements. And you find that you can't sit in a car for more than a couple of hours without stopping to stretch. And then the school you cover joins the Big Ten, and then resides on the west coast of that league, meaning every trip is a minimum 4-to-6 hour drive.
Some are up to eight hours and yes, I'm talking about you, Champaign and Urbana.
I'd still like to make one trip a year, but for four weeks a fall, I'll find a good TV set, watch the Huskers play, and then write about what I saw. It will be like covering the Super Bowl.
If you're having a watch party or know of a good spot to watch a game, let me know. Maybe I'll venture out at some point.
As long as it's a short trip.
Photos: Nebraska vs. Colorado at Folsom Field through the years
Nebraska returns to Folsom Field this September for the first time since 2009. Relive some of Nebraska's other road trips to Boulder, Colorado, in this photo gallery.