LINCOLN — His body sore beyond any previous experience, Dakota Prukop couldn't wrap his head around it: this full indoctrination into Oregon football.
The quarterback had transferred from Montana State, choosing the Ducks over Alabama. He'd always prided himself on taking care of his arm and his body. But in those first few spring practices at Oregon, Prukop had never seen a team go so hard, so fast and so relentlessly, snap after snap after snap.
"I thought, 'I don't understand how they do this every practice. I don't understand how this is possible,' " Prukop said. "I wasn't in 'Oregon shape' at that point."
Now he has the keys to the offense. It's Prukop's car to drive, and he's a full convert to the Oregon way of football. When asked why the Ducks are so good, he makes a light joke.
"It must be a secret," he says.
Oregon's offense — fast, furious, fun, full of big plays — has taken on a mythic quality over the last half-decade. the Ducks have averaged 545 yards and 46 points per game since 2011.
The brainchild of former coach Chip Kelly and fueled by gobs of Nike CEO Phil Knight's money, the offense gets its potency from a blend of scheme, talent, facilities and practice philosophy. It inspires copycats and provokes the defensive coordinator who's likely faced it the most — NU's Mark Banker, formerly of Oregon State — into near-Shakespearean monologues.
"It's controlled mayhem," Banker said Tuesday. "It's sleight of hand. Basketball on grass. Fast, fast, fast. They'll catch you in a, 'Oh, let me just rest on this' type of play, an, 'I'm so tired I can't focus,' or, 'Oh, you get going and your heart rate's up.' And if they do get a big play, bang! — they're at the line of scrimmage and they're coming at you.
"You've got to have poise."
And speed. And execution. And self-discipline. Oregon's offense demands all of that from an opposing defense.
Oregon's offense demands that of itself.
"We train harder — and have the ability to train harder — than other teams," Prukop said.
Commence the deep dive on Nebraska's tallest task Saturday.
The scheme — "five on six"
In 2014, Oregon quarterback Marcus Mariota won the Heisman Trophy. He threw for 4,454 yards and 42 touchdowns. Banker and NU head coach Mike Riley speak of Mariota in reverential tones.
"An extraordinary young man," Banker said.
But, just as quickly, they'll say the core of Oregon's success is the run game.
"It is predicated on the run and has been for a long time," Riley said. "Running with the running back, running with the quarterback."
Banker describes Oregon's scheme as a "high-tech" mix of option and wing-T football.
Linebacker Michael Rose-Ivey laid out the Ducks' bread-and-butter schemes.
"When you strip it naked, it's football," Rose-Ivey said. "They're running power, zone, stretch, counter sweep as the run plays."
At a 2009 coaching clinic, Kelly — the notoriously secretive coach who handed off his program to current coach Mark Helfrich in 2013 before going to the NFL — said his "signature play" was the inside zone.
Every college team uses some version of this play. Oregon uses it a lot and runs it almost exclusively out of the shotgun.
The Ducks' scheme tends to leave one defender — usually the defensive end — unblocked. The quarterback reads the end. If the end crashes toward the running back, the quarterback can zip around the end with a keep. If not, the running back gets the ball and looks for a hole. Oregon backs — from Jonathan Stewart to LaMichael James to the current star, Royce Freeman — are adept at finding them.
"We're going to see if we can block your six with our five," Prukop said, referring to his five offensive linemen against six defenders geared to stop the run. The quarterback read option is a way to "keep defenses honest," he said.
None of this is revolutionary, but Banker said Oregon does a good job of keeping defenses off balance.
"They'd never get to the run game if you just jammed the box," Banker said. "So what ends up happening is you have people who are loose, off the edges of the box. Depending on what coverages you play, they manipulate the perimeter in order to make people late back to the box. How they use a tight end — or not a tight end. Motion — if they see you're adjusting with motion, they'll use that. They have good control of what a defense does and how it affects their offense."
Said Prukop: "The coaching staff understands the perfect balance between making an offense where the guys know what they're doing fully — so they can play at 100 percent and not be thinking too much — but, at the same time, the game plan seems complex for a defense."
If Oregon gets the run game going, Rose-Ivey said, it'll start hitting play-action passes.
"If you come up, they're gonna throw it right (where you came from)," Rose-Ivey said. "It's a lot of moving parts, a lot of shifting. It's like a magic trick. It's like an optical illusion."
Magic tricks performed at a breakneck pace with skilled illusionists.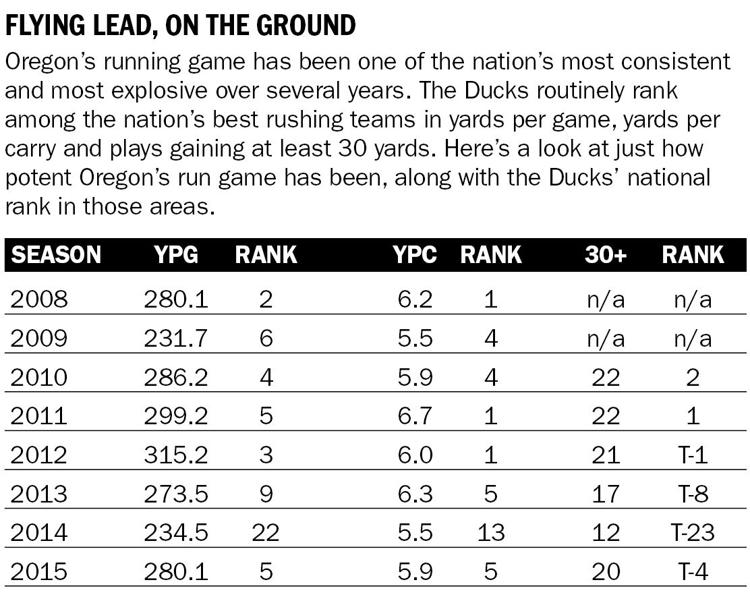 Tempo and talent
If Oregon runs basic plays, it does so quickly, requiring a defense to execute properly multiple times at a rapid pace. The goal, Banker said, is to create a big play.
"Very seldom does an Oregon team go through a 12-, 13-, 14-, 15-play drive," Banker said.
Trent Bray, who faced Oregon's offense as a player and then coached against it at Arizona State and Oregon State, said the Ducks want to "keep bleeding you" with small plays until they can "take it to the house" with a big one. And often Oregon will get on the ball quickly so it can get defenses out of position and rushed. It rattles referees, too.
"You watch them on film and they're false-starting and they're not set and nothing's called," Bray said. "The tempo doesn't allow the officials to officiate the game."
Lots of teams run plays at fast pace — UCLA did so against Nebraska in the Foster Farms Bowl, for example — but Oregon's skill talent puts additional pressure on a defense. Freeman was a top 50 national recruit according to the 247Sports Composite service. Receivers Darren Carrington, Dwayne Stanford and Devon Allen, tight end Pharaoh Brown and running backs Taj Griffin and Tony Brooks-James were all four-star recruits as well. Put all that talent and speed on the field at the same time — Allen ran in the 2016 Summer Olympics — and it stresses a defense.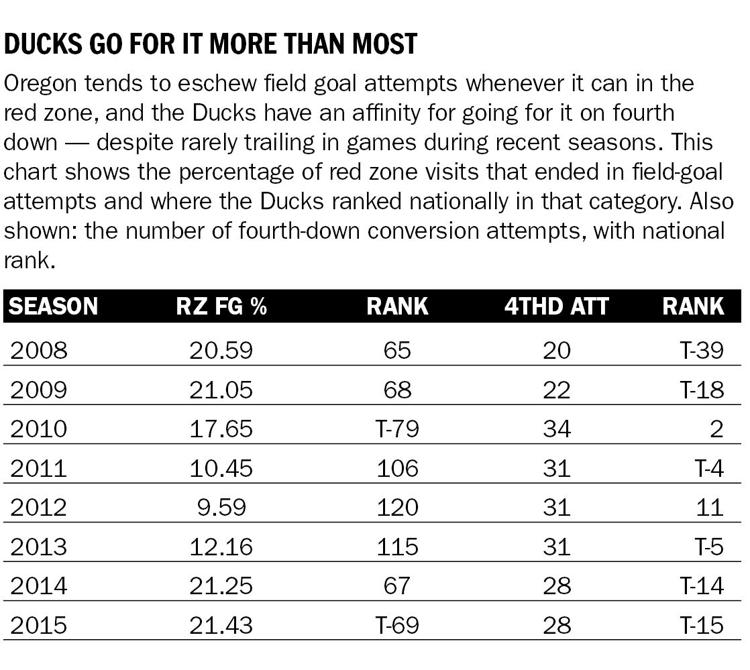 Now combine the tempo and the talent — like Oregon did in its recent game against Virginia.
In the second quarter, on third-and-36, Prukop hit Allen for a 55-yard gain to the Virginia 6. Allen had time to get up and do a little impromptu celebration dance, but not much more, because Prukop and the rest of the offense were sprinting toward the line of scrimmage. Twenty-four seconds after Allen caught the ball, Oregon was running another play.
"When they start going fast and they get a big play, you need to forget about it," NU linebacker Josh Banderas said. "Get back to the line, get the call, go through your normal reads, don't get flustered, talk to each other."
The system
Oregon's tempo isn't just a Saturday strategy — it's a philosophy. It's how Oregon practices and runs its program. The Ducks want to run more reps in practice than any other team in college football, and Prukop is confident they do.
Prukop wears a device that measures the "live rep throws" he makes in practice. Over the summer, he might get 150 to 200 per day with his wide receivers.
In fall camp, he was throwing 280 live reps per practice. Prukop estimated he was throwing two or three times more passes — per practice — than he did at Montana State.
"When you think about a compounding effect over time — how it adds up — those reps really help," he said.
Oregon's palatial facilities also help. The Ducks already had a football operations building that was jokingly called a "Death Star" by some on the Internet. In 2016, Oregon opened the Marcus Mariota Sports Performance Center. Prukop gushed about it; some of the functions at the center are similar to those at the Nebraska Athletic Performance Lab.
Nutrition, sleep and overall health are major emphases, Prukop said. Players have special drinks during practice and — like Nebraska players — enjoy custom-made smoothies afterward. Oregon's "recovery tools" include "Cryo Chute" cold water pools.
Prukop said Oregon is judicious, though, about how players use those tools.
"I remember being so incredibly sore after a practice, and they wouldn't let us use the recovery tools," Prukop said. "The whole reason was to condition your body. And then, all of the sudden, they throw all the recovery tools at you.
"They put your body through high stress — and then ultra recovery. It brings your body to a new peak. And then they stress at the next level, and stress it at that level. And then you peak up again. We try to re-peak our bodies every week come gameday. It comes down to exact science."
How does Nebraska beat "exact science?"
Go back to Rose-Ivey's words. Stripped down, Oregon is still playing straightforward football. Being sound and smart will go a long way, but here are three things to watch:
» Playing well "in space." That is, when Oregon athletes are one-on-one with defenders, Nebraska is able to tackle well or, if it's a pass play, cover well in individual matchups. NU had similar challenge in the bowl game vs. UCLA; after struggling early, the Huskers found their rhythm in the second half.
Nebraska's new emphasis on rugby tackling, which focuses on coralling players at or below the waist, could help, Banderas said.
"We've improved so much on missed tackles and tracking the hip from one, two, three years ago," Banderas said. "If you put on our film from when we first started tackling until now, it looks like kindergarteners vs. college players."
» Fewer freelance moments. Oregon's backs and receivers are gifted at exploiting mistakes, so when a defender is out of position — because of Oregon's tempo or a missed assignment — it tends to burn a defense more. NU's challenge on Saturday: plug all the leaks.
"It's the linemen being in their gap," Bray said. "It's the 'backers being in their gap and the back end being able to show up in support depending on what their threat does. When you play Oregon, it's truly about a team defense, being locked in and being in the right spots."
» Sheer institutional knowledge. While Banker hasn't had a ton of success against Oregon's offense, he knows it well. He told the World-Herald the Ducks always seemed to have some wrinkle especially for Oregon State that Banker hadn't seen on film. He expects the same thing to happen Saturday. But his understanding of what Oregon wants to do should translate to his players being able to understand it themselves.
Still, Banker wants to see what he knows trickle down to the players' performance. It happened rarely at Oregon State. One of his best defenses — the 2008 unit that gave up just 312 yards and 23 points per game, that famously won the Sun Bowl 3-0, that had five guys picked in the 2009 NFL draft — was torched for 65 points and 694 yards by Oregon.
Banker's been there. He knows Oregon's system — and how badly it could burn Nebraska.
"There's been a lot of offenses I know very well, but I can't do a damn thing about it because I'm not playing," he said. "Knowing is one thing — and then reacting is another thing."