Why do I live in the past? The property taxes are cheaper.
One of the rules of social media is that you must impose on other people's conversations without being asked. So it was that I recently stuck my Facebook nose where it didn't belong, in the name of the 1994 college football season.
My friend David Jones of Pennlive.com — a longtime Penn State scribe — recently wrote an interesting piece on the legacy of the undefeated Penn State 1994 team, which didn't get a crack at national champ Nebraska.
Jones posted the column on his Facebook page, and a legion of PSU fans left comments lauding a tale of one of their favorite teams and lamenting that Joe Paterno didn't blow out more opponents when he had the chance. It also supported the notion that NU won the national title in part due to a sympathy gift for Tom Osborne.
I thought that was 1997.
Anyway, I don't deny that some votes were laced with sentiment that year. But that national title was anything but a gift to Osborne. That team earned it many ways over and had a better bowl result than Penn State.
So I might have gotten a little carried away.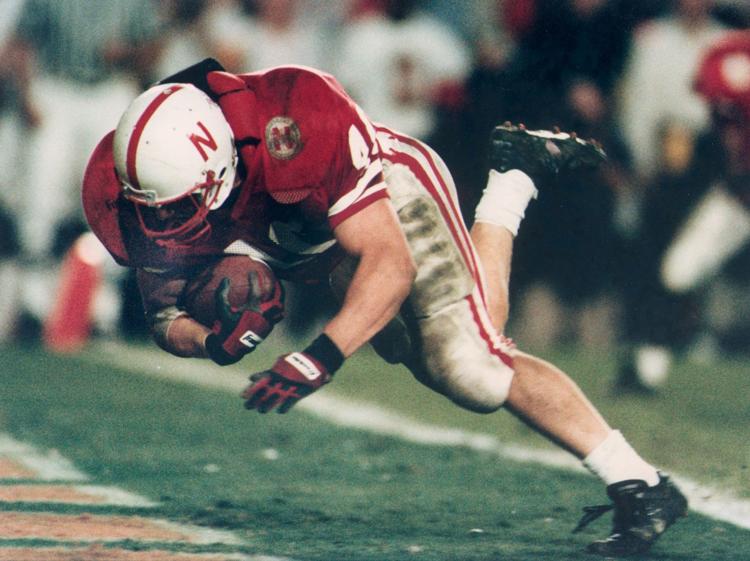 My premise: NU was a credible national title contender going back to the 1994 Orange Bowl, when it went toe-to-toe with Florida State in a classic. The season-opening 31-0 win over West Virginia in the Kickoff Classic confirmed that notion, and Tommie Frazier was the Heisman favorite.
That NU team had perhaps its best offensive line ever, a terrific defense and an unknown sophomore back named Lawrence Phillips. As I did more research, the evidence piled up.
The 1994 Huskers went undefeated with three quarterbacks and running two different offenses. They played three-fourths of their season without their catalyst and best player. Could Penn State have done that without Ki-Jana Carter? NU won a tough game at K-State with walk-on quarterback Matt Turman basically handing off to Phillips behind that big line. That's a stout team that can do that.
Now add the bowl win over Miami in the Orange Bowl. Nobody was doing that in that era. A Miami defense with Ray Lewis and Warren Sapp.
Who would have won a Nebraska-Penn State bout? We'll never know. My point was, NU didn't win that title on voter charity.
In fact, all things considered, it struck me that 1994 might have been the greatest season in Husker history.
If you'd like to debate, send me an email. You too, Nittany Lions. I owe ya one.
Sign up for Big Red Today news alerts
Get a daily Husker news roundup, recruiting updates and breaking news in your inbox.
» Welcome back, coach Jovan Dewitt. Evan Bland tells the assistant coach's story well. Such good perspective here in hype season.
» Husker fans old enough to remember what the number 79 means are in for a treat. Darrion Daniels, the senior and graduate transfer defensive tackle from Oklahoma State, will be wearing the famous number as he creates havoc in the middle of the trenches this fall. Daniels grew up wearing No. 75 but was forced to switch to 79 at OSU.
When I told Daniels that he's wearing the same number as a Husker defensive legend, Rich Glover, he admitted to not knowing about Glover.
But, Daniels added, "I've learned a lot about the Outland Trophy since I've been here." This is not to compare Daniels to Glover. But it will be fun watching that number make plays in that familiar spot.
» Is summer really over? Has Brian Poldberg really been in Omaha long enough to win 400 games? Yes, to both. Poldberg, in his sixth season as the Storm Chasers' manager, entered Monday night's game at 399 wins in Omaha. That's second all-time behind Mike Jirschele's 995. Not sure Poldberg will ever catch Jirschele, but he's had a good summer sending players to Kansas City. Sadly, that summer is almost over. The Chasers are down to their last two home series. Where did the time go?
» The forthcoming TopGolf complex has Omaha's golf community buzzing, but Miracle Hill golf course unveiled a really cool alternative last Friday.
Miracle Hill has built a "Toptracer" building into its driving range. The addition includes several covered driving range bays that open up to the driving range. Golfers will be able to hit balls year-round in the building — heated for winter — that includes a bar and snack bar. Miracle Hill is planning leagues at Toptracer for golfers, who will be able to use their own clubs. I predict some hooky being played this fall and winter in the afternoon.
» One more and I'm outta here: If summer's over, then I'm planning my Nebraska Football Preview lunch. Please join me at noon on Aug. 29 at the Omaha Press Club. As always, salad optional.
Get ready for Nebraska's fall football camp with our 2019 Husker Camp Countdown
The World-Herald is counting down the top 50 Nebraska players you need to know heading into the 2019 season.