LINCOLN — He did it again. Of course he did.
Adrian Martinez pushed the envelope of normalcy. This time, he simply walked off the Nebraska practice field, covered with sweat and looking exhausted Wednesday. Then the most requested player stopped and asked a sports information official if they needed him today.
The Nebraska official said no, you can talk next week. And Martinez thanked the official and was on his way.
Sign up for Big Red Today news alerts
Get a daily Husker news roundup, recruiting updates and breaking news in your inbox.
I stood there thinking, I couldn't remember Turner Gill or Tommie Frazier or any of the other quarterback inhabitants of the Nebraska Fish Bowl ever doing that. Certainly not as a sophomore.
It was another reminder that this kid's different, right?
It was also another reminder to just stop. Now.
This one's for me, and anyone else who thrives on historical comparisons in sports and laying out the plot and the ending just when the show is getting started. Eating dessert first. Mostly, it's for me.
This time, I'm not going to do it. Not with Martinez.
I'm not going to compare the Husker quarterback to the other legends in program history, chart where they were at the time they did this, what they won at this stage or that.
And let's not project out how many championships the young man might win, or how many Heisman votes he might get or try to measure his place in the pantheon at Memorial Stadium.
Let's let him beat Wisconsin and Ohio State first.
Mostly, I need to sit back and enjoy the show. I want to enjoy the show.
You'll have to keep an eye on me. As a veteran scribe, I'm pretty crafty. I'll sneak one in. Or I'll just completely stumble into the wall.
Last year, I came up with this premise comparing Martinez — then a freshman — with Kansas City Chiefs quarterback Patrick Mahomes (then in his first full season). The comparison I made had to do with the excitement having a great young quarterback can bring to a program or fan base.
That's not how it went over, and I deserved all the ensuing mockery and eye-rolling. I should have known better.
The lesson: Don't compare, especially college vs. NFL, but especially young guys with short résumés. Mostly, don't compare.
It's hard, because that's what we like to do in sports these days. So and so, the greatest since this guy. He's going to be the best ever. That's part of the fun.
After one season, Martinez is unlike any NU quarterback I've seen. Bigger than Tom Osborne's option-makers and a better arm. More adept runner than some of the better throwers.
Could he challenge Gill and Frazier, generally considered the top two quarterbacks to wear the "N?"
Who knows? Quarterbacks are judged by all kinds of analytics these days. But around Nebraska, they're judged by winning. Gill and Frazier were two of the biggest winners ever.
Martinez is running a different offense and doesn't have the Outland Trophy escorts that those two greats enjoyed. He won't have the luxury of handing off to a Heisman Trophy winner, at least we don't think.
Because of the early stages of Scott Frost's program going up around him, it will be more difficult for Martinez to get to the winning big part. Or, maybe he's that good.
We'll just have to find out.
The point is, Martinez is not the next anybody.
The first session of Big Ten media days included Ohio State and Michigan State, but the story of Day 1 was Adrian Martinez and the Huskers.
He's the first Adrian Martinez. And that could mean all kinds of fun.
Entering his second year, his career is still a blank screen. A novel with only a foreword. Martinez gets to write his own story. And we get to watch.
Nobody is more excited than the guy with the front-row seat.
"It is exciting," quarterbacks coach Mario Verduzco said. "The excitement for me is knowing he had X amount of games last year and knowing he has that information in his memory bank built up.
"I'm just excited to see his decision-making get elevated faster and become more efficient. I know that sounds goofy, but that excites the hell out of me."
No, because in Frost's offense, that's the prelude — the prerequisite — to playmaking. Perfection in Frost's offense, if there is such a thing, is the quarterback knowing what the coach will call as soon as the last play is over.
Can Martinez get there? Can he possibly get there this year?
The foundation was laid in 2018, during the lumps at Michigan, the turnover at Ohio State, the late-game brilliance at Iowa.
It's all been fed into the football computer between Martinez's ears, and Frost and Verduzco can't wait to see how much the star pupil has retained.
That's the anticipation around Martinez's second year. Not how many wins, but how much he can play by instinct. Can he take the options given him by Frost and make the correct choice first every time?
Do that, and the wins will come.
"When Coach Frost calls a play, in terms of down and distance, he knows what Coach Frost is asking," Verduzco said. "So they're on the same page.
"We work on the idea of continuance and situation. The better they get at it, the more they're able to eliminate some things from the defensive display that allows them to be much faster with their initial response."
When playing football chess, it's always better to have a quarterback who is an extension of the play-caller. It's no different than what Osborne had with Gill or Frazier.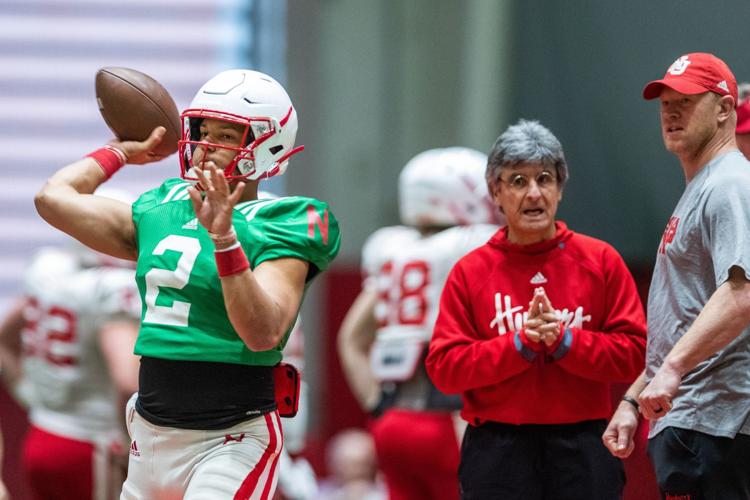 Oh, sorry.
One of the keys might be to keep Martinez from falling into the traps set by those in the press box. Martinez, the Heisman candidate. Martinez, the best quarterback (according to some) in the Big Ten. Martinez, a big reason NU is picked to win the West.
"The only thing we tell him is don't feel like you have to live up to your last game," Verduzco said. "Do your job for this game. If that means you have to throw or run for X amount of yards, great. But do your damn job."
The same is true for every offensive player. The system is the thing here. Eleven players staying within the limits of a single job.
But let's be honest. The best college football teams take advantage of their strongest talent. They allow room for greatness to take over.
Case in point: Martinez trying to make a play while under pressure at Ohio State. Maybe he saw something nobody else saw. Experience will teach Martinez when to do that.
"You don't want to take away his stinger, his creativity, his Miles Davis-ness," Verduzco said.
"The one thing that will happen, and it happened with (McKenzie Milton) at UCF, the other (offensive players) will say, 'I have to be ready for anything. I can never take a play off. This guy might do X, Y and Z and that is totally out of the realm of anything.' "
Let's write that down. Be ready for anything. Never take a play off. And this: Don't constrain Martinez to comparisons or expectations.
Now sit back and enjoy.
Photos: Every season-opening starting Husker quarterback since 2000
With Nebraska in the midst of another quarterback competition, take a look back at photos and statistics from all the passers that started the opening game of the season since 2000.