LINCOLN — It was the Thursday before the December signing period and Nebraska coaches were still in Arizona cheering the commitment of defensive end Ty Robinson when offensive line coach Greg Austin got wind of news that his big recruiting coup might have a complication.
Jimmy Fritzsche, the tight end-turned-offensive tackle whom Austin had lobbied to add to Nebraska's class, was getting late attention from Clemson, the powerhouse that will play for the national title.
"A frickin' wrench hit the whole plan," Austin said.
The 6-foot-7, 240-pound Fritzsche — from Greenville, South Carolina — had warmed to Austin and Nebraska. The official visit he'd planned just before the early signing period was supposed to seal the deal. Now, the Tigers would make him say no to a perennial College Football Playoff contender 45 minutes away.
Austin's reaction? You'll love it.
Sign up for Big Red Today news alerts
Get a daily Husker news roundup, recruiting updates and breaking news in your inbox.
But first — here's why Austin fought to sign Fritzsche in the first place.
Nebraska already had two tackles in the 2019 recruiting class — Bryce Benhart and Matthew Anderson — and one more, Michael Lynn, has the size to play there. As NU coaches looked at the remaining spots in the class, Austin said, there was some talk of taking the scholarship from the offensive line and putting it somewhere else.
"Hell no, you can't," Austin said. "We got one hell of a player. I was jumping on the table for Jimmy. I'd jump on the table for all of my guys, trust me. Me and (Scott) Frost, we had healthy conversations about it."
Austin, a former Husker offensive lineman, is generally a selfless guy. Most line coaches tend to be, but he's greedy when it comes to recruiting linemen. Can't have enough. Especially at Nebraska, which Austin found needed an injection of competition in the room.
"There was just the guy who was in the left tackle position," Austin said, "and he was never challenged for that position because the next guy was kind of waiting there saying, 'Oh, it's cool, you can start every game.'
"I want these guys to be good teammates, but competition breeds success. That's why I stand on the table for as many offensive linemen as I can get."
When evaluating recruits, Austin looked first for athleticism — "Jimmy started out as a tight end, so he checked off that box," Austin said — then length. He wanted tall guys with long arms, linemen who are hard to get around and can reach defensive ends. He also wanted upside, players who still had room to grow physically. He'd take that over the shorter, stronger guy who might blow up the defense in high school but who lacked the flexibility and size to excel in college.
Austin's first year in the Big Ten — after seasons in the American Athletic Conference and Pac-12 — also opened his eyes.
"When we got off the bus this past year, I saw some of the biggest teams I've ever seen, some of the tallest guys, whether it be Wisconsin or Iowa," Austin said. "Three D-linemen on Iowa's front were 6-5 or taller. The runt of the group was 6-3."
Nebraska might be able to survive with one tackle on its roster who is 6-3½ or 6-4 if that prospect had long arms, Austin said. But NU will generally choose to pursue guys like Fritzsche.
Which is exactly what Austin did when the December contact period began.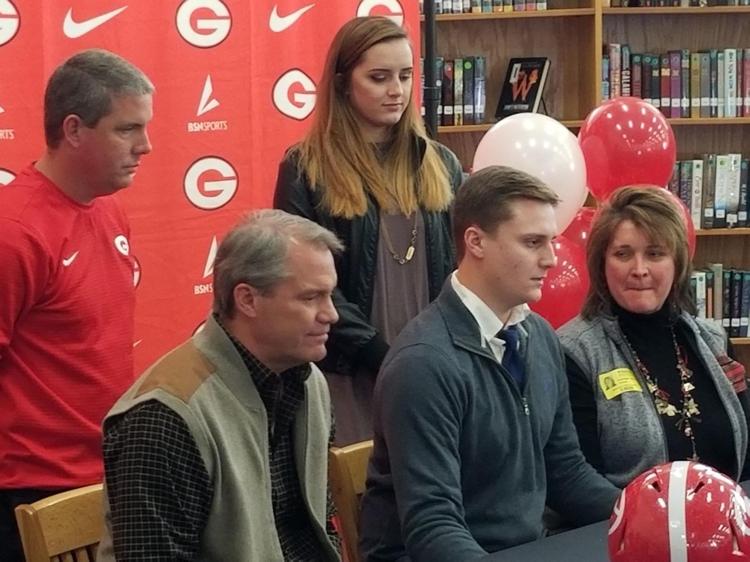 You can look at Fritzsche's tape and see what Austin saw. NU's spread, up-tempo offense needs linemen who can run, get out and block beyond the line and manage the fast pace. Fritzsche fits the bill.
He's a good puller for his height. He's as quick as some high school linebackers. You're looking at a top-end player if you put 40 or 50 pounds on that frame — and Nebraska has full confidence that strength and conditioning coach Zach Duval can.
Clemson saw his potential, too. The Tigers recently have been a recruiting thorn in Nebraska's side, swiping two targets with late scholarship offers — right tackle Tremayne Anchrum and defensive athlete Isaiah Simmons in 2016. If you saw Simmons dazzle in the CFP semifinal against Notre Dame, you can appreciate what he could have brought to Nebraska's defense.
So with Clemson trying to take Fritzsche late, Austin doubled down.
"Man, hell no," Austin said. "That kid's too good a kid to just not come on the visit. So we'll host him and show him what our plan is for him. If we can get Ty from out west, if we can get Wandale (Robinson) from Kentucky, let's shoot our shot."
What you may have figured — because schools are good at spinning this narrative — is Clemson, in the last 24 hours before signing day, landed a commitment from some other offensive line prospect who took Fritzsche's spot.
Actually, as Austin understands it, Fritzsche told Clemson no on Tuesday night. Then the Tigers extended a scholarship offer to another tackle. Austin said Nebraska did not have an "offerable" grade on that player. When Austin saw that offer go out, he figured NU had kept Fritzsche in the fold. But he didn't know for sure until signing day, and Fritzsche was one of the last players to sign.
"He's going to be a good player," Austin said. "I'm excited for him. It's going to be fun."
Austin now turns his attention to spring football, and he already has plans he's not ready to divulge for some "shuffling around" of linemen. He'd like to see more players get cross-trained at various positions to create competition. When asked about center — where starters Tanner Farmer and Cole Conrad were seniors — he rattles off the names of Cameron Jurgens, Hunter Miller, Trent Hixson, Will Farniok and AJ Forbes as possibilities. And there may be more.
The line will for sure have more depth, Austin said. And more competitiveness.
"We're training guys to go out there, execute their blocks and kick people's ass all over the field," Austin said. "I don't care who it is."
Photos: Nebraska football's 2019 recruiting class
Check out photos of each member of Nebraska football's 2019 recruiting class.