LINCOLN — Whistle in hand, his hair flowing and blowing in the breeze, Nebraska right tackle Matt Farniok urged the high school linemen assembled around him to find their inner fire.
"Be a man who wants to hit somebody out here!" Farniok barked during NU's inaugural Pipeline Camp on Saturday. "Run right through the guy!"
Unlike most of NU's Friday Night Lights camps, where campers wear compression shirts and shorts, the prospects on hand had shoulder pads to do the smacking. It was music to the ears of NU offensive line coach Greg Austin, who called the camp a "give-give situation."
"You want to evaluate them and then you want to give them something they're going to be able to take back to their own high school and improve their own game," Austin said.
Sign up for Big Red Today news alerts
Get a daily Husker news roundup, recruiting updates and breaking news in your inbox.
About 300 campers worked in Memorial Stadium and other practice fields with coaches from Nebraska and programs such as Miami, Arizona State, North Carolina State, Rice and Kansas. The Jayhawks sent seven coaches, including head coach Les Miles, who took a picture with one camper and attempted to hold court with as many recruits as NU coach Scott Frost.
Austin said Miles complimented the organization and efficiency of the camp, which originally started with 225 slots for campers, then grew to 300 before the Huskers chose to cap it so players could get enough repetitions over three hours.
"We didn't want to be cow-herders, so to speak, guys just getting one rep," Austin said. "We wanted actual teaching, actual coaching. We didn't want the actual coaching ratio to be ginormous."
The turnout was a new experience for Nebraska defensive line coach Tony Tuioti, who was more used to 120 linemen coming to an event.
"We did a drill for a half an hour and no kids complained about it," Tuioti said. "You usually have kids hiding in the back, not wanting to take any more reps 15 minutes into it. Here they were just trying to fight for extra reps. It speaks to a lot of the kids here in the Midwest. They love football. They take a lot of pride in Nebraska football. So they want to show up, especially for Coach Frost."
More than half of the prospects were from Nebraska, but the camp drew players from 21 states. Delaware. Georgia. Arizona. Kentucky. Nevada. Double-digit campers from Iowa, Colorado and Kansas. One camper, defensive end Ugo Nosike, had already graduated from high school. Several others were just entering the ninth grade.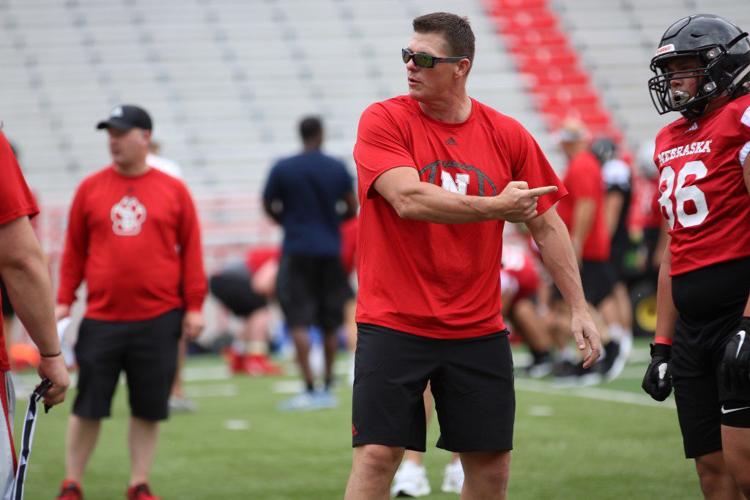 Nebraska players and assistants served as station leaders. Farniok, a junior-to-be who's taken a vocal role on the offensive line, was the strongest voice of the players.
When campers were brought to the middle of the field, they heard from four former NU offensive linemen who were part of the Husker Pipeline in the 1990s: Brenden Stai, Aaron Graham, Joel Wilks and Rob Zatechka.
"If I had a pen and a football hat, I'd have them sign some autographs," Tuioti said. "I was just a fan of those guys. I watched them play growing up. I know with them being out here and being able to promote this camp, we'll be able to get more kids. I can see us getting up to 500 easy."
When it was time for the crowd-pleasing one-on-one matchups — offensive linemen wore red or white jerseys, defensive linemen wore black or gray — most of the attention was focused on the red N at the center of Memorial Stadium, where many of the camp's top prospects squared off.
A highly coveted 2021 Husker prospect, Elkhorn South offensive tackle Teddy Prochazka, was in that group. The 6-foot-9, 285-pound Prochazka — who already has offers from Nebraska, Michigan and Northwestern, among others — fared well, even as most of his opponents had a leverage advantage because of their shorter stature. Prochazka appeared to ding up his shoulder in one rep but was fine by camp's end. He spoke at length to multiple coaches at the middle of the field.
If Prochazka picks NU, he'll likely be working the Pipeline Camp one day. Austin said it was a good experience for linemen who might be good at receiving coaching, but not giving it.
Farniok, it seems, is strong in both categories.
"It makes them better players if they can coach it themselves," Austin said. "Matt's an awesome leader, he's very detailed in the things that he says to the guys. He's really grown as a leader and a football player."
Photos: Huskers host first Friday Night Lights camp of 2019