NORFOLK — Ethan Piper had shown a little bit of everything the first 90 minutes of the show.
Desperation when Ariel went missing and fury when Ariel was found on the surface socializing. Love when he sacrificed his power and fear when electric eels captured him. Oh, and perhaps a few chest hairs, too.
Now it was time for King Triton's tender climax.
Norfolk Catholic's 6-foot-4, 285-pound shirtless fish-man, who trades text messages with Scott Frost, planted his three-pronged spear on stage and — before a public audience of 700 and a Little Mermaid company of 60 students — began a solo he'd been fine-tuning for three months.
"If only you could stay and never say goodbye. …" 
Hit pause for a moment and put yourself in Jeff Bellar's chair. He's the Norfolk Catholic football coach. Nine-time state champion. All-time Nebraska high school leader in wins.
One Friday night last fall, Bellar watched Piper sprint 70 yards down the sideline in pursuit of a David City Aquinas running back, closing the gap and diving at the goal line. That was the play, Kirk Ferentz told Bellar, that prompted Iowa's scholarship offer.
"… If only I could turn back time, believe me, I would try …"
Late in the Aquinas playoff game, Norfolk Catholic scored to take the lead, 21-17. Bellar came to Piper and said he needed his best lineman on kickoff coverage. No. 71 takes off down the middle of the field, eludes a blocker and buries the returner at the 15-yard line.
"The guy tried to juke him and he just rolled his ass at full speed," Bellar said. "That's 285 coming at you. That was the play that took the game."
"… But fathers have to learn that daughters have to grow. And if you truly love them you must let them goooooo."
Sign up for daily headlines from NEPrepZone
Get a daily roundup of game recaps, player features and more in your inbox.
Piper, whose senior football season begins Friday night at rival Pierce, may be the state's best lineman. He's certainly a throwback to an era when northeast Nebraska produced beasts like 1988 Norfolk Catholic graduate Kevin Ramaekers. Piper works summer maintenance at the school and drives an '88 Buick LeSabre.
"Nobody wants to steal that car," Piper says. "I could leave it out in the middle of a dark parking lot and nobody would touch it."
Piper's football exploits are a small piece of his reputation at Norfolk Catholic, where he's been running the hallways since kindergarten — his mom is the advancement director. He has won the Class C shot put, led the basketball team in points and rebounds, competed in Quiz Bowl, marched next to his little sisters in the band, sang bass in the choir and of course, starred in the musical.
Piper was skeptical of fine arts until ninth grade, when he came home with the part of Papa Bear in "Shrek." In costume, he felt no inhibitions.
The only downside? A full-body suit of fur. When he came off stage, he was sweating so profusely the director considered touching up his makeup.
"The lights are hot anyway," said Josh Clark, former musical director. "You put him in a suit, he's a big dude."
Sophomore year, Piper was a bartender in "Bye Bye Birdie." His pack of football players was supposed to sing with him, but they were so bad they had to lip-synch instead.
His band director, Samantha Hahn, marvels at how a "sweet, soft-spoken" kid can transform into a new character once he puts on a costume or uniform.
To her, Piper is the sousaphone player who wants to someday open his checkbook and replace the school's cheap fiberglass tubas with brass. Piper helps her recruit fifth- and sixth-graders at all-school pep rallies.
"I like to parade him around to try to get kids to do band," Hahn said.
At their age, Piper was a 5-2, 240-pound "fat kid," he said, who once sat on a desk and broke it. His nicknames included Big Easy and Bubba, shortened to Bubbs.
No, he didn't always look like an all-stater, but Piper always had the bloodlines.
His dad, 6-5 Les, was a standout athlete in Burwell who played basketball at UNK. His 6-foot mother, Leisa, helped Ord win a state championship before playing at Hastings. Ethan's first daily prayers included being a Husker football player.
Sign up for Big Red Today news alerts
Get a daily Husker news roundup, recruiting updates and breaking news in your inbox.
He attended his first game in 2008, Bo Pelini's debut. Maybe it was the 50-yard line seats, or the fact that fans were giving him food. Ethan came home and told his mom he wanted to play for those people.
In junior high, he grew seven inches and lost 20 pounds. Coach Bellar started calling him "Pipes."
Bellar has experienced some good fortune in his legendary career, but landing Piper ranks high. That's because Les Piper has been teaching science — and coaching junior high football and track — for 26 years at …
Yes, it's a little awkward, but on Friday nights Les usually aligns with his son over his school. The past two seasons, Ethan has turned into a force.
He attended three camps in summer 2017 — Nebraska, Iowa, South Dakota State — but bypassed the national showcases and camps. If he worked hard enough, he said, a scholarship would take care of itself.
The Knights went undefeated last fall, including a 35-0 win in the C-1 state title game at Memorial Stadium. Iowa saw a few clips and — just before traveling to Lincoln to whip the Huskers — asked Piper to assemble a full highlight tape.
Piper combed through games on his laptop, trying to remember his best plays. He posted the nine-minute tape on Hudl and — to his surprise — within a few weeks it had thousands of page views.
Iowa offered the first scholarship, just after Nebraska fired Mike Riley. But Piper was waiting to see what Riley's replacement thought of him.
In February, Piper had just finished a workout when he got a text from new Nebraska defensive coordinator Erik Chinander. Piper entered his mom's office and called back. Chinander handed the phone to Frost, who offered a scholarship.
Piper was scheduled to visit Iowa City that weekend. He called the Iowa coaches and said thanks but no thanks. My heart belongs to Nebraska. 
The Hawks respected his choice, but they also made sure Piper understood the consequences. Once a year, he was told, you have to strap up your helmet and go against us. In other words: Check the Nebraska/Iowa scores the last few years, kid.
Piper has personally blossomed during an era of Husker decay. Every time he watched a Nebraska loss, he got angry and hoped he'd get a chance to "change that culture."
Piper grew up counting Bellar's state championship trophies. Tradition inspired him. It's the same thing with Nebraska.
He's motivated by championships. He's also driven to avoid more embarrassments like the Iowa game.
"I don't want to let people down," Piper told his mom recently.
He's intensified his weight training and started drinking chocolate milk by the gallon, transforming his old baby fat into college strength. He's a lean 290, Bellar said.
Leisa credits Ethan's three sisters for inspiring him. The other night, they were annoying him at home and she could see the steam coming off his head. I just need to go tackle somebody, he said.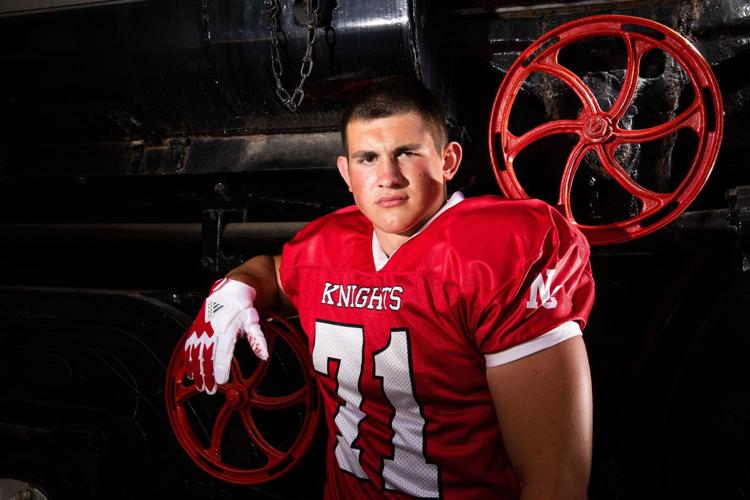 Chinander wants him to play defense at Nebraska. Frost wants him on the offensive line, Piper said.
"They've been butting heads."
If football doesn't pan out, Piper still has Broadway. His dry sense of humor and imposing nature plays well on stage. It's one place he isn't afraid to embarrass himself.
Next spring — April 5-6 — Norfolk Catholic will perform "Beauty and the Beast" and Piper already has his eye on a part. Not the Beast, but the handsome, conceited, crude meathead who pursues Belle.
Piper envisions his fellow Knight linemen joining him in the tavern scene and beating their chests.
No one's neck is as incredibly thick as Gaston
If they practice really hard, they won't even have to lip-synch.
Read the complete 'Homegrown Huskers' series
The "Homegrown Huskers" series spanned 10 days and 23,000 words, relying on interviews with 60 sources and stacks of data. It illustrates the broken relationship between Nebraska football and its feeder high schools. It asks if Scott Frost can restore the model that worked so well for Tom Osborne.