LINCOLN — Jovan Dewitt is losing his voice again.
The last time that happened, Dewitt had throat cancer. Nebraska's outside linebackers coach was receiving a flurry of radiation and chemo treatments following his January diagnosis, and he was in the process of losing 102 pounds from his 310-pound frame.
Speaking with reporters after practice Monday, Dewitt said he's much more comfortable with his raspy tone these days.
"That's just normal camp stuff," Dewitt said.
Dewitt and the rest of Nebraska's program have welcomed a return to routine after he missed the bulk of spring practices. It's been eight months since a CAT scan revealed the sobering news about the lump on his neck. Now the coach who also coordinates special teams is thrilled to say linebacker evaluations and return-unit battles are among his more immediate concerns.
Dewitt said he feels 95% recovered, though he faces new realities as he resumes his job. Doctors say he may not be able to produce saliva for up to two years because of his treatment, so he always wears a hydration pack on his back and drinks upwards of two gallons of water per day. Consuming calories is extra important in his condition — he's already gone from 238 pounds to 227 since camp started late last week.
NU coach Scott Frost has also scolded Dewitt for arriving too early at his North Stadium office. His boss wants him being more efficient with his time and putting in fewer hours.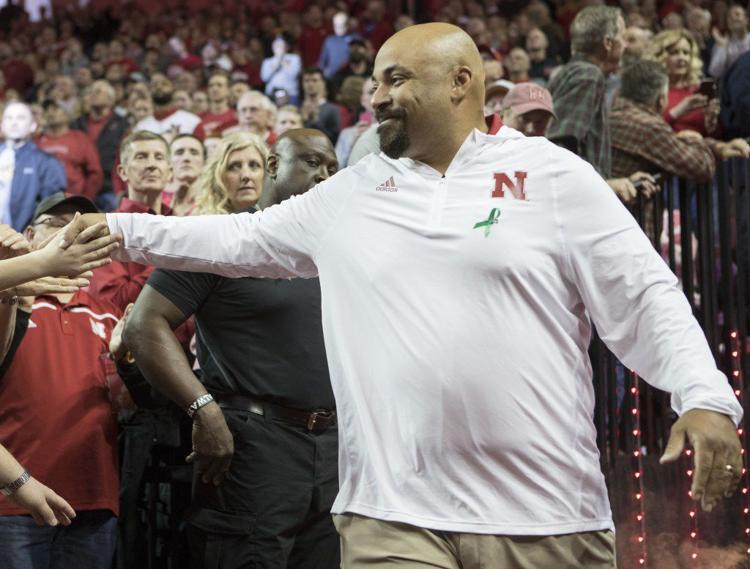 But nothing has been more cathartic for the assistant in his early 40s than getting back between the white lines. This has been the longest he's been away from the game since he was 8 years old.
"It makes me feel normal again," Dewitt said with a smile. "When I don't have football, I don't feel normal."
Being ready for fall camp was always the goal, Dewitt said. He was declared cancer free in May and will see the results of a three-month checkup later this week.
Catching up with recruiting has required the most work — he went "double time" in July texting and messaging potential targets — but missing spring hasn't set him back much. He relayed instructions on special teams, took part in some meetings with defensive coordinator Erik Chinander and stayed up on practice film.
Sign up for Big Red Today news alerts
Get a daily Husker news roundup, recruiting updates and breaking news in your inbox.
A few times, football was his only escape from the stage-three diagnosis that hung over his head. The husband and father of two girls spent 20-plus days in the hospital alone in April and endured 38 radiation treatments in the span of eight weeks.
"There were a couple days where I wasn't sure," Dewitt said. "But my family and friends all helped me out through those."
NU players and coaches agreed Dewitt's absence felt lengthy. Chinander said his return is a morale boost for the team and means the coordinator has someone around to give him grief. Outside linebacker Caleb Tannor tapped his chest when describing what Dewitt brings.
Inside linebacker Collin Miller, who works with Dewitt on special teams, said the coach's impact goes beyond football. This is a time of ongoing celebration for a family member who is finally back home.
"Phenomenal, phenomenal, phenomenal man," Miller said. "Phenomenal husband. Phenomenal dad. I want to learn a lot of things from him. I respect him a lot. Some days he's coming out he's feeling like crap, but he's still out there. And he's still cherishing us and being in our ear and loving on us and I respect him so much. Hopefully one day I can grow up (to be) just like him."
Photos: Nebraska Football Fan Day 2019
Thousands of fans attend the Nebraska Football Fan Day at Memorial Stadium in Lincoln, Nebraska, Thursday, August 1, 2019.