LINCOLN — The Associated Press ballot is due Monday. Mine is already sent.
Nebraska's one of my preseason Top 25 teams. Honestly, as I went through my usual process of ranking teams — a set of six criteria to start, measured against metrics put out by several sources, including ESPN's Football Power Index — I wasn't sure how it'd shake out.
That's not a homer view; Minnesota is in my Top 25, too. That surprised me, but my preseason method — good some years, average in others, not yet awful — says what it says.
Sign up for Big Red Today news alerts
Get a daily Husker news roundup, recruiting updates and breaking news in your inbox.
The Huskers and Gophers have similar strengths. One has the better quarterback. The other has a cozier schedule. If both made New Year's Day bowls and had nine-win seasons, it wouldn't surprise me.
It would, apparently, surprise most college football coaches.
When their preseason poll came out Thursday, Nebraska narrowly missed the Top 25, finishing in No. 26, nine points behind Northwestern. Minnesota got a single vote at No. 25.
The Huskers with 152 points, the Gophers with 1.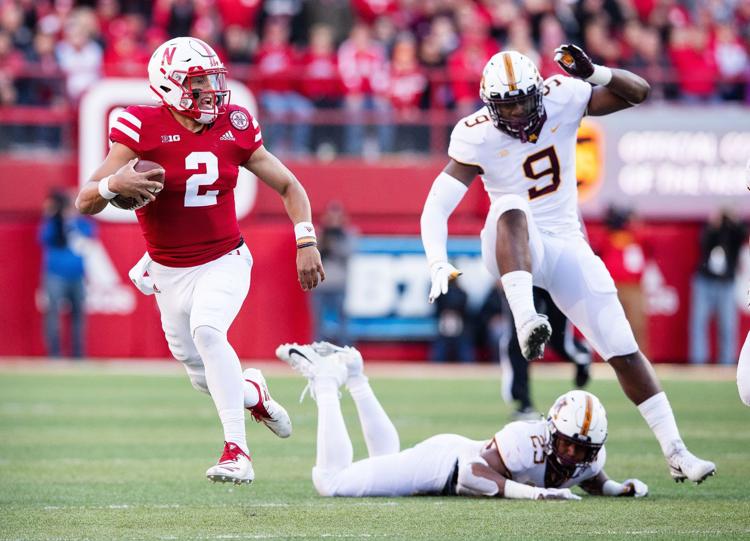 Surely, coach Scott Frost and his staff's work at Central Florida account for some of the disparity. So does quarterback Adrian Martinez. NU did hand it to Minnesota pretty good last season, as well.
But I suspect the disparity is as much about Nebraska's long-term reputation as anything.
The Husker brand — earned in the 1960s and '70s then cemented in Frost's playing days — still endures. The N still enriches the sport, even in struggling times. When a 4-8 team can nearly make the Top 25, take that as a warm reminder: There's still a seat for Nebraska football at the head table.
Frost doesn't slough off the responsibility that comes with the history of the program.
"Coming back to Nebraska, I expected to come here and coach with expectations for a long time," Frost said. "We had to get it to that point first. We are just nearing that mile marker right now of having expectations. We haven't done anything yet, so I kind of feel like some of the expectations are premature, but I am happy for the guys that they have done what it takes to get them to that point."
The poll love is a "confidence" boost for players, even if Frost didn't place Nebraska in his Top 25. They've likely seen several magazines and Big Ten writers select the Huskers to win the Big Ten West. They've probably heard Phil Steele say NU is his No. 1 surprise team. They've heard the justified hoopla around Martinez.
Starting Friday, Frost wanted them to "shut it all out." Many Husker players announced putting their Twitter accounts on lockdown. Nebraska has been pretty quiet/under the radar this summer.
There seems to be a sense: A big season awaits. Even if, in the mind of a guy like BTN analyst Gerry DiNardo, it's as much perception as reality.
"I wouldn't make them the favorites this year," DiNardo said on The World-Herald's "The Bottom Line." "But I think it's a great sign that the media picked them, because I think everybody that follows Big Ten football thinks it's just a matter of time."
Perhaps the time is now. On with the Rewind.
I see you
Outside linebackers coach Jovan Dewitt: Looking great after what must have been the hardest eight months of his career while he battled a form of throat cancer. The full voice and big smile seems back.
The freshman offensive linemen: Outside of Bryce Benhart and Ethan Piper, I'm not sure any of them will play, but it's an impressive group in terms of size and length. Brant Banks has moved from defensive end to offensive tackle, and he's nearly as big — albeit skinnier — than Benhart.
Running back Dedrick Mills: Thick all over. Does he appreciate how helpful his success would be to Nebraska?
Nose tackle Damion Daniels: Looks good and fit. Expect big things from him, and older brother Darrion, in 2019.
Wide receiver JD Spielman: It was decent of Spielman at Fan Day to spend an extra 15 minutes signing autographs on the field after the event ended. He would have kept signing and taking pictures, too, if not for a couple of police officers finally intervening with fans.
Five stats
Twelve and 10 years: Two amazing stretches in which Nebraska was ranked in the top 10 in the preseason. From 1979 through 1990, it was a fact of life. Ditto for 1993 through 2002. In that stretch, Nebraska was the preseason No. 1 three times — in 1983, 1996 and 2000. Nebraska didn't win the national title in any of those seasons.
Six: Teams that received No. 1 votes in the 1979 preseason coaches poll.
If you want a sense of how the sport has been changed, here's an example. It was common, for many decades, for lots of teams to receive first-place votes before the season. Call it democracy, call it regionalism, call it not having every statistic and returning starter at your fingertips.
Even in 2014, five teams received first-place votes. This year it's two — Clemson and Alabama.
The Tigers, understand, lost their entire defensive line. Alabama lost most of its coaching staff. No matter. Those two programs have a stranglehold on the sport, and the College Football Playoff committee has recognized it in each of the past four seasons.
2.33: Sacks allowed per game by Nebraska last season. Those aren't all on the offensive line, either.
Martinez landed himself into a few by not getting rid of the ball on time. At any rate, that frequency ranked 78th nationally and 10th in the Big Ten.
Avoiding sacks was one area master scrambler Tommy Armstrong excelled at — 14 in 2015 and 15 in 2016 — and it'll be something to watch this season. Look for the rate to drop.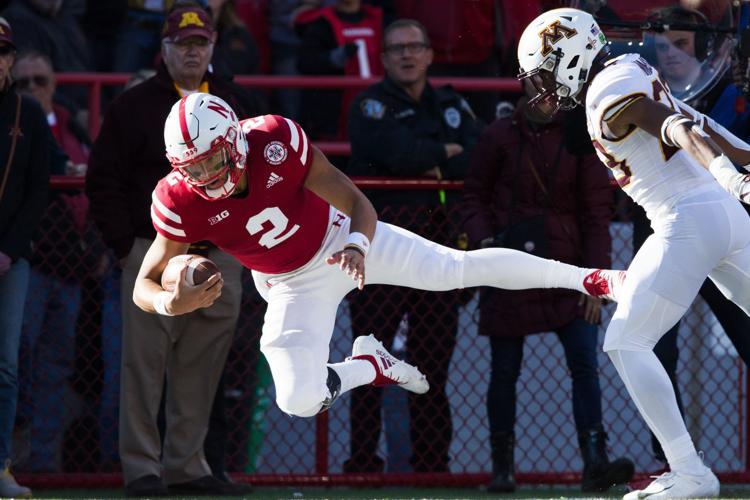 Minus-18: Nebraska's cumulative turnover margin the past five seasons, including a minus-2 in 2018.
Over five seasons, that ranks 12th in the Big Ten — ahead of Purdue and Rutgers, which tied for last at minus-28. Three other Big Ten teams — Maryland (minus-16), Michigan (minus-13), Illinois (minus-12) and Indiana (minus-2) — have negative turnover margins the past five seasons. Ohio State (plus-36), Michigan State (plus-32) and Northwestern (plus-28) comprise the Big Ten's top three. Iowa (plus-27) is fourth.
Four: Former Huskers on the Dallas Cowboys. This includes Randy Gregory, who reportedly filed for reinstatement after violating the NFL's substance-abuse policy again in February.
But the others — Maliek Collins, Brett Maher and Luke Gifford — could all have big roles in 2019. Yes, Gifford, too.
He's a likely backup for strongside linebacker Sean Lee — that's the oft-injured, now-aging Sean Lee — and Dallas likes him a lot. Maher is the team's starting kicker, while Collins had a monster first week of training camp.
He's in a contract year, playing for one of the NFL's best teams. I'd bet he pushes for a Pro Bowl in 2019.
Facebook feedback
On my Facebook page, I asked Husker fans to ponder two questions: Which position group caused them the most concern and which group would be better than we think? Selected and edited responses follow:
"D-line will be better than people expect because of a couple of newcomers including the JUCO lineman we just landed. The most concerning thing of all has to the lack of depth everywhere except D-line. We already know the injuries and outside influences are going to happen." — Richard D. Bell
"Position Group of Concern — Running Back. Seems like some talented guys, but we haven't seen it in games. A couple of fumbles could turn into a revolving door of tentative runners afraid to make a mistake. Better than Expected: Quarterback. Seems silly, right? Already a dark-horse Heisman contender. But with so much inexperience surrounding him and facing generally average defenses QB1 will put up some video game numbers." — Brian Parsons
"Linebackers. Not much proven talent other than Mo. I think the expectations for the group are low, so if they do reasonably well, it will be better than what many fans are expecting. They have the talent to do well." — Aaron Knape
"Concern: Running Back. We've heard about how great an incoming guy is, only to have it blow up in our face (Greg Bell). Only this time Devine Ozigbo isn't there to save us. Better: Wideouts. Major league speed is coming, speed kills." — Mick Swinarski
Opponent watch
Minnesota planned on having a quarterback battle in camp between Tanner Morgan and Zack Annexstad, both of whom played last season.
But Annexstad injured his foot in practice — Minnesota announced he's out indefinitely — which almost certainly gives the job to Morgan, who was Annexstad's backup until the second half of Minnesota's 53-28 loss to Nebraska. Morgan led a couple of touchdown drives to get the Gophers to 28-22 before NU hit the afterburners. Morgan was the guy from there, beating Purdue and Wisconsin later in the season.
Wisconsin coach Paul Chryst said at Big Ten media days he had a "pretty good idea" after spring camp who'd be his starting quarterback headed into the season. That comment would seem to favor junior Jack Coan, who had modest success last season in relief of Alex Hornibrook, over talented true freshman Graham Mertz.
All true freshmen take their lumps — there are plays at Michigan and Wisconsin last season Martinez would love to have back — so the question may be whether Chryst ever thinks his team can take a step back to take two steps forward.
Forecast
A bright and early reveille to shoot our high school football Super Six on Monday morning. You'll love where we picked to shoot it — and one of the picks is a nice surprise for Husker fans.
Get ready for Nebraska's fall football camp with our 2019 Husker Camp Countdown
The World-Herald is counting down the top 50 Nebraska players you need to know heading into the 2019 season.