LINCOLN — Nebraska's Miles Jones played football 45 minutes from Miami Beach. Brody Belt played at Lyle Buell Stadium, 25 minutes from downtown Omaha. Jones was a much-coveted scholarship recruit from national power American Heritage School. Belt was a walk-on from Millard West.
They're both about the same size — Jones is 5-foot-8, 175 pounds, while Belt is 5-8, 185 — but fan expectations for each, coming into NU, couldn't have been more different. Jones had plenty. Belt, none at all.
But there it was Monday: The groups of media bunched around Jones and Belt were roughly the same size, with both feeding quotes to hungry reporters. Both can play running back or slot receiver — Belt is more of the former, Jones the latter — and both are redshirt freshmen looking for a breakout moment in Saturday's spring game. And both had the same answer when asked about their initial rude awakening to the rigors of college football.
"The first day," Jones said.
"My first day," Belt said.
For Jones, it was seeing how hard older guys worked. For Belt, it was witnessing the big weights everyone around him was putting up. He quickly got the message.
"I've either got to do it or I'm out," Belt said. This is true of most Husker walk-ons, especially in the era of coach Scott Frost, who is so aggressive in adding walk-ons that, as of now, just making the team, or the 110-man fall camp roster, is going to be a chore. Belt pays his own way to school and knows there are no shortcuts in practice or learning the offense if he wants to run with all the horses around him.
Jones, a four-star recruit out of high school according to Rivals, moved from full-time running back to receiver upon his arrival at NU, but he still figured he'd fit right in from the outset. Jones struggled, though, to stay healthy and find his niche in his first year.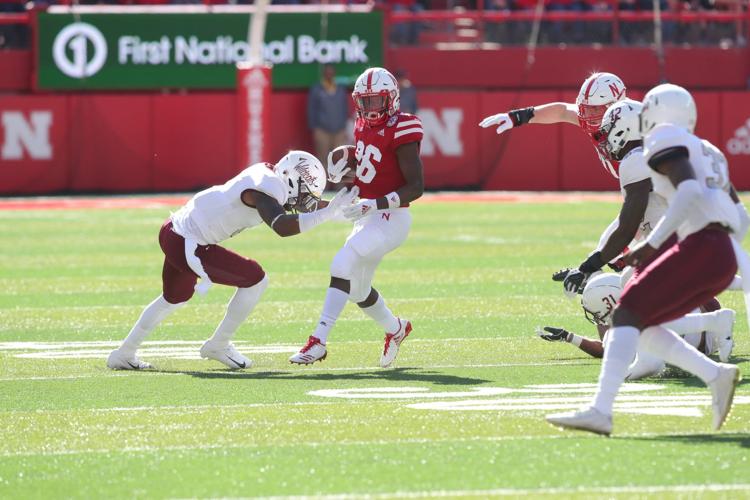 "I've learned you're not always going to be the biggest, strongest, fastest on the field," Jones said. "So you've got to play harder. Everything's not as easy as it was in high school."
His speed and open-field running ability was evident in his one big play last season against Bethune-Cookman, but it was another freshman, Maurice Washington, who made the big splash. And now it's a true freshman this spring, Wan'Dale Robinson, who's turning heads.
Offensive coordinator Troy Walters likes Jones' versatility, and Jones said he knows the offense and the playbook much better than he did last season, when uncertainty prevented him from always unleashing his sprinter speed. Watching his friend and mentor, junior JD Spielman, Jones said there's another level he can reach, and Spielman offers answers to the questions.
"I look up to him a lot — even before I came here," Jones said. "He knows the scheme really well, but even more he knows how to read defenses. I've learned that from him a lot."
Belt? He knows the offense. That's part of his secret sauce of success this spring, as Walters, running backs coach Ryan Held and Frost himself have all praised his work. Belt uses his tablet and Hudl account as much as he can, even right before bed. He also has a human cheat sheet of sorts.
Adrian Martinez. By "random coincidence" last year, Belt said, he was placed in a room with Nebraska's starting quarterback. They hit it off — Belt, though an Omaha kid, rather likes California — and they've remained roommates and close friends since.
Sign up for Big Red Today news alerts
Get a daily Husker news roundup, recruiting updates and breaking news in your inbox.
"If I have any questions, I go straight to him," Belt said. They've developed some on-field chemistry. Belt has made some plays — like a touchdown catch on a wheel route — that had coaches buzzing.
"He understands the blocking scheme up front, which allows him to find where the holes are, and he's made plays," Held said. "He's made plays as a receiver out of the backfield, one-on-one matchups."
The more plays he's made, the more reps he's received in practice. His confidence has grown. He stood roughly 5 feet from Jones on Monday and handled questions with poise — without goofiness or deer-in-the-headlights moments — just like the polished Jones did.
Belt tries not to get too big of a head. Making a few plays here or there, that's nice, but it's not playing time in a game that counts. Not yet. Belt has to keep making the impression. So does Jones. Saturday's a chance, in front of a loud, live crowd, to do that.
"It's kind of a coming out party to show what I can do for everybody, to show what I've been working for, what I've been grinding for," Belt said. "It's going to be a good time."
Photos: Every Nebraska football spring game since 2000
Check out photos from every Nebraska football spring game since 2000.